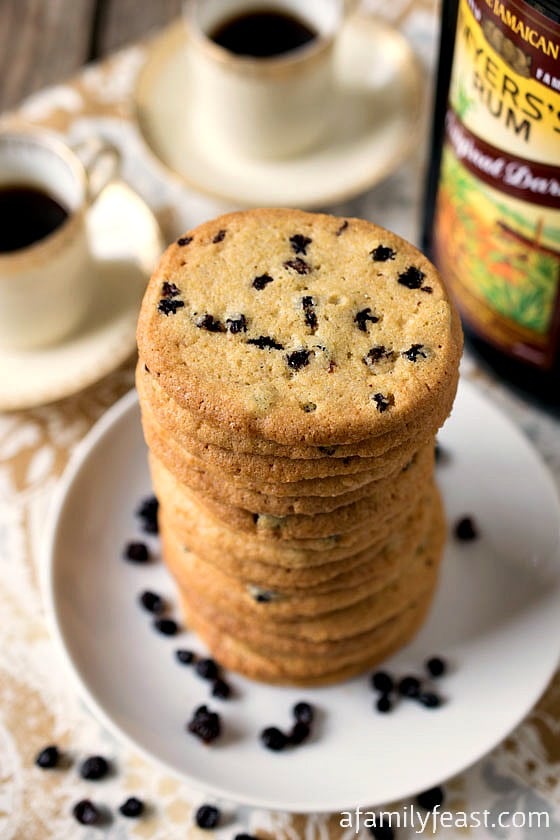 I often joke with my husband that he must have been Asian in a previous life (read more here) based on his love of Asian cuisine. So if the same holds true for me – based on the foods that I absolutely love – I must have been Italian in a previous life!
In particular, I love Italian desserts – like these Crispy Zaletti Cookies.  Zaletti are a rustic, crunchy corn meal cookie from the Veneto region in northeastern Italy.  The word zaletti is said to come from the word gialletti which means "little yellow things" in Italian, and the cookies definitely have a yellow color from the corn meal in the batter.
These crispy zaletti cookies are also studded with currants that were soaked first in rum (in Italy, it's likely that the currants are soaked in grappa instead of rum) – and the rum gives these cookies a fantastic subtle but distinctive flavor that is really unlike any other cookie we've had! (Some versions of zaletti also include pine nuts – but our version does not.)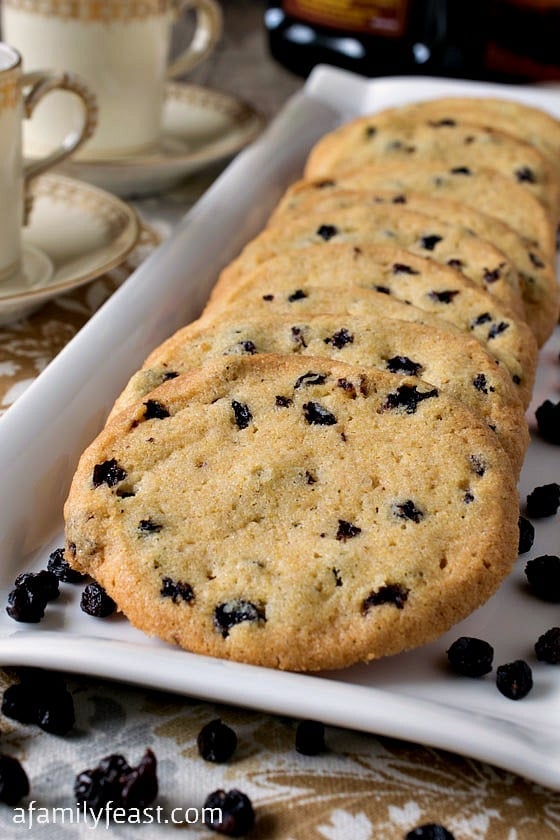 One other thing to mention – our crispy zaletti cookies are thinner and crispier than a more traditional version of zaletti which are thicker and similar to a shortbread cookie or biscuit.   Our lighter, thinner and crispier version came about because I adapted this recipe which was written in grams instead of cups or tablespoons – and I'm pretty sure that I miscalculated the amount of butter to use in the batter when I made the conversion! But – as luck would have it – we absolutely loved how our crispy zaletti cookies came out, and we've never made our zaletti any other way since!
We gave these crispy zaletti cookies as gifts this year for Christmas – and everyone loved them!
Print
Crispy Zaletti Cookies
Prep Time:

30 mins

Cook Time:

15 mins

Total Time:

45 minutes

Yield:

3-4 dozen
---
¾ cup

currants

¼ cup

dark rum

14 tablespoons

unsalted butter (

1 ¾

sticks), softened to room temperature

1 cup

sugar

1

egg yolk

1 cup

all-purpose flour

1 cup

fine yellow corn meal

¼ teaspoon

salt

1 teaspoon

baking powder
---
Instructions
In a small microwave-safe bowl, combine currants and rum. Microwave for 30 seconds on high, then allow the currants to soak in the rum for at least 30 minutes.
While the currants are soaking, prepare the batter in the bowl of standmixer. Start by creaming together the softened butter and sugar until well combined. Add the egg yolk and mix again to combine.
Sift together the flour, corn meal, salt and baking powder. Add the dry mixture to the butter mixture and mix well. (The mixture will be yellow and crumbly.)
Add the currants and rum to the yellow crumb mixture and mix again – completely combining so that the currants are evenly dispersed throughout and the batter is soft and won't fall apart.
Divide the dough in half and shape into two logs about an inch and a half in diameter. At this point, you can wrap in plastic and chill until you are ready to bake – or you can bake immediately.
When ready to bake, preheat the oven to 350 degrees. Line your cookie sheets with parchment paper.
Slice the dough into slices that are just shy of ½ -inch thick and place on your cookie sheet – allowing plenty of space for the cookies to spread while they bake. (I found that 9 cookies per cookie sheet – 3 rows of 3 – worked best).
Bake for 15 minutes or until outer edges of the cookies are lightly golden brown.
Remove from the oven and slide the parchment paper with the cookies still on them onto a cooling rack. Once the cookies have cooled a bit (about 10 minutes) and crisped up, remove from the parchment paper and onto another cooling rack to cool completely.
Store in an airtight container for up to 3 days (if they last that long!)
---
You may also like: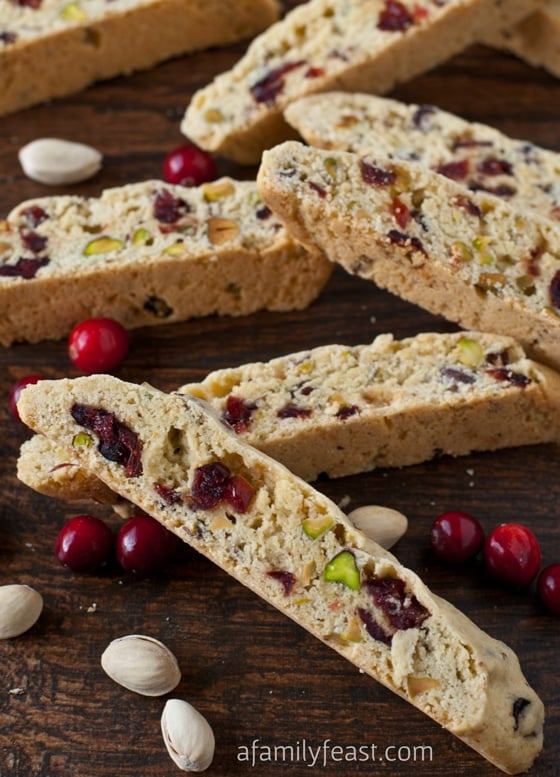 Pasta Frolla Christmas Jam Cookies