Anytime we go to a restaurant, I'm thrilled when the server brings us a plate of Herb-Infused Oil along with the bread basket.
Don't get me wrong – I grew up on, and still very much love warm bread and butter. But dipping crusty, freshly baked bread in a plateful of olive oil that has been infused with fresh herbs and other seasonings will always be my first choice! Luckily…Herb-Infused Oil is easy to make and enjoy at home.
To make the oil, start by heating the best-quality extra virgin olive oil you can find, then add fresh, chopped herbs such as basil, thyme and rosemary.  We also added some additional seasonings – kosher salt, freshly cracked black pepper, garlic, paprika and fennel seeds – which beautifully complement the flavor of the fresh herbs.  Allow the mixture to infuse for ten minutes, then cool.
This Herb-Infused Oil is actually very versatile far beyond bread-dipping!  Once you've made the oil, it will keep on hand for weeks, and you can also use it for cooking when you want to add some delicious, herbaceous flavor to any dish.
You can vary the flavors of your Herb-Infused Oil with any combination of herbs and spices you like – but we do highly recommend including fresh basil whenever you can.
Adapted from The Breadbaker's Apprentice
Print
Herb-Infused Oil
Prep Time:

10 mins

Cook Time:

10 mins

Total Time:

20 minutes

Yield:

2 cups
---
Description
Note: The secret to this oil is to never let the oil get higher than 100 degrees F, otherwise the oil and flavorings will scorch.
---
2 cups

of a good-quality extra virgin olive oil

½ cup

fresh basil, chopped

¼ cup

fresh thyme, chopped

¼ cup

fresh rosemary, chopped

1 tablespoon

kosher salt

1 teaspoon

coarsely ground black pepper

1 tablespoon

granulated garlic or

5

–

6

fresh garlic cloves minced fine

1 teaspoon

paprika

1 teaspoon

whole fennel seeds
---
Instructions
Add the oil to a small sauce pan and heat to 100 degrees F using a candy thermometer or a probe thermometer. Once at 100 degrees, add all of the remaining ingredients. Maintain 100 degrees for ten minutes and then remove from heat.
Once cool, store refrigerated for up to two weeks.
---
Disclosure: This post contains affiliate links.
You may also like: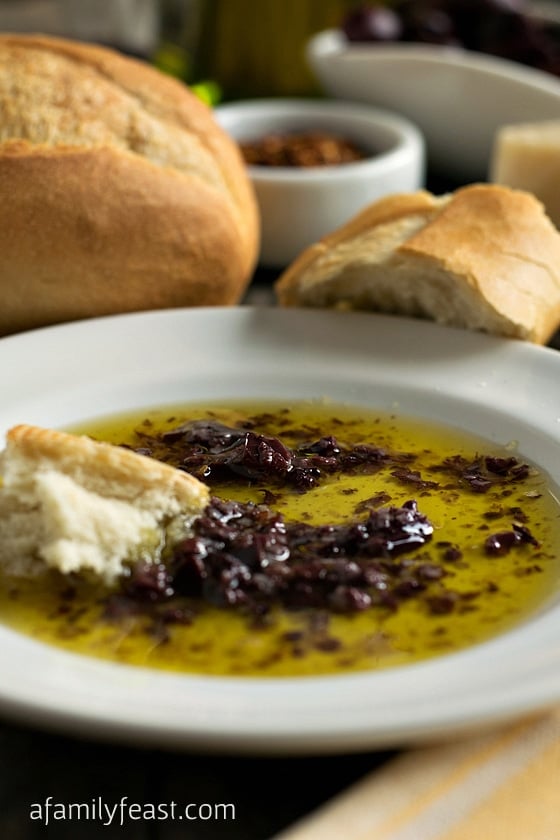 Grilled Seasonal Vegetables with Infused Oils