This Grilled Corn and Tomato Salsa has incredible flavor and it is super simple to make! Perfect for summertime parties!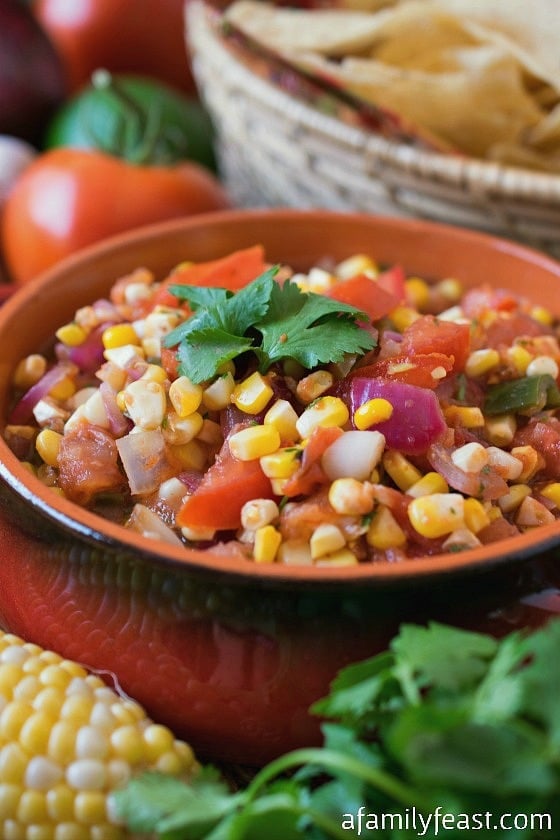 We developed this Grilled Corn and Tomato Salsa as part of an ongoing Brand Ambassadorship with Peapod. All opinions are 100% mine.
As parents – and as food bloggers – we are constantly in the kitchen preparing food for our family – and for our blog! Our schedules are crazy – but we have found a huge time-saver: grocery delivery and pickup services by Peapod.
We love the convenience of Peapod, and we are thrilled to be teaming up with them over the next few months to share some delicious recipes – including this Grilled Corn and Tomato Salsa recipe – over on FromthePod.com.
Peapod is American's leading internet grocer and they carry more than 12,000 products in all of the same categories as your local supermarket – so you're sure to find everything you need.   (Including all of the ingredients to make our delicious Grilled Corn and Tomato Salsa…)
You can:
Place an order seven-days-a-week – online at Peapod.com or using their newly redesigned Peapod app (available in the AppStore).
Arrange for next-day delivery or pickup service (choose a two-hour window that fits your schedule) – or you can schedule delivery up to two weeks in advance
Save money with their hundreds of weekly specials – and they even accept manufacturers' coupons!
You can pay a low one-time delivery fee (amount varies based on the size of your order) and Peapod now offers the new PodPass – a way for shoppers to get unlimited home delivery or pickup services for a low monthly or annual fee.
In the coming months, we will be sharing many more tips and tricks with you so you can get the most out of Peapod's grocery delivery and pickup services in your area.
But for now – check out this fantastic Grilled Corn and Tomato Salsa recipe over on FromthePod.com! It's full of fresh vegetable flavors with a wonderful smokiness – and it's perfect served with tortilla chips!  Enjoy!
Print
Grilled Corn and Tomato Salsa
Author:

Prep Time:

45 minutes

Cook Time:

10 minutes

Total Time:

55 minutes

Yield:

6 cups of salsa

Category:

appetizer

Method:

grilling
---
4 ears fresh corn
8 medium-to-large vine ripened tomatoes, or 16 plum tomatoes
1 large red onion
2 fresh limes
1 fresh lemon half (cut horizontally)
½ head fresh garlic, cut in half horizontally
4–6 medium jalapeños, left whole
3–4 tablespoons olive oil
2 tablespoons tomato paste
¼ cup fresh cilantro, chopped
2 teaspoons kosher salt
1 teaspoon roasted ground cumin
½ teaspoon white pepper
½ teaspoon coriander
1 teaspoon dry oregano
Tortilla chips for dipping
---
Instructions
Preheat grill to high.
Husk and removing silk from corn. Place on alarge sheet pan or platter (this will be used to carry all of the vegetables from the kitchen to the grill.)
Cut tomatoes in half horizontally and over a strainer that has been placed inside a bowl, scoop out seeds. Discard seeds but place the reserved liquid in a large mixing bowl. Take half of the cut tomatoes and place cut side up on the tray with the corn. (Note: Only half of the tomatoes will be grilled). The rest of the tomatoes that will not be grilled can be cored and diced and added to the mixing bowl with the juice.
Peel and cut the large red onion horizontally into six thick slices. Place on tray with corn and tomatoes to be grilled.
Cut a head of garlic in half horizontally and place on tray cut side up with other vegetables. Leave skin on but remove end so that it sits up straight without tipping.
Cut both limes in half horizontally and place on tray with other vegetables along with the half cut lemon. Both the lemon and limes should have the end slightly trimmed off so they sit straight without tipping.
Place the whole jalapeños on the tray with the fruit and vegetables.
Bring the tray to the grill and with the olive oil, brush the tops off all fruits and vegetables and place them all on the grill cut side down. (Leave jalapeños whole). Brush the tops with the rest of the oil. You only need to put a slight char on everything so only cook for about two to three minutes. Flip everything and cook for another two to three minutes.
Remove all grilled vegetables and fruit to the tray and turn off the grill.
Once cool enough to handle, cut the corn kernels off the cob and add kernels to the large mixing bowl with the diced tomatoes already inside.
Remove the skin and core from the grilled tomatoes and dice. Add to the mixing bowl.
Cut the onion into small dice and add to the mixing bowl.
Squeeze the juice from the limes and lemon half into the bowl with a strainer to catch the seeds.
Squeeze the garlic out of the skins onto your cutting board and press through a garlic press into the bowl.
Remove stems and seeds from the peppers and dice the flesh into small pieces. Add to the bowl. Discard seeds and stem.
Add the remainder of the ingredients (except the chips) to the bowl and mix to combine. Taste and adjust seasoning.
Serve with the tortilla chips.
---