Grilled Swordfish Salmoriglio has a flavorful, buttery lemon and herb sauce on top of juicy grilled swordfish. Plus tips & tricks to prepare perfectly-cooked swordfish.

Grilled Swordfish topped with Salmoriglio is hands-down, one of the very best ways to prepare swordfish. This restaurant-worthy grilled seafood dish is quick and easy to prepare, and the flavors are absolutely delectable.
While there are lots of ways cook swordfish, we prefer to grill our swordfish because it can be quite fragrant as it cooks! But don't be put off by that – let your outdoor grill do the work, and you'll get a wonderful caramelized char on your fish as well.
What is Salmoriglio?
Salmoriglio is a traditional condiment from the Calabria and Sicily regions of Southern Italy. The name is derived from the word salamoia, which means salty or briny. Made from extra-virgin olive oil, freshly–squeezed lemon juice and flavorful herbs – it's absolutely fantastic on grilled swordfish, or any other kind seafood. (It's even great on grilled meats!)
Why You'll Love This Grilled Swordfish Steak Recipe!
That smooth and flavorful salmoriglio. Nothing complements swordfish better than a luscious sauce bursting with garlic, lemon, and herbaceous flavors.
That moist and flavorful swordfish. Follow our tips and tricks, and you'll never have to worry about dry, overcooked swordfish again.
Enjoy a restaurant-quality meal at home in no time flat. This meal really is worthy of a restaurant menu, and it cooks to perfection in just 15 minutes on the grill.
Key Ingredients and Substitutions
Swordfish – When buying fresh swordfish, look for cuts that are clean and white and have a slight saltwater scent. Pass on any piece that smells fishy. Depending on the cut, you may see a dark red or brown streak in the flesh. This is muscle meat and is perfectly safe to eat, however, it will have a stronger flavor than pure white cuts, so some people don't prefer it for swordfish steak.
If you are lucky enough to live near a fish market, call ahead and ask when their fresh catch of the day arrives. Then plan your shopping trip for that same day.
Lemon Zest – This is used in both the marinade and the finished sauce.
Lemon Juice – We prefer freshly-squeezed lemon juice because of its superior flavor. (Bottled lemon juice, while convenient, often has a harsher flavor.) This will only be used in the serving sauce, not in the marinade. In this case, you do not want the meat to tenderize while it marinates. 
Extra Virgin Olive Oil – Any Italian will tell you that the first-press, extra virgin olive oil is best and most flavorful.
Fresh Herbs – These are the crowning touches of this dish. They provide delicious complementary flavors as well as color to the fish. Fresh herbs will always yield the best flavors, but we do use dried oregano for this one.
Butter – You'll serve your grilled swordfish with a pat of butter on top, along with the Salmoriglio sauce.
How should Swordfish be cooked?
Cooking swordfish – on the grill, broiled, or in a skillet – is just like cooking a steak to a medium rare level of doneness. Whatever your cooking method, you'll want to sear both sides of your swordfish steak over medium-high heat, but leave the inside of your swordfish slightly medium rare.
All too often, home cooks (and even restaurants) overcook their swordfish, leaving it dry and flavorless. To avoid overcooking, use an instant-read food thermometer and cook to at least 145 degrees Fahrenheit, but not much higher than that.
In our photos today, you'll see that we chose to cook a thicker-cut swordfish steak, which we find easier to cook to the perfect medium rare temperature than a thinner swordfish steak. Ours was a two-pound slice, about 1½ inches thick, that we cut in half to make it easier to grill. After it was cooked, we cut each piece in half to yield four portions. Our 1 ½-inch thick swordfish steaks took exactly 14 minutes. (But use that thermometer to ensure your perfectly cooked swordfish steaks!)
How do you make Grilled Swordfish Salmoriglio?
Mix the marinade – The marinade for this recipe is basically the salmoriglio sauce without the lemon juice. (If you add lemon juice to the mixture, it will actually start to 'cook' the swordfish as it marinates, similar to how you make ceviche.
Marinate the swordfish – Simply place your swordfish steaks into a gallon zipper seal bag and pour in the marinade. Allow it to sit at room temperature for an hour – but do not marinate for longer than that.
Prepare the Salmoriglio – While the fish marinates, finish making the sauce, then set it aside until you are ready to serve.
Grill – Sear both sides of your swordfish steak over medium-high heat, but leave the inside slightly medium-rare.  Use an instant-read thermometer to test the internal temperate of the swordfish steaks, taking them off the grill once they reach 145 degrees F.
Serve immediately – Top the hot swordfish with pats of butter and drizzle with the Salmoriglio. Serve extra sauce on the side.
Frequently Asked Questions
I don't have a grill. Can I still make Grilled Swordfish Salmoriglio? Yes, you can. A ribbed, grill pan on your stove top will also work.
How do I know when my grilled sworfdish is done? The best way to tell when your swordfish is done is to measure the internal temperature with a instant-read probe thermometer like this. Your swordfish should be removed from the heat once it reaches an internal temperature of 145 degrees F. (Note that it will continue to cook from the residual heat even after it's off the grill and that internal temperature will go up a bit.)
 My swordfish came out dry. Why? Quite simply, it's over cooked. As mentioned above, test the internal temperature as the swordfish cooks on the grill and remove at around 145 degrees F.
Can I use frozen fish instead of fresh? We strongly recommend buying fresh swordfish for this recipe if at all possible. You won't achieve the same high-quality flavor and results from anything but fresh fish.
What do I serve with Grilled Swordfish Salmoriglio?
You may enjoy these other Seafood recipes:
Print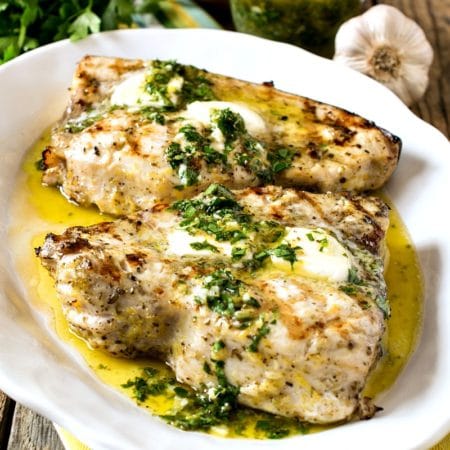 Grilled Swordfish Salmoriglio
Author:

Prep Time:

1 hour 15 minutes

Cook Time:

15 minutes

Total Time:

1 hour 30 minutes

Yield:

4 servings

Category:

seafood

Method:

grilling

Cuisine:

Italian
---
2 pounds fresh swordfish * see Notes below
2 lemons, zest and juice divided
1 tablespoon fresh garlic, minced
½ cup good quality extra virgin olive oil
1 teaspoon dry oregano
1 teaspoon kosher or sea salt
½ teaspoon freshly ground black pepper
¼ cup fresh Italian flat leaf parsley, chopped fine
4 tablespoons cold butter
---
Instructions
If you purchased one large two-pound swordfish steak, cut in half to have two equal pieces about 1 ½ inches thick. Place in a gallon zip lock bag.
In a small bowl mix lemon zest, garlic, olive oil, oregano, salt and pepper.
Mix and add only half of this liquid to the bag with the swordfish. Seal the bag and let sit for one hour at room temperature.
While the swordfish sits for the hour, add the lemon juice (about ¼ cup of lemon juice) and parsley to the reserved half of the liquid and set aside to serve with the cooked fish.
Heat outdoor grill to high on one side and cool on the other.
Clean and oil the grill grates.
Remove the swordfish from the bag and brush off any garlic or zest and place the two pieces on the hot side of the oiled grill. Brush some of the liquid from the bag over the fish as it cooks.
Cook two minutes and turn each piece one quarter turn to get cross hatch marks. Cook two more minutes then flip. After two more minutes turn one quarter turn and cook two minutes. (Total of eight minutes so far.)
Take a sheet of foil and fold four times and place on the cool side of the grill. The foil once folded, should be big enough to hold the swordfish.
After the eight minutes of searing both sides, move the swordfish to the foil and close the cover. Try to keep a consistent temperature of 350 degrees F. in your grill.
From here you will cook for 1-6 more minutes based on how thick your steaks are. Our 1 ½ inch swordfish steaks cooked for exactly six more minutes for a grand total of 14 minutes. If your steaks are thinner, this last cook time on the foil will be less. You are looking for an internal temperature of 145 degrees F. Do not overcook.
As soon as they come off, place the four tablespoons of cold butter over the top to melt in as you serve.
To serve, cut each piece in half to yield four servings and serve with the sauce made earlier on the side or over each portion.
---
Notes
Buying fresh swordfish is crucial. When I stepped into my local fish market and asked for swordfish, he told me that they just got it in the morning. That's all I needed to hear. I asked for one 2-pound slice. The piece was clean and white and did not smell of fish, rather had a slightly salt water smell. $15.00 per pound that I paid was totally worth it. You can't get this type of freshness in a supermarket fish case unless your local market is a trusted source of fresh product. When I got home, I cut it in half to make it easy to grill and after it was cooked, I cut each piece in half to yield four portions. The thickness of the swordfish was 1 ½ inches thick and took exactly 14 minutes.
Keywords: Grilled Swordfish Salmoriglio, seafood