This delicious Fruit Salsa with Lime Tortilla Chips is a sweet and healthy snack that everyone will love!
We're settling into our summertime routine – and what better way to spend the lazy days of summer, than at the beach?
We love to bring healthy snacks to the beach – and this sweet and juicy Fruit Salsa with Lime Tortilla Chips is a big crowd-pleaser for kids and grown-ups alike!
You can make this Fruit Salsa with just about any kind of fruit you'd like. We went with fresh strawberries, watermelon, pineapple, kiwi and blackberries – plus onion and cilantro, and a little jalapeño for a spicy (but not too spicy) kick.
All of the sweet and zesty flavors in this Fruit Salsa come together nicely thanks to a blend of apricot preserves and lime juice – a mixture that really complements the sweet fruits.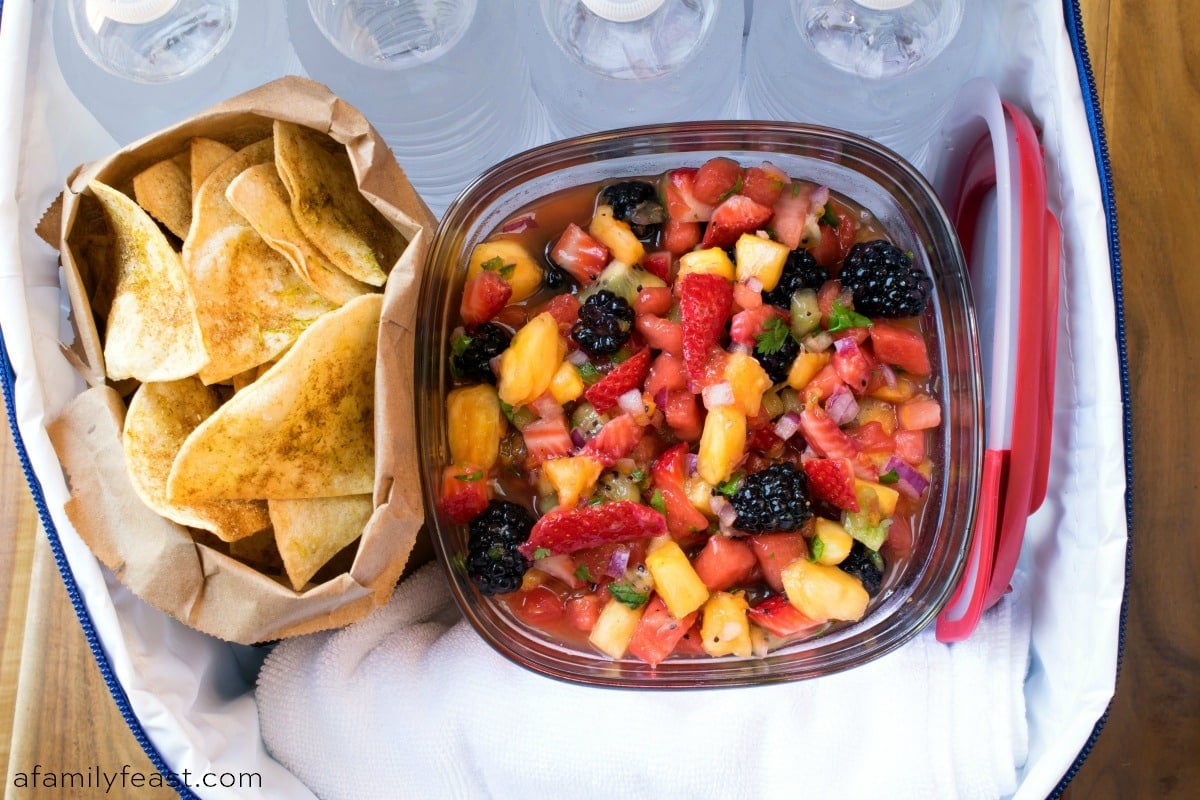 And – this Fruit Salsa is totally portable – just spoon it into a container with a tight lid, then pack it in your cooler along with ice, cold drinks, and other beach-snacking favorites.
To eat this Fruit Salsa, we made some homemade, baked Lime Tortilla Chips.  Just cut some white corn tortillas into wedges, and sprinkle with sea salt and lime zest before baking in the oven.  Once out of the oven, squeeze a little lime juice over the chips for an extra zesty flavor.  (You can – of course – skip making the homemade chips and buy your favorite 'touch of lime' tortilla chips instead.)
Print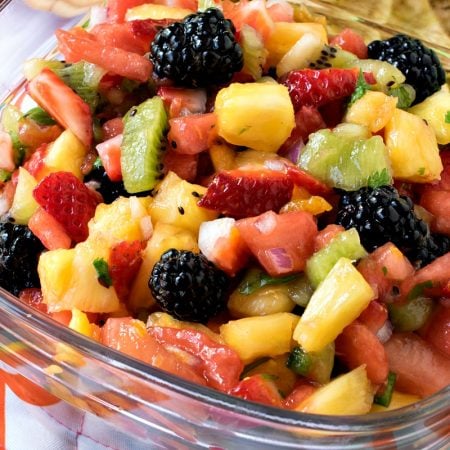 Fruit Salsa with Lime Tortilla Chips
Author:

Prep Time:

1 hour

Cook Time:

20 minutes

Total Time:

1 hour 20 minutes

Yield:

8 cups plus chips for serving

Category:

appetizer

Cuisine:

kid-friendly
---
Description
Add the blackberries last and gently fold them in. They are sometimes very ripe and delicate and will break apart with too much stirring.
---
Salsa
1 ½ cups diced fresh strawberries (half-inch pieces)
3 cups diced watermelon (half-inch pieces)
2 cups diced fresh pineapple (half-inch pieces)
2 cups diced fresh kiwi (half-inch pieces)
2 6-ounce packages blackberries
2–3 tablespoons minced fresh jalapeno, depending on how hot you like it, seeds optional
½ cup finely diced red onion
½ cup coarsely chopped fresh cilantro
½ to ¾ cup apricot preserves, depending on how sweet you like it (we used just ½ cup)
¼ cup fresh squeezed lime juice
Homemade Lime Tortilla Chips
1 22-ounce package white corn tortillas (24 per package)
Olive oil or olive oil pan spray
Sea salt
Four limes (both zest and juice will be used)
1 tablespoon ground coriander, plus more to taste
---
Instructions
To Make the Fruit Salsa
In a large bowl, mix diced strawberries, watermelon, pineapple, kiwi, blackberries, jalapeno, red onion, and cilantro.
In a small microwave safe bowl, heat the apricot preserves for 20 seconds in the microwave (just long enough to soften). Whisk in the lime juice and pour over the fruit. Gently stir to combine and refrigerate.
To Make the Lime Tortilla Chips
Heat oven to 350 degrees F.
Lay out all 24 corn tortilla rounds on your counter.
Spray or brush* the tops with olive oil, as well as spraying or brushing four sheet trays. *Note: Use oil sparingly – too much will result in chewy chips.
Sprinkle sea salt over each round.
Using a fine grater, zest limes right over the tortillas evenly distributing the zest.
Sprinkle ground coriander lightly over each round, adding more to taste.
Move one round at a time to your cutting board and cut into six wedges then place wedges, topping side up, on the sheet trays, yielding 144 chips. Repeat for the remaining rounds.
Bake for 15-18 minutes, rotating pan at 10 minutes. Depending on your oven, the cooking time will vary so watch closely at the 15-minute mark. Once crisp, remove pan and brush each chip with a little lime juice while they are still hot from the oven.
Serve chips alongside the fruit salsa.
---
You may also like: