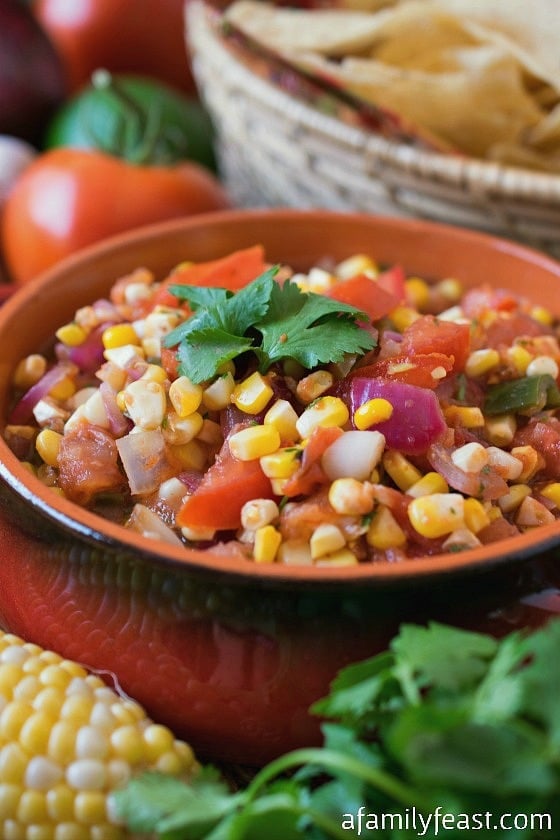 We developed this Grilled Corn and Tomato Salsa as part of an ongoing Brand Ambassadorship with Peapod. All opinions are 100% mine.
As parents – and as food bloggers – we are constantly in the kitchen preparing food for our family – and for our blog! Our schedules are crazy – but we have found a huge time-saver: grocery delivery and pickup services by Peapod.
We love the convenience of Peapod, and we are thrilled to be teaming up with them over the next few months to share some delicious recipes – including this Grilled Corn and Tomato Salsa recipe – over on FromthePod.com.
Peapod is American's leading internet grocer and they carry more than 12,000 products in all of the same categories as your local supermarket – so you're sure to find everything you need.   (Including all of the ingredients to make our delicious Grilled Corn and Tomato Salsa…)
You can:
Place an order seven-days-a-week – online at Peapod.com or using their newly redesigned Peapod app (available in the AppStore).
Arrange for next-day delivery or pickup service (choose a two-hour window that fits your schedule) – or you can schedule delivery up to two weeks in advance
Save money with their hundreds of weekly specials – and they even accept manufacturers' coupons!
You can pay a low one-time delivery fee (amount varies based on the size of your order) and Peapod now offers the new PodPass – a way for shoppers to get unlimited home delivery or pickup services for a low monthly or annual fee.
In the coming months, we will be sharing many more tips and tricks with you so you can get the most out of Peapod's grocery delivery and pickup services in your area.
But for now – check out this fantastic Grilled Corn and Tomato Salsa recipe over on FromthePod.com! It's full of fresh vegetable flavors with a wonderful smokiness – and it's perfect served with tortilla chips!  Enjoy!