Easy Puff Pastry Cinnamon Rolls have a sweet brown sugar and raisin filling inside rolled puff pastry that bakes up light and crispy. A vanilla-infused glaze tops things off.
Craving sweet cinnamon rolls but not up for a lot of work? Our Easy Puff Pastry Cinnamon Rolls are the answer!
After just fifteen minutes of prep and a quick bake in the oven – you'll have the heavenly aroma of sweet cinnamon rolls filling your kitchen!
Store-bought puff pastry is the big timesaver here – yielding freshly-baked, light and crispy cinnamon rolls filled with a brown sugar, raisin swirl, and topped with a sweet vanilla glaze.
(If you have the time and want a softer, yeast-based cinnamon roll – check out our Cinnamon Rolls with Bourbon-Soaked Raisins instead.)
Why You'll Love Easy Puff Pastry Cinnamon Rolls
Start to finish, make freshly-baked cinnamon rolls in under an hour.
Store-bought puff pastry means no-hassle prep or waiting for dough to rise.
Perfectly sweet flavors and a light and crispy texture.
Key ingredients and Substitutions
Frozen puff pastry – We used two boxes of Pepperidge Farm frozen puff pastry sheets. If you are very ambitious, you could make your own puff pastry instead!
Eggs – A brushed-on egg wash is used to hold the puff pastry sheets together and to add a golden color.
Brown Sugar – For the filling, you can use either light or dark brown sugar.
Raisins – Also for the filling, we used dark raisins in our recipe today. Golden raisins, currants, or other chopped dried fruit are other options.
Cinnamon – We kept things simple by flavoring the filling with cinnamon, but you could get creative and use a chai spice powder, apple pie or pumpkin pie spice mixes, or other favorite spices.
Confectioner's Sugar – Powdered sugar is mixed with milk and vanilla extract to form a simple glaze that is drizzled over the top of the cinnamon rolls.
Special supplies needed
Two parchment-lined sheet trays
Various small bowls
Pastry brush
How do I make Easy Puff Pastry Cinnamon Rolls?
Soak raisins in hot water to soften and plump.
Piece together four pastry sheets, sealing the pieces together with an egg wash.
Brush the entire surface of the pastry sheets with more beaten egg.
Sprinkle a mixture of brown sugar and cinnamon on the dough, then top with the rehydrated raisins
Roll the pastry from one end to the other ending with the seam down on your counter.
Cut the rolled pastry into 16 pieces with a sharp knife
Place the rolls, cut side down, on two parchment-lined sheet trays and brush with more egg.
Bake for 25-30 minutes until lightly golden brown.
Cool slightly then drizzle the glaze over the top of each cinnamon roll.
Chef's Tip – Thaw the boxes of pastry sheets in the refrigerator overnight so they are completely and evenly thawed. You could also remove the frozen sheets and thaw on your counter before unfolding and piecing together.
Frequently asked Questions
Can I make Easy Puff Pastry Cinnamon Rolls ahead of time? Yes, you could form rolls and place them on the sheet tray. Refrigerate the pans until ready to bake. Bring to room temperature before baking.
How do I store leftovers? Baked and leftover puff pastry cinnamon rolls should be sealed in an airtight container. Then store at room temperature for up to two days. Note that these cinnamon rolls really are best when they are freshly baked so only bake as many at a time as you plan to eat, or eat the leftovers as soon as possible.
How do I reheat leftovers? As noted above, freshly baked is best. You can gently reheat leftover cinnamon rolls wrapped in foil in a warm oven, but avoid reheating so much that they dry out.
Can I freeze these cinnamon rolls? We don't recommend it.
You may enjoy these other recipes:
Print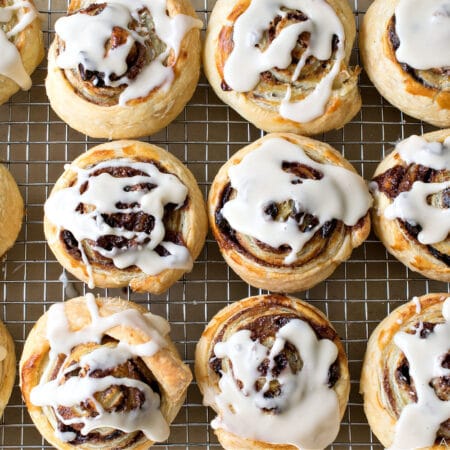 Easy Puff Pastry Cinnamon Rolls
Author:

Prep Time:

15 minutes

Cook Time:

30 minutes

Total Time:

45 minutes

Yield:

16 rolls

Category:

breakfast

Method:

baking

Cuisine:

American
---
2 boxes Pepperidge Farms puff pastry sheets (4 sheets total), thawed overnight
1 cup raisins
All-purpose flour to dust the counter
2 whole eggs, beaten
1/2 cup brown sugar, packed
2 tablespoons ground cinnamon
3/4 cup powdered sugar
4 teaspoons milk or cream
1 teaspoon vanilla extract
---
Instructions
Preheat oven to 400 degrees F with two racks about top third and bottom third of oven.
Line two sheet trays with parchment paper
If you haven't already, thaw the four sheets of puff pastry and once thawed, unfold.
Place raisins in a microwave safe bowl, cover with water and microwave for one minute. Cover the bowl with a plate and let sit while you work on the rolls.
Flour the counter and lay the sheets out 2×2 per the picture below.
Brush the edges and press the four pieces together to make one large square sheet.
Brush egg over the entire surface, saving a little bit of the beaten egg to brush after they are rolled and cut.
Mix the brown sugar and cinnamon together in a bowl and sprinkle over the entire surface, leaving one inch on one end with just the brushed egg showing.
Drain and squeeze out the water from the raisins and sprinkle over the surface.
Start rolling from the opposite end of the brushed egg edge into a tight roll all the way, ending on the brushed egg edge. Push the roll over so it rests seam side down.
Cut in half and in half again. Then cut each piece in half and half again yielding 16 pieces.
Place eight on each prepared pan, cut side up, while shaping into a neat round shape. Press each one down just slightly then brush each one with the remaining egg.
Bake for 15 minutes, rotate and swap rack positions then bake for 10-15 minutes more or until lightly browned on top. Ours took 28 minutes exactly.
Remove to a cooling rack that is sitting over a parchment covered sheet tray.
In a small bowl, mix powdered sugar, vanilla and milk and drizzle over the cooled rolls and serve.
---
Keywords: puff pastry cinnamon rolls