Every few months or so, my husband Jack and I make a conscious effort to cook with what we have on hand in our freezer and pantry cabinets.  (If you're a regular reader here, then you know that Jack calls these recipes "A.I." – short for Available Ingredients!)
Cooking with already available ingredients – or in the case of baking today's recipe for Cinnamon Chip Biscotti – is a way that we save a little on our grocery bill and avoid wasting food that we've already purchased.  Plus – it's often inspiration for some delicious recipes!
So, with an unused package of cinnamon chips staring me in the face every time I opened up our pantry door, I decided to make these Cinnamon Chip Biscotti!  (I had originally planned to use the cinnamon chips in this cookie recipe, but then decided against it as the flavors in that cookie recipe came together.)
This Cinnamon Chip Biscotti recipe is adapted from one I found on the Hershey's Kitchen website – and they are sweet, spicy and delicious!  I think these Cinnamon Chip Biscotti are equally delicious right out of the oven – but adding a cinnamon and white chocolate drizzle on top make these biscotti extra sweet and so pretty to look at!
Print
Cinnamon Chip Biscotti
Prep Time:

15 mins

Cook Time:

45 mins

Total Time:

1 hour

Yield:

4 dozen
---
½ cup

(

1

stick) unsalted butter, softened

1 cup

granulated sugar

2

eggs

1 teaspoon

vanilla extract

2 ½ cups

all-purpose flour

1 ½ teaspoons

baking powder

¼ teaspoon

salt

1

10-ounce package HERSHEY'S Cinnamon Chips, divided

1 cup

finely chopped walnuts

3 teaspoons

shortening, divided (do not substitute butter, margarine, or other oils)

¼ cup

white chocolate chips or white candy melts
---
Instructions
Preheat oven to 325 degrees F. Line a cookie sheet with parchment paper. Set aside.
In a large bowl, cream together butter and sugar. Add eggs and vanilla extract and mix well.
In a separate bowl, whisk together flour, baking powder and salt. Gradually add the flour mixture to the butter mixture, beating until smooth.
Fold in 1 cup of the cinnamon chips and all of the walnuts (use a spoon), mixing until the chips and walnuts are incorporated throughout the dough.
Form the dough into a ball, then cut into 4 equal quarters. Shape each quarter into a flattened log approximately 8 inches long and 1½ inches wide. Place on parchment covered cookie sheet, leaving about 2 inches in between each log.
Bake for 25 to 30 minutes or until firm and a toothpick inserted into the center of each log comes out clean. Remove cookie sheet from the oven and allow to cool for 30 minutes.
Once the logs have cooled for 30 minutes, use a large spatula and carefully transfer the logs to a cutting board. Line the cookie sheet with clean parchment paper.
Cut each log diagonally into ½-inch wide slices. Place the slices cut down on the parchment lined cookie sheet (OK if they are close together). Bake for 5-6 minutes, then turn each slice and bake for another 5-8 minutes or until the slices are lightly golden and crisp.
Remove from the oven and place biscotti on a wire rack to cool while you mix up the drizzle.
In a small, microwave-safe bowl, melt remaining cinnamon chips with 2 teaspoons shortening at medium (50%) temperature for 30 – 45 seconds or until smooth when stirred. (Be careful not to overheat.) Allow to cool slightly, then pour into a piping bag fitted with a small circle tip (or use a small zipper seal bag with the corner cut off.) Drizzle over the biscotti.
As the cinnamon drizzle cools, repeat the process with the white chocolate chips (or candy melts) and the remaining 1 teaspoon of shortening.
Allow the drizzle to cool and dry before serving.
---
Disclosure: The post contains affiliate links.
You may also like:
Saigon Cinnamon Ginger Cookies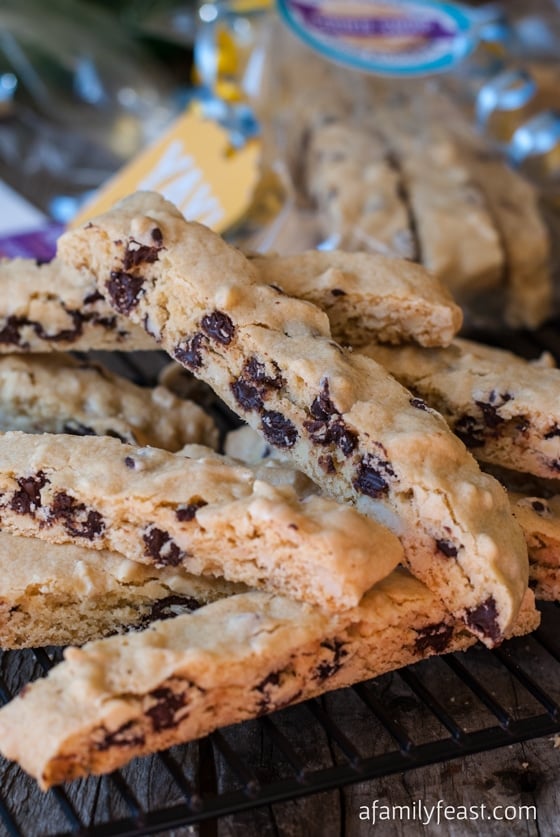 Steel Cut Oats Breakfast Biscotti