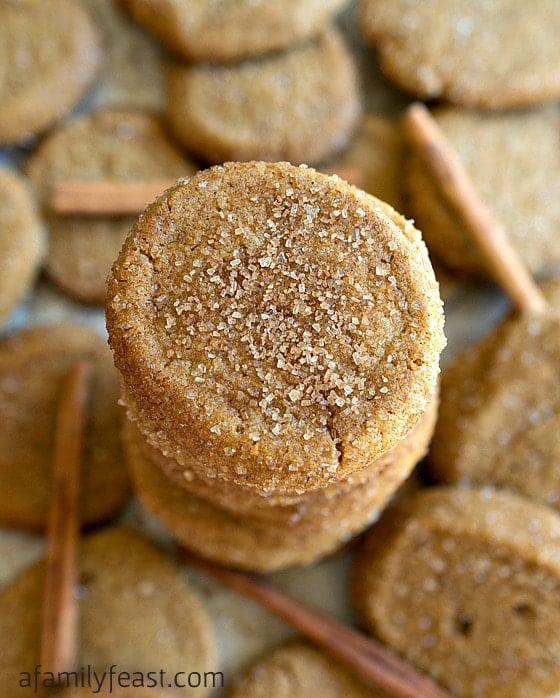 It's not often that my husband Jack sets out to bake some cookies.  I'm usually the one that makes the desserts and other baked goods (except for breads – that is one of Jack's specialties).  So I was pleasantly surprised when Jack told me that he wanted to bake these Saigon Cinnamon Ginger Cookies!
These wonderful chewy, spicy cookies were inspired by a cookie recipe originally published in the same Vietnamese cookbook
that we shared with you in last week's post for that delicious Gooey Ginger Chicken.   Tony Rees, the sous/pastry chef of Lemon Grass Café in Sacramento, California originally named these cookies 'ginger twinkles' – a nod to both the ginger flavor as well as the sweet sugar coating.
Our version is an adaptation that uses Roasted Saigon Cinnamon
and Roasted Ground Ginger
(wow – are those fantastic spices!), and we rolled our cookies in Demerara sugar
for an even crunchier sugar coating!
These Saigon cinnamon ginger cookies are dark and sweet and intense with flavor!  They have a slight crunch around the edges but are actually wonderfully chewy – similar in texture to a sugar cookie.
Jack and I couldn't stop eating these Saigon cinnamon ginger cookies – they are some of the best cookies we've ever had!  And I think…now that I know how good Jack is at baking…I'm going to encourage him to bake cookies more often!
Recipe adapted from The Best of Vietnamese & Thai Cooking: Favorite Recipes from Lemon Grass Restaurant and Cafes
.
Print
Saigon Cinnamon Ginger Cookies
Prep Time:

50 mins

Cook Time:

15 mins

Total Time:

1 hour 5 minutes

Yield:

4 dozen cookies

Category:

cookies

Method:

baking

Cuisine:

Vietnamese
---
3 cups

flour

½ teaspoon

salt

2 teaspoons

baking powder

2 teaspoons

McCormick Gourmet Roasted Saigon Cinnamon, (regular cinnamon may be substituted if you can't find the roasted version)

4 teaspoons

McCormick Gourmet Roasted Ground Ginger, 1.37-Ounce, (regular ground ginger may be used if you can't find the roasted version)

2

sticks softened butter (

8 ounces

)

1 cup

white sugar

1/3 cup

dark molasses

1

large egg

½ cup

Demerara Sugar (Turbinado Sugarone !important;margin: 0px !important" src="http://ir-na.amazon-adsystem.com/e/ir?t=afafe-20&l=as2&o=1&a=B002KOTMX0″ alt="" width="1″ height="1″ border="0″ /> or granulated sugar may be substituted)
---
Instructions
In a medium bowl, sift flour, salt, baking powder, cinnamon and ginger and set aside.
In the bowl of a stand mixer with the paddle attachment, cream butter, white sugar and molasses until fluffy – about 3-4 minutes.
Add egg and beat for 30 seconds. Scrape sides of bowl and mix again.
Add dry ingredients on low speed until thoroughly mixed.
Divide dough into four logs, eight inches long. Seal each one in plastic wrap and refrigerate for 30 minutes.
Preheat oven to 325 degrees.
On a cutting board, cut a log in half and half again. Then cut each quarter into thirds, yielding 12 cookies. Repeat for other three logs for 48 pieces.
Pour Demerara sugar in a pie plate. Line four cookie sheets with parchment paper or if nonstick, no parchment needed.
Roll each slice on one face and all of the edges in the sugar and then place sugared side face up in your pans; 12 per pan. (If you sugar both sides, they slide on the pan and don't stay put). Alternatively, you can roll each slice into a ball and press slightly to get a perfect surface. The way these cookies bake, the way they look going into the oven is how they will look coming out, just a bit bigger. Any imperfections don't get baked out. If these are for show, you should roll first to create a nice even look, but not necessary.
Bake one pan 12 to 15 minutes until cookies start to dry out around the edges but are still soft in the middle. (Ours took exactly 14 minutes but ovens differ and cookie sheets differ.) Repeat for the other three pans.
Let sit on pan for five minutes then transfer to cooling racks before storing.
---
Keywords: cinnamon sugar cookies
Disclosure: This post contains affiliate links.
You may also like:
Crispy Asian Chicken Wings with Ginger-Lime Dipping Sauce