Today's recipe for Gooey Ginger Chicken is another delicious dish adapted from one of our favorite cookbooks, The Best of Vietnamese & Thai Cooking
.  This dish makes a regular appearance on the menu at the Sacramento-area Lemon Grass Restaurant and Café, which is owned and operated by the cookbook's author Mai Pham.
This gooey ginger chicken is a wonderful, family-friendly meal that both kids and adults will love!  Tender chunks of chicken are served in a sauce that is both sweet and spicy. The sweet (as well as the 'gooey') comes from this homemade Vietnamese Caramel Sauce mixed with spicy fresh ginger and chili peppers.  You can choose a mild or a hot pepper for the sauce – whatever your family enjoys – or you can even leave the chili pepper out completely if you wish!
Another great thing about this recipe is that it's made from ingredients that are all commonly found at most supermarkets – no need to visit an Asian market for specialty ingredients!  So it's entirely possible to make delicious restaurant-quality food like this gooey ginger chicken at home!
Print
Gooey Ginger Chicken
Prep Time:

20 mins

Cook Time:

30 mins

Total Time:

50 minutes

Yield:

4-6 servings
---
Description
Note: You should not try to substitute the caramel sauce called for in this recipe with molasses or other store-bought versions of caramel sauce. They are too thick and sweet and not adequate substitutes. The Vietnamese Caramel Sauce is worth the effort to make at home as it introduces a nutty sweetness that you simply cannot get with anything else. Make it ahead of time and store it in your pantry to use as needed for a variety of dishes.
---
2 tablespoons

vegetable oil

1 tablespoon

chopped shallots

1 tablespoon

minced garlic

1 teaspoon

chopped fresh chili pepper (your choice of pepper – mild or hot, or leave the chili pepper out entirely if you prefer)

3 tablespoons

minced fresh ginger

2

pounds boneless skinless chicken cut into bite sized pieces (mix white and dark meat)

4 tablespoons

Vietnamese Caramel Sauce (see that recipe here)

¼ cup

chicken stock

2 tablespoons

fish sauce
Corn starch as needed

½ cup

scallions, cut on the bias into one inch strips (

3

or

4

scallions, top and bottom)
Steamed white rice, to serve with the chicken
---
Instructions
Begin by preparing (chopping, measuring, etc.) all of the ingredients for this dish (per the ingredients list in this recipe) before you start to cook.
Prepare your rice so that it is cooked and ready when this dish is ready. It takes about 30 minutes to cook the chicken so plan your rice cooking time accordingly.
In a wok or similar shaped fry pan, heat to high and add oil, swirling it around to coat sides.
Add shallot, garlic, optional chili pepper and ginger and stir fry for one minute. Add chicken and toss to coat. Reduce heat slightly and cook for five minutes tossing and stirring occasionally to season the chicken.
Stir in caramel sauce, chicken stock, and fish sauce. Reduce to a simmer and let chicken cook in this liquid for approximately 20-30 minutes until the sauce thickens and clings to the chicken. If after 30 minutes the sauce is not thick enough, mix a small amount of corn starch and water together and drizzle a small amount at a time into the hot liquid and stir as you go. Once it reaches the desired consistency, remove from the heat and stir in scallions.
Serve over plenty of steamed white rice.
---
You may also like: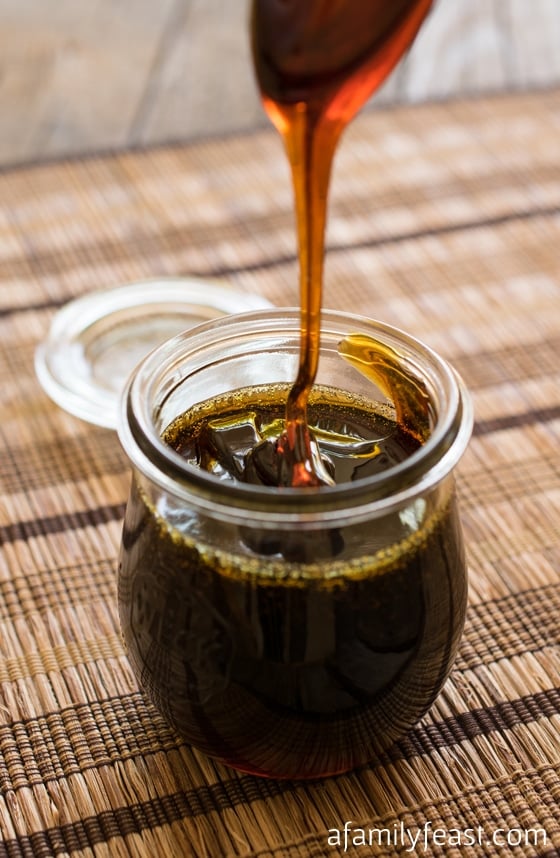 Honey Mustard Soy Glazed Chicken Wings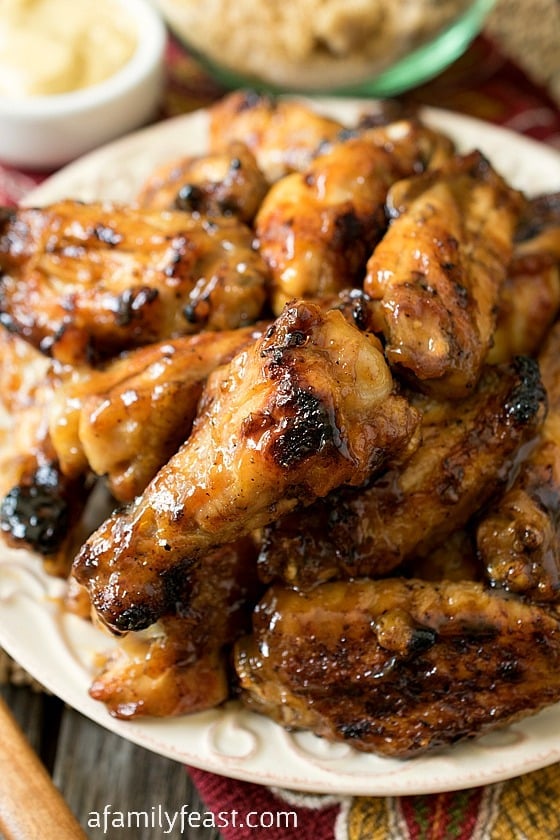 Chicken with Sweet and Sour Plum Sauce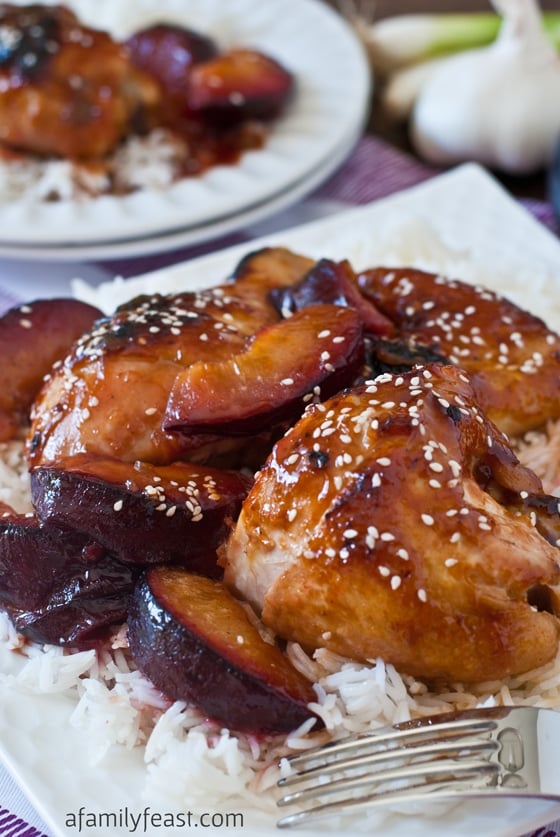 Crispy Asian Chicken Wings with Ginger-Lime Dipping Sauce