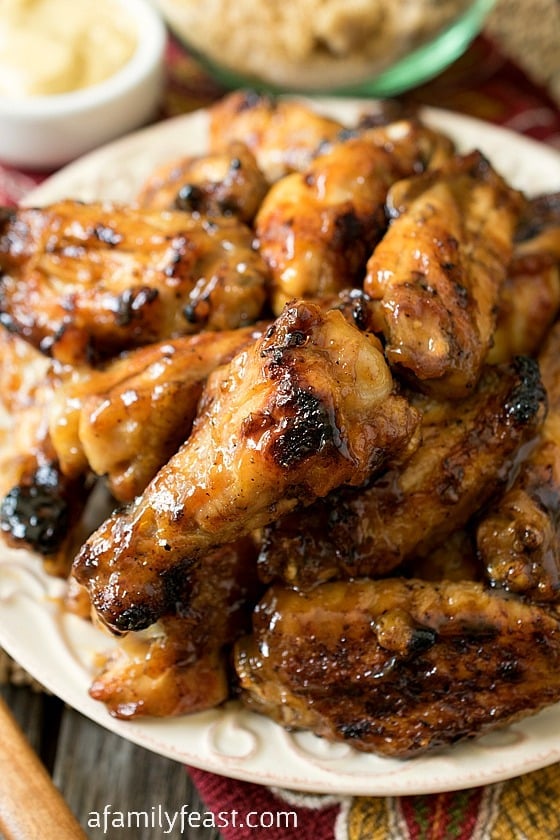 As a food blogger, you know you've hit a 'recipe home run' when – as soon as the photos are taken for a blog post – your dish gets devoured!  And that was the case with these Honey Mustard Soy Glazed Chicken Wings!
These grilled, plump chicken wings are covered with the most delicious glaze EVER!  Mustard, vinegar, brown sugar, honey, soy sauce and sesame oil are combined, then simmered until the mixture reduces into a fantastic sweet and tangy glaze!  This honey mustard soy glaze is especially delicious on chicken – but it's great as a barbecue sauce on grilled pork or any other recipe that calls for a good barbecue sauce!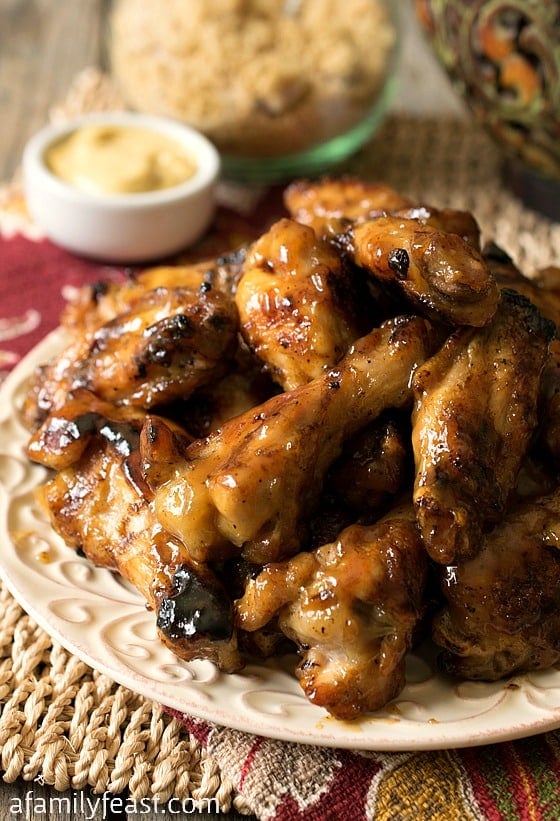 So please – take my word for it!  Just scroll down right now and print out this recipe – then add all of the ingredients to your grocery shopping list so you can make these finger-licking good honey mustard soy glazed chicken wings – STAT!
Adapted from The Silver Palate Cookbook
.
Print
Honey Mustard Soy Glazed Chicken Wings
Prep Time:

10 mins

Cook Time:

35 mins

Total Time:

45 minutes

Yield:

24 Wingettes and Drumettes
---
12

whole, fresh plump chicken wings (do not use the frozen wings, buy fresh for this recipe)

½ cup

Dijon mustard

1 teaspoon

Coleman's dry mustard

1/3 cup

cider vinegar

1/3 cup

brown sugar

½ cup

honey

1 tablespoon

good quality soy sauce

1 tablespoon

sesame oil
Vegetable oil for grilling
---
Instructions
Cut off wing tips and freeze for stock.
Run sharp knife down between joint and separate wingette from drumette.
In a small sauce pan, add Dijon, dry mustard, vinegar, brown sugar, honey, soy sauce and sesame oil.
Bring to a boil, lower to simmer and cook five minutes. Set aside.
Line a grill pan with foil with a little foil ridge around the outside and set aside.
Have a large bowl standing by.
Heat grill to medium high and brush grates with a little vegetable oil. Place wings on oiled grates and grill 20 minutes, turning often and keeping lid shut between turns.
Transfer to the large bowl and pour most of the sauce over the wings. Reserve the remainder of the sauce.
Toss the wings to coat and pour out onto the foil lined grill pan and place back on the grill and close the lid. After five minutes, flip each one and close the lid again. After five more minutes remove.
Once they come off the grill for the second time, pour the remaining sauce over, toss and serve.
Disclaimer: This post contains affiliate links.
You may also like:
Crispy Asian Chicken Wings with Ginger-Lime Dipping Sauce
Bourbon Spice Barbecue Chicken Wings