Earlier this year, I read somewhere that 2016 is 'the year of the babka' so we're jumping on the bandwagon! Babka is a sweet yeast cake similar in texture to a brioche, but there are actually many different versions of babka around!
Today's recipe – a Cinnamon Raisin Swirl Babka – is more akin to the babka you would find in Eastern European Jewish family recipe boxes. It has a wonderful swirl of cinnamon, pureed raisins, and walnuts inside – giving this babka great eye appeal!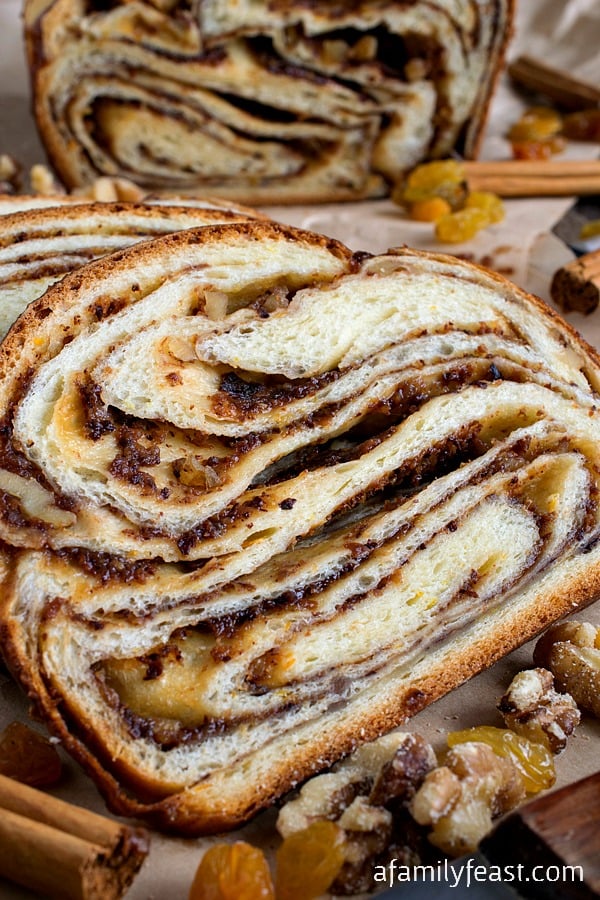 In Polish families like mine, babka is more plain and simple, with a single ring of nuts and raisins baked into the center. (You can see that recipe here.)
This Cinnamon Raisin Swirl Babka requires a few extra steps to get that gorgeous swirl throughout the dough – but we show you the steps in photos below and really, it isn't that difficult to master!  Most of the prep time listed in the recipe below is inactive waiting time while the dough ferments or rises.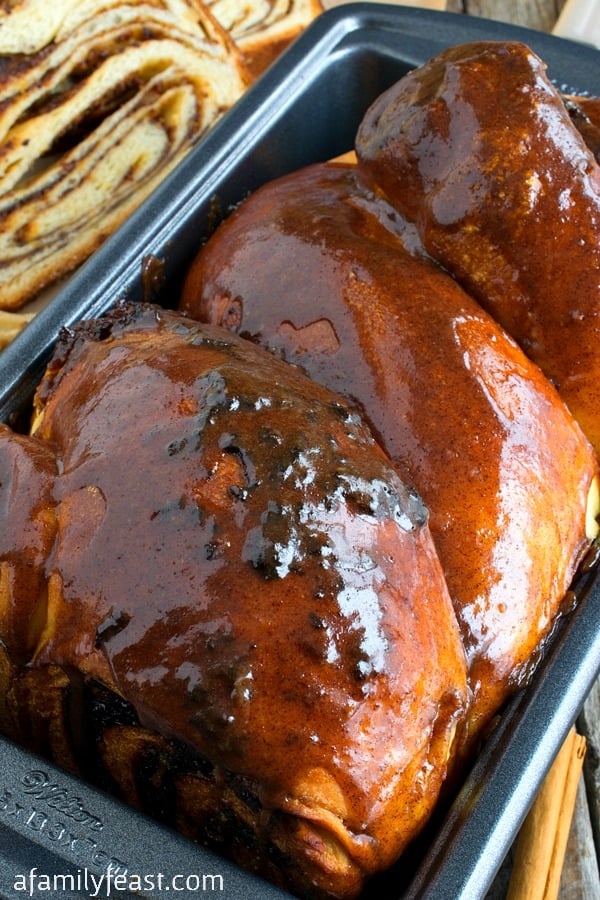 Once baked, the Cinnamon Raisin Swirl Babka is topped with a delicious glaze. You can leave it as is to coat the crust – or add a streusel topping of additional sugar, nuts and spices if you'd like.  (This decadent babka is sweet enough without the extra streusel topping.)
P.S. As we made this recipe, I couldn't help but think of the Seinfeld episode where Jerry and Elaine go to the bakery to buy a babka…enjoy!
Print
Cinnamon Raisin Swirl Babka
Prep Time:

12 hours

Cook Time:

35 mins

Total Time:

12 hours 35 minutes

Yield:

2 loaves
---
Description
Note: This recipe uses a pre-fermentation called Biga which must be made a day ahead and refrigerated overnight.
---
Biga pre-fermentation dough made day prior
1¾ cups

bread flour

½ teaspoon

dry yeast

6

–

7

ounces warm water (

110

degrees F tap water)
Babka dough
¾ cup

whole milk

1

stick butter (

1/2 cup

)

¼ cup

warm water (

110

degrees F tap water)

1½ teaspoons

dry yeast

2

room temperature eggs

2

room temperature egg yolks

¾ cup

granulated sugar

¾ teaspoon

salt

¼ teaspoon

freshly ground nutmeg

½ teaspoon

vanilla extract

¼ teaspoon

orange extract
Zest from

one

large naval orange
Zest from

one

lemon

1 ½ teaspoons

Grand Marnier or Triple Sec or other orange liquor

5 ½ cups

bread flour plus more for dusting counter
Filling
1 cup

golden raisins

1 cup

regular raisins

1 cup

currants

¼ cup

spiced rum

4 tablespoons

butter, softened

1 tablespoon

cinnamon

¾ cup

granulated sugar

1 teaspoon

kosher salt

1 cup

walnuts chopped to rice sized pieces
Egg wash
1

whole egg

1 tablespoon

water
Glaze
6 tablespoons

butter

¼ cup

whole milk

1 ½ tablespoons

cinnamon

¼ teaspoon

kosher salt

1 cup

powdered sugar
---
Instructions
You will need two 9X5 non-stick loaf pans. Spray each with non-stick pan spray and line the inside with cut pieces of parchment paper so the paper sticks out of the pans on the long sides. These will act as handles to remove the bread once baked.
Make the Biga pre-fermentation the day before by combining the flour, yeast and water. Mix by hand or with a stand mixer with a dough hook to form a dough that sticks a little to the bottom while mixing. Add more water or flour to achieve that consistency. Place in an oiled covered bowl and set in a warm place for an hour or two until doubled in size. Punch down, cover and place in the refrigerator overnight.
Four to five hours before serving, remove Biga from the refrigerator and cut into golf ball sized pieces and lay out on your counter. Cover with plastic and a towel and let come up to room temperature for 45 minutes.
While Biga is coming to room temperature, measure out all of your ingredients and prepare milk and butter by combining in a microwave safe bowl and microwaving until hot and the butter has melted. Set aside to cool to room temperature.
In a small bowl, combine warm water and yeast.
In a medium bowl, combine eggs, egg yolks, sugar and salt. Using an electric mixer or by hand whip for about three minutes or until the mixture turns pale.
To the egg mixture, add nutmeg, both extracts, both zests and orange liquor and stir to combine.
Place 5 cups of flour on your counter and make a large well in the center or in a stand mixer.
Mix and stir as you go and add each of the three bowls a little at a time starting with warm yeast and water, then cooled milk and butter and finally eggs and sugar mixture, pulling the sides into the center over and over to form a dough or beat with a dough hook in your stand mixer.
Add the pieces of Biga to the dough working them in as you press and turn or with stand mixer. Use remaining ½ cup of flour if needed to make somewhat of a sticky but manageable dough.
The dough will be at the top of a five quart mixer and will need to be kneaded by hand at this point. This process will take a good five minutes working the dough to knead and blend together. Pour the dough onto a floured surface. Pull the back of the dough to the front and press with the heel of your palm over and over working the dough for five minutes. This step is necessary.
Oil a large bowl and place the dough ball in and swirl to coat all sides with oil.
Cover with plastic and a towel and place in a warm place for at least two hours or until doubled in size.
In a medium bowl place both raisins, currants and rum, cover and microwave one minute on high. Add butter, cinnamon, sugar and salt and stir into warm raisin mixture. Once butter has melted in, place entire contents in a food processor and pure for about 30 seconds to form a spreadable paste. Reserve ¼ cup of this mixture and set the rest aside.
Once the dough has doubled in size, generously flour your counter and pour out the dough. Cut into two equal pieces.
One at a time, roll out each piece of dough to 12 inches by 24 inches.
Take half of the remaining raisin mixture and with an offset spatula, spread to within an inch of the edge of the first rolled out dough. Sprinkle the top with half the nuts.
Roll the long edge tightly to the other long edge so you have one 24 inch long tight roll. Cut this in half so you have two 12 inch rolls.
Take half of the reserved ¼ cup of the raisin filling and smear it over the top of one of the rolls. Take the other roll and place it over the first in an X shape.
Now twist each end around each other so you have a striped twisted roll. Cut off and discard about an inch or so of each end. Lift the twisted roll and place in prepared pan pressing it in to fit.
Repeat this procedure for the other loaf.
Cover with plastic and a dish towel and let proof for 90 minutes or until almost doubled in size.
Preheat oven to 350 degrees F.
Beat the egg with the water and brush the tops of each loaf, trying not to let the egg wash leak down the sides.
Place in the center of the oven and bake for 30-40 minutes or until golden brown and when tapped, sounds hollow. Half way through baking, rotate pans so that they brown evenly. Ours took 38 minutes total.
Cool for a few minutes on a rack then pull out of the pan lifting out with the paper. Place on rack while you make glaze.
Place butter and milk in a sauce pan and heat and whip. Once butter melts, add the remaining glaze ingredients whipping as you go.
Spoon warm glaze over warm bread letting glaze drizzle down the sides. Cool to room temperature.
Once cool, bread should be tightly wrapped. Can be frozen if baking ahead.
---
You may also like: