We're back today with another finger-licking good chicken wings recipe – and this time it's our Dry Rub Spicy Barbecue Chicken Wings!
Is it just us?  Or are chicken wings always the first thing to get eaten at your barbecues and parties too?
We love them (and so do our guests apparently!) and these chicken wings get their really great flavor from a spicy dry rub made with brown sugar, granulated sugar, roasted cumin, chili powder and coriander.  Just mix the spices together in a plastic bag, then toss the wings in the bag and shake to coat.  Allow the wings to marinate in the rub overnight – then grill them the next day!
These chicken wings grill up to a gorgeous mahogany color and the caramelization on the skin with all those sugars and spices is fantastic!
If you'd like, you can eat these dry rub spicy barbecue chicken wings simply grilled as is – or you can toss the wings in barbecue sauce before serving (like we did in our photos here).  Either way – dry or sauced – these chicken wings are simple to prepare, and great to eat with addictively good, lip-smacking flavors!
Don't forget the napkins!
Print
Dry Rub Spicy Barbecue Chicken Wings
Prep Time:

12 hours 10 mins

Cook Time:

30 mins

Total Time:

12 hours 40 minutes

Yield:

24 Wingettes and Drumettes
---
Description
Prep time listed includes time required to marinate these wings overnight.
---
12

whole fresh plump chicken wings (not the frozen kind)

2 tablespoons

brown sugar

2 teaspoons

sugar

1 tablespoon

roasted ground cumin (use regular cumin if roasted not available)

2 tablespoon

chili powder

2 tablespoons

ground coriander

2 tablespoons

Kosher salt
Optional

¼ cup

of any BBQ sauce, see here for our recipe
---
Instructions
Cut off wing tips and freeze for making a chicken stock.
Run a sharp knife down between the joint of the chicken wing and separate the wingette from drumette.
Mix all spices in a large bowl and add cut up chicken pieces. Mix and toss to coat and place in a gallon zip lock bag overnight.
The following day, preheat grill to medium. These wings are good on their own or dipped in a little BBQ sauce during the last ten minutes of cooking. The sauce is optional. Simply cook them for 20-30 minutes on an oiled medium grill until done. If you want to use a little sauce at the end, follow the steps below.
Line a grill pan with foil with a little foil ridge around the outside and set aside.
Have a large bowl standing by.
Heat grill to medium high and brush grates with a little vegetable oil. Place wings on oiled grates and grill 20 minutes turning often and keeping lid shut between turns.
At this point, you can eat the wings simply grilled with the spice rub flavorings.
Or, if you prefer your wings sauced, transfer the wing to a large bowl and pour the optional BBQ sauce over the wings. Toss the wings to coat and pour out onto the foil lined grill pan and place back on the grill and close the lid. After five minutes, flip each one and close the lid again. After five more minutes remove.
Serve with plenty of napkins.
---
You may also like:
Honey Mustard Soy Glazed Chicken Wings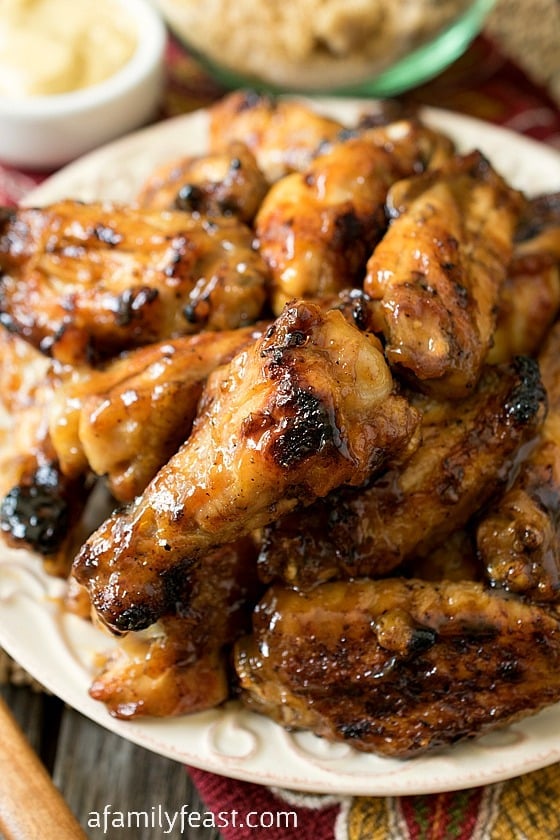 Crispy Asian Chicken Wings with Ginger-Lime Dipping Sauce