Grab a spoon and dig into this Blueberry Pudding Cake – a luscious, warm blueberry sauce is hidden under a perfectly sweet lemon-almond cake.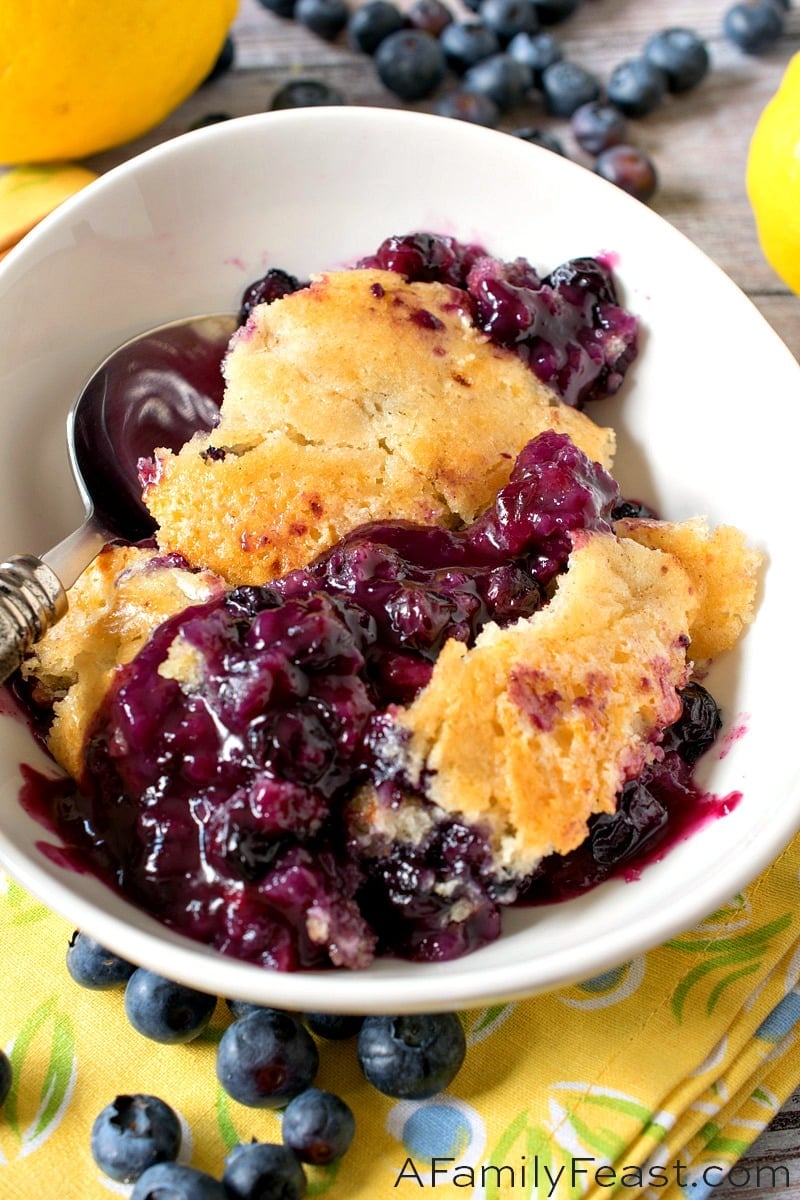 This past week, our local supermarket had a 'buy one, get one free' deal on fresh local blueberries, so we stocked up. Blueberries are so expensive other times of the year, so when the prices come down during the summer months, we eat fresh, local blueberries as often as we can!
For a while now, I've been wanting to try making this Blueberry Pudding Cake recipe – and I'm so glad I finally did! The recipe came from the same Tougas Family Farm Cookbook where we found our delicious Apple Crisp recipe so many years ago. (It's available online here, and it's a great collection of recipes made from all different types of fresh fruit picked on their Massachusetts farm.)
How do you make Blueberry Pudding Cake?
This Blueberry Pudding Cake is similar to our Hot Fudge Pudding Cake recipe in that, after you mix up the lemony blueberry batter, you sprinkle a dry sugar mixture on the batter – then pour hot water over the top before it bakes. (I know…it seems like a strange step!) As it bakes, the hot water sinks to the bottom, while the batter rises to the top – creating a luscious, hot, syrupy blueberry sauce underneath and a sugar-crusted cake on top!
There are actually lots of similar Blueberry Pudding Cake recipes online. But this particular version of the dessert is so good because the lemony cake batter is flavored with almond extract – which is a wonderfully complementary flavor to the sweetness of the blueberries.  (Big kudos to Dorothy Corcoran and Kitty Patterson who are listed as the recipe creators in the cookbook.)
You'll want to serve this Blueberry Pudding Cake right out of the oven so that the blueberry sauce is still hot and steamy – and the next time we make this, we're thinking it would also be great  served with some vanilla ice cream or whipped cream (although it's fantastic on its own).  Overtime – if you have any leftovers – the cake will absorb the blueberry sauce, but even then, this Blueberry Pudding Cake is still delicious!
You may enjoy these other blueberry dessert recipes:
Print
Blueberry Pudding Cake
Author:

Prep Time:

15 minutes

Cook Time:

35 to 40 minutes

Total Time:

41 minute

Yield:

4-6 servings

Category:

dessert

Method:

baking

Cuisine:

American
---
Description
Note: As this Blueberry Pudding Cake bakes, it rises right to the top edge of an 8×8-inch pan, and once out of the oven, it deflates to about half.
---
1 tablespoon butter to grease an 8×8-inch pan
1 pint fresh ripe blueberries
1 teaspoon ground cinnamon
1 teaspoon lemon zest
Juice from half a lemon
1 cup all-purpose flour
¾ cup granulated sugar
1 teaspoon baking powder
½ cup whole milk
3 tablespoons melted butter
1 teaspoon almond extract
1/3 cup more granulated sugar
1 tablespoon corn starch
¼ teaspoon salt
1 cup boiling water
---
Instructions
Method
Preheat oven to 350 degrees F.
Liberally butter an 8×8-inch pan and set aside.
In a bowl, toss blueberries with cinnamon, zest and juice. Pour into prepared pan.
In a medium bowl, whisk flour, ¾ cup sugar and baking powder.
Whisk in milk and melted butter along with almond extract. Pour this evenly over the blueberries.
In a small bowl mix 1/3 cup of sugar with corn starch and salt and sprinkle this over the batter.
Pour the cup of boiling water into the pan (right over the batter) and place in the preheated oven and bake for 35-40 minutes or until a tooth pick inserted into the batter comes out clean, but there is still blueberry sauce at the bottom. (The original recipe had a baking time of 55 to 60 minutes, but our cake was ready after 40 minutes.)
Notes
Fresh cultivated blueberries are best for this. Try not to get the wild smaller berries.
Although we used fresh blueberries in this recipe, frozen blueberries will work too.
Keywords: blueberries, cake, pudding cake