Our Baked Rigatoni with Italian Sausage and Meatballs is a delicious way to feed a crowd – or to enjoy leftovers the next day.
These days, many of us are spending time in the kitchen – learning new recipes now that we have some free time on our hands. Or, we're cooking big batch meals that the entire family can enjoy for dinner – with plenty for leftovers the next day.
This Baked Rigatoni with Italian Sausage and Meatballs is a great "project" – with a delicious dinner as the end result!
How do you make Baked Rigatoni with Italian Sausage and Meatballs?
You'll start by cooking up a pot of our homemade Italian Tomato Sauce. While that simmers away on the stove, you'll make a batch of our Italian-Style Meatballs – some of the meatballs to be used in this baked rigatoni recipe, and the rest frozen to eat at a different meal.
Next, blanch links of sweet Italian sausage in a large pot of water – just long enough to partially cook the sausage through. Then, brown the sausages in a large skillet. (We have you do these pre-cook steps so that the sausages can be sliced ahead of time to include in your baked rigatoni casserole.) In the same skillet used to brown the sausages, sauté mushrooms, bell peppers and sliced onions just under tender.
At this point, your tomato sauce should be just done – so you'll cook the pasta next. We used rigatoni – but you could also use ziti if that's what you have on hand.
Once the pasta is cooked you'll be ready to assemble your Baked Rigatoni. We use a large, deep 9×13 casserole dish – placing a piece of foil on the oven rack below to collect any drips as the rigatoni bakes. (We highly suggest you do this too, so you don't have to clean your oven.)
Toss the drained pasta with some of the cooked tomato sauce, then layer pasta – meatballs – sausage – mushroom/peppers/onion mixture in the casserole dish – then a layer of shredded Fontina cheese. Repeat – adding grated Parmesan cheese on the next layer. Then, finally, one more layer of pasta – meatballs – sauce – vegetables – and shredded Mozzarella on top.
Bake for thirty minutes in the oven – until heated through and bubbly, and the cheese is melted on top. Serve with plenty of napkins.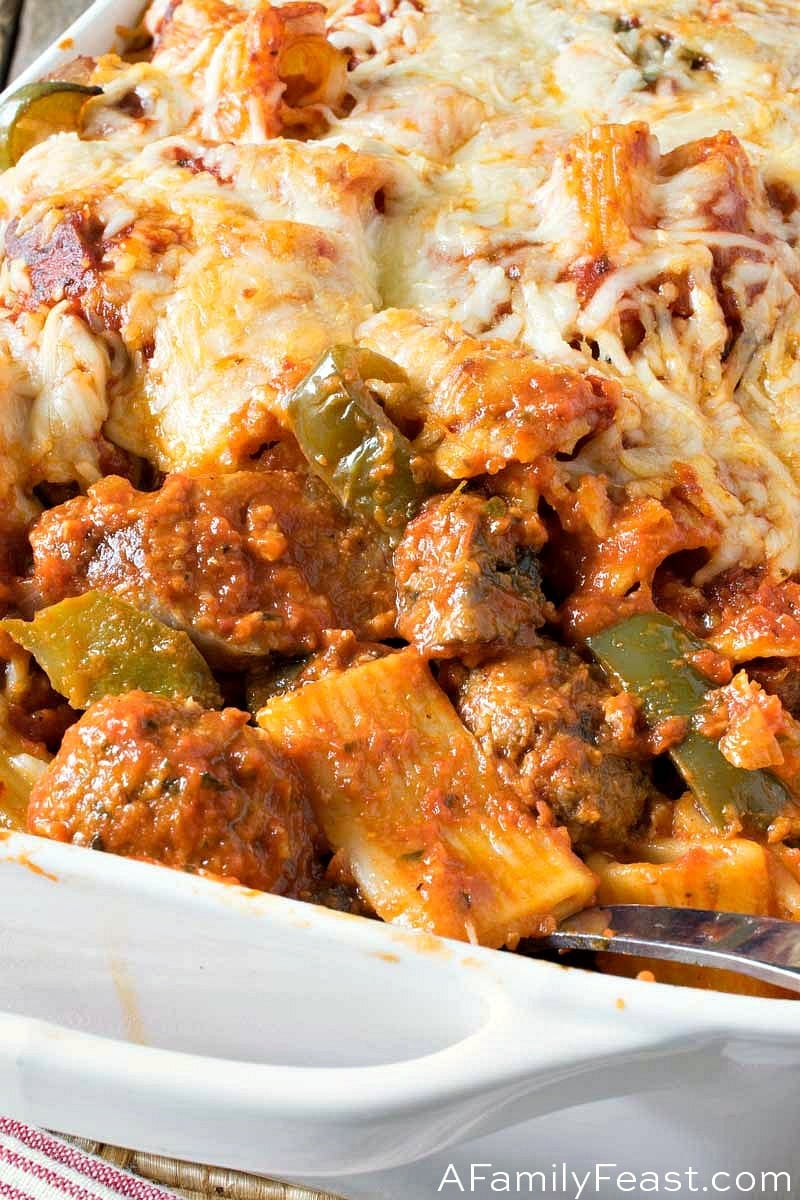 Can I make the sauce and meatballs ahead of time?
Absolutely! While most of the prep and cooking time for this recipe is done while you work on another step in the recipe – it's totally fine to break this recipe up into different steps.
Both the tomato sauce and the meatballs could be made a day ahead and kept in the refrigerator until you are ready to assemble your baked rigatoni. We'd suggest bringing the meatballs up to room temperature before assembling, and warm the sauce in a pan on the stove as well.
Can I use jarred tomato sauce instead?
Of course! There's nothing wrong with taking some shortcuts – especially these days with so much going on. While our Italian Tomato Sauce is actually very easy to make, feel free to use your favorite jarred sauce instead.
The same is true for the meatballs. While our from-scratch Italian-Style Meatballs are easy and delicious, if you need to, buy some frozen meatballs for this recipe.
You may enjoy these other pasta dishes:
Print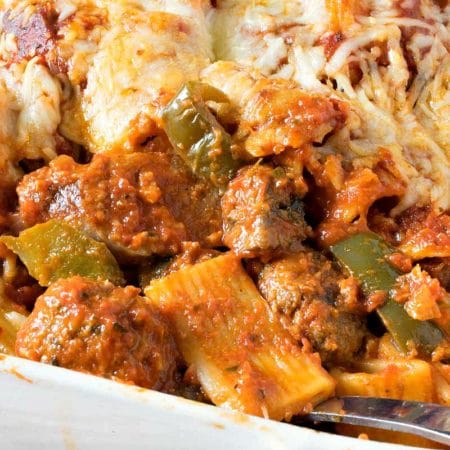 Baked Rigatoni with Italian Sausage and Meatballs
Author:

Prep Time:

2 hours

Cook Time:

2 hours

Total Time:

4 hours

Yield:

14 servings

Category:

casserole, pasta

Method:

baked

Cuisine:

Italian
---
1 batch of our Italian Tomato Sauce recipe (1½ quarts or 6 cups)
18 meatballs (2 ½ ounces each) from our Italian-Style Meatballs recipe (about 2 ¾ pounds cooked meatballs) (freeze the remainder) **
1 ½ pounds sweet Italian sausage links
6 tablespoons extra virgin olive oil, divided
1 pound dry rigatoni
8 ounces baby Bella (Cremini) mushrooms, quartered
1 jumbo green bell pepper, sliced into thick slices top to bottom
1 large onion, sliced into thick long slices top to bottom
1 pound Fontina cheese, shredded
1 cup freshly grated Parmesan cheese, plus more for serving.
2 cups shredded mozzarella cheese
---
Instructions
Prepare the Italian Tomato Sauce. (Recipe cooks for 90 minutes.)
While sauce is simmering, prepare our Italian-Style Meatballs by mixing, baking, then remove from oven and set aside. Reserve 18 meatballs for this recipe and freeze the rest for another meal.
Place a large pot of water on to boil. This pot of water will be used to blanch the sausages and then cook the pasta in the same water. Then finally the drained pasta and some of the tomato sauce will be mixed in this same pot before transferring to a baking pan. So, make sure the pot is large enough. I used a six-quart Dutch oven.
Separate the sausage links so each link is separated but still sealed in its casing. Place them all into the boiling water and cook for five minutes. After five minutes, use tongs and remove to paper towels to dry. Turn the pot of water off for now but do not discard water.
In a very large skillet or saute pan, add 2 tablespoons of the oil over medium heat and once hot, add the blanched sausages. Cook and turn until all sides are browned, about ten minutes. Remove to a platter to rest.
In the same pan, add two more tablespoons of the oil and once hot, add the mushrooms and cook to brown, about five minutes. Remove to a bowl.
Add the last two tablespoons of oil and add the bell pepper and onion strips and cook for about 5-10 minutes until just starting to get soft. Add the mushrooms, plus any liquid, to the pan with the peppers and onions and remove from the heat.
Cut each sausage link on the bias into four thick slices.
By now your sauce should be close to done so preheat the oven to 350 degrees F and turn that pot of water back on to boil.
Once the water is boiling, salt it and add the pasta and cook until the pasta is about two minutes shy of being done, still chewy. Pour into a colander to drain.
To assemble:
Prepare a 9X13X3 inch*** (or larger) casserole dish by first spraying with kitchen pan spray then lining the bottom with one cup of sauce.
Pour the drained pasta back into the pot and add four cups of the tomato sauce and gently mix to combine.
Place one third of the pasta in the casserole dish and add one third of the meatballs, one third of the sausage and one third of the pepper, onion and mushroom mixture.
Top this with all of the fontina cheese.
Top the fontina with another one third of pasta, meatballs, sausage and vegetables then sprinkle on all of the Parmesan cheese.
Add the remaining pasta, meatballs, sausage and vegetables and top with the remaining cup of sauce and all of the mozzarella cheese.
Place a sheet of foil on the rack just below where you put the casserole dish to catch drips.
Bake for 30 minutes uncovered and enjoy.
---
Notes
*The preparation and cooking times are actually less than the four hours I list; you will be preparing one component while cooking the next, etc. It took me 2 ½ hours from start to finish.
**Our Italian meatballs recipe makes 28 meatballs and for this baked Rigatoni recipe, you only need 18 meatballs. Cutting the meatball recipe would be too difficult because the ingredients can not be evenly reduced. So best to make the whole recipe and just freeze what you don't use.
***Our 9X13X3 casserole dish was overfilled but still kept everything in but it did bubble a bit on the edges and over the top. I lined the rack below with foil to catch the drips but you could also start with a larger casserole dish or even use a roasting pan.
Keywords: Baked Rigatoni with Italian Sausage and Meatballs