No need to wait until you visit your favorite Thai restaurant…make this easy, delicious Thai Iced Tea at home!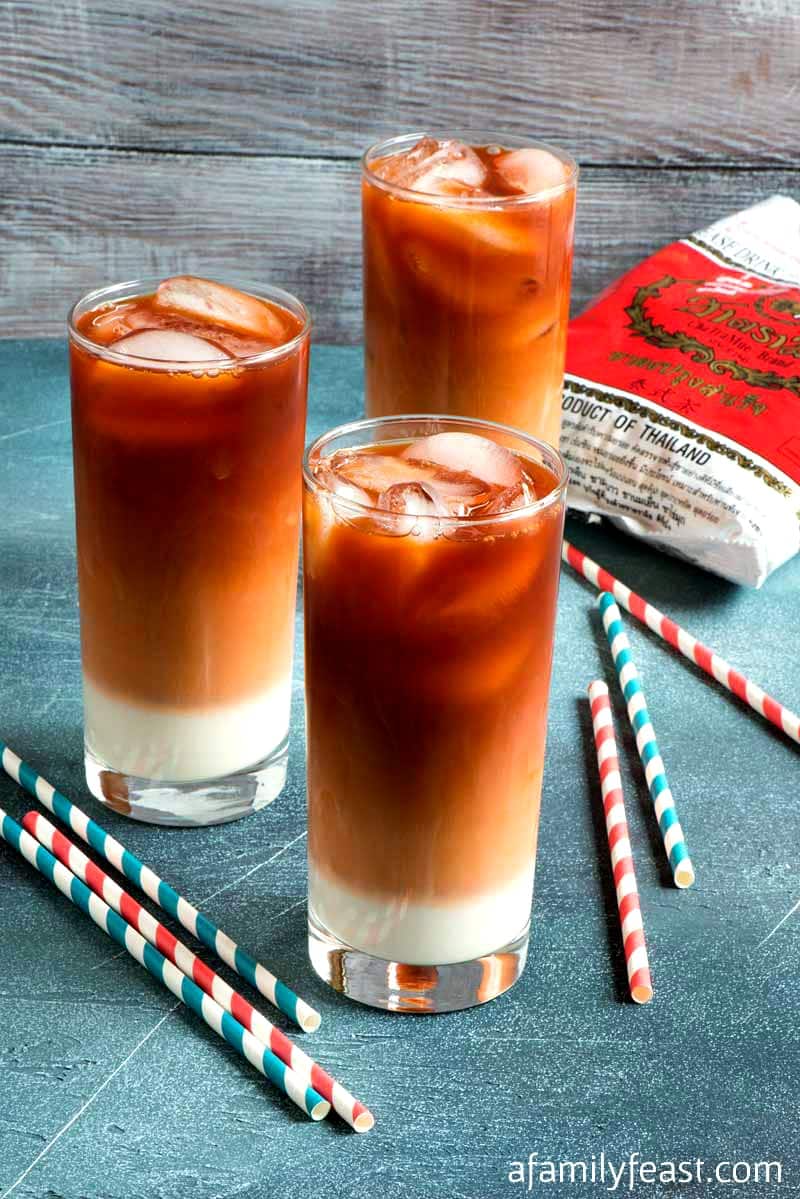 Whenever we travel, Jack and I always come home inspired to try recreating new recipes that are versions of foods (or in this case, drinks) that we enjoy when we go out to eat.
Today's Thai Iced Tea is another recipe inspired by our family's vacation to Lake Tahoe earlier this summer. We ordered Thai ice tea with lunch one day, and after one sip, we were both reminded of how much we enjoy it!
I also love the look of this tea – gorgeous ombre layers of color changing from light cream on the bottom to dark tea on top.
I've had Thai Iced Tea in the past – and the authentic versions are a special variety of black tea that is strongly-brewed with spices and sometimes vanilla added.  The addition of some yellow food coloring gives it that distinctive and gorgeous orangey hue you see in our photos and in the teas that you might order at a restaurant.
You can find Thai tea leaves online here or at most Asian specialty markets. (And if you are nervous about the yellow food coloring, just make your own using a Ceylon black tea. It won't be exactly authentic, but you'll enjoy a similar taste.)
In Tahoe, the Thai Ice Tea was served with either half and half or cashew milk (both versions were delicious!) but traditionally it is served with sweetened condensed milk or milk and sugar.
In our Thai Iced Tea recipe below we decided to mix half-and-half and condensed milk together – just to cut down on the sweetness a little, but still retain the creaminess we loved.
This Thai Iced Tea is a refreshing summertime beverage with any meal – but it's particularly well-suited to serving with a spicy Thai-inspired meal like Thai Peanut Chicken Noodle Salad or Basil Chicken in Coconut Curry Sauce.
You brew up a batch of the tea, then chill it. Then – serve with lunch or dinner, or even enjoy your Thai Ice Tea in place of your morning coffee.
Print
Thai Iced Tea
Prep Time:

5 minutes

Cook Time:

30 minutes

Total Time:

35 minutes

Yield:

4 servings
---
---
Instructions
In a bowl or sauce pan, combine dry tea leaves with the boiling water and let steep 30 minutes.
Strain through a fine mesh strainer lined with cheese cloth and refrigerate the brewed tea until chilled.
Combine the half and half with the sweetened condensed milk.
To serve, fill iced tea glasses half way with ice and fill chilled tea to ¾ of the glass.
Top with the cream mixture and stir.
The sweetened condensed milk is sweet enough that you don't need additional sweeteners.
---
Disclosure: This post contains affiliate links.


You may also like: