Back when my husband Jack and I first started dating – and we discovered our shared love of food and cooking – we used to take turns making dinner.  It was a fun way to impress each other – especially since we knew that the other person really appreciated a delicious, home-cooked meal!
I still remember one of the first few times that Jack came over for dinner – and he was impressed by two things in my kitchen.  The first was that I had a bowl of shallots (he said he knew right then that I was a serious cook because I knew the difference between a shallot and an onion).  And the second – was the extensive spice collection in my kitchen pantry!
Well…I have this delicious recipe for Basil Chicken in Coconut-Curry Sauce to thank, in part, for why I had that extensive spice collection!  This is a wonderful and super flavorful chicken dish with a creamy coconut-curry sauce that I've been making for years!
But the curry sauce isn't made with your average pre-mixed curry powder (which I personally think is a little strong and overpowering in flavor).  Instead – this curry is a blend of seven commonly-found spices (plus salt and pepper) that are combined together into a subtle but complex mix of warm and spicy flavors!  And, they blend perfectly into a sauce made with coconut milk, fresh basil and fresh gingerroot that is then combined with tender chunks of chicken.
Served over a bed of warm white rice, this basil chicken in coconut-curry sauce is a must-try recipe!
Adapted from Better Homes & Gardens.  This recipe was originally submitted to the magazine by Neeraja Narayanan from New York, NY.
Print
Basil Chicken in Coconut-Curry Sauce
Prep Time:

30 mins

Cook Time:

15 mins

Total Time:

45 minutes

Yield:

4 servings
---
½ teaspoon

salt

½ teaspoon

ground coriander

½ teaspoon

ground cumin

½ teaspoon

ground cloves

½ teaspoon

ground cinnamon

½ teaspoon

ground cardamon

½ teaspoon

freshly ground black pepper

¼ teaspoon

chili powder

¼ teaspoon

ground turmeric

4

skinless, boneless chicken breasts halves, cut into

1

-inch pieces, about

one

pound

1 tablespoon

cooking oil

1

large red onion, chopped (about

1 cup

)

5

cloves garlic, minced

2

jalapeno peppers, seeded and minced

1

13.5 ounce can coconut milk

4 teaspoons

cornstarch

3 tablespoons

fresh basil, chopped

1 tablespoon

finely chopped fresh gingerroot
Hot cooked rice, for serving
---
Instructions
In a small bowl, combine the salt, coriander, cumin, cloves, cinnamon, cardamom, black pepper, chili powder and turmeric. Set aside.
Place the chicken pieces into a medium-sized bowl. Sprinkle the spice mixture evenly over the chicken and stir to coat all of the pieces completely. Cover the bowl with plastic wrap and let the chicken stand at room temperature for 30 minutes (or in the refrigerator for 1-2 hours).
In a large skillet, heat the oil over medium-high heat. Add the onion, garlic and jalepeno and cook, stirring constantly, until the onions are soft and translucent (about 5 minutes). Remove the onion mixture to a clean bowl, reserving the drippings in the skillet. Sautee half the chicken in the skillet for about 2-3 minutes or until the chicken is tender and no pink remains. Remove the chicken from the pan and place into the bowl with the cooked onion mixture. Repeat with the remaining chicken and once cooked, place into the same bowl.
In a bowl, whisk together the coconut milk and cornstarch, and then add it to the skillet. Cook, stirring constantly, until the mixture is thick and bubbly. Add the chicken and onion mixture to the skillet and also add in the basil and gingerroot. Stir to combine and then cook for about 2-3 minutes or until the mixture is completely heated.
Serve immediately over hot cooked rice.
---
You may also enjoy:
Slow Cooker Chicken Tikka Masala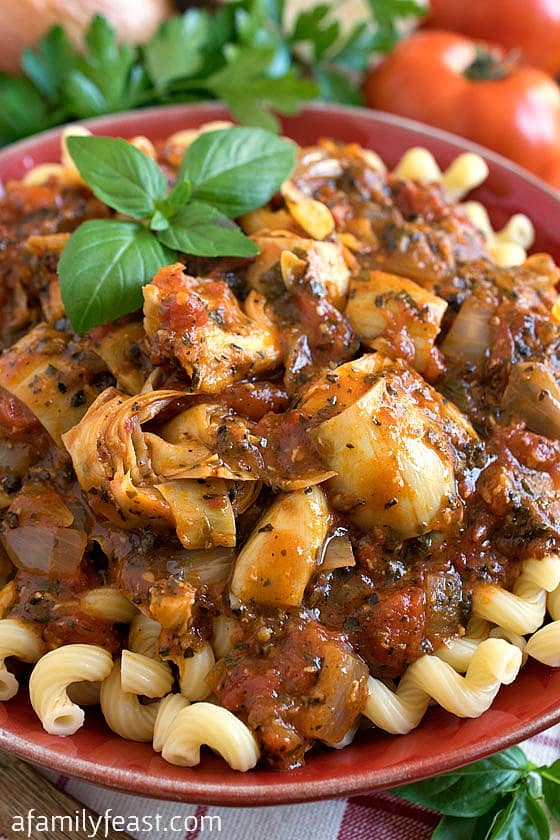 Grilled Italian Vegetable Napoleons with Basil Oil Basil