My husband is a very adventurous eater.  Jack loves many kinds of foods – from typical American fare, to sushi, to the spicier-the-better Korean and Mexican foods.  He's even been known to try foods that not very many people would try (namely, sea urchin – but that's a story for another day…).  But there are a few foods that Jack does not like: coconut (it's a texture thing) and Indian cuisine.
I, on the other hand, love Indian foods – ironic because I'm not a huge fan of super-spicy foods and sometimes strong curry flavors are too much for me.  But I love many Indian dishes because of their complexity of flavors from the different spices used in the preparation.  So, I've been telling Jack for a long time that he must not have tried good Indian food in the past, hoping that he'll be willing to try it again.
Fast forward to a few months ago – I had a craving for Chicken Tikka Masala, a classic Indian dish, and while I was searching around for a recipe to try making at home, I ran across this recipe for Slow Cooker Tikka Masala from another blog called Foodie with Family.  In the post, Rebecca (who is a far more entertaining writer than I am, so please, click here for her story) describes making this delicious dish for her own Indian-cuisine-averse husband — and he absolutely loved the dish, as well as her kids!
Based on her success, I set out to make the dish myself – marinating the chicken in a yogurt and spice mixture that helps to both flavor and tenderize the chicken.  After browning the marinated chicken pieces, and sautéing the onions, garlic and seasonings, everything is put in a slow cooker for five hours.  Very easy!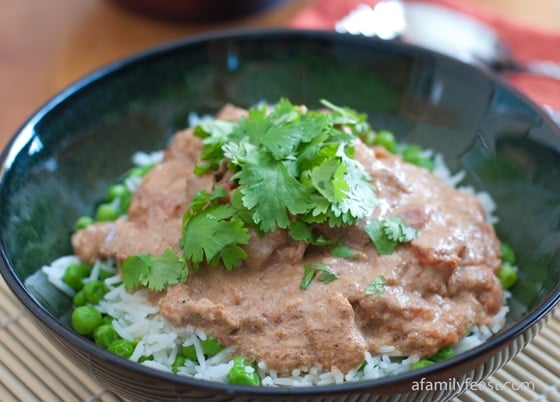 Chicken Tikka Masala is the perfect dish to try if you've never had Indian food (or think you don't like it!).  It's a tomato-based sauce that is seasoned with garam masala, a warm blend of spices including cinnamon, nutmeg, cloves, cardamom, mace, peppercorns, coriander and cumin.  (Actually, many different blends of garam masala exist.)   A pierced whole jalapeño added while cooking gives just a touch of heat to the sauce without making it too hot, and the sauce is mellowed with some cream added at the end of the cooking process.  Served on a bed of buttered rice and peas, and finished with some chopped fresh cilantro, this slow cooker Chicken Tikka Masala is sure to make anyone a fan of Indian food.
By the way – Jack loved this dish too.
Note: Garam Masala can be difficult to find in some markets.  We've been able to find it at Whole Foods, or you can order it from Amazon here
. (Affiliate Link)
Print
Slow Cooker Chicken Tikka Masala
Prep Time:

15 mins

Cook Time:

5 hours 10 mins

Total Time:

5 hours 25 minutes

Yield:

6-8 servings
---
---
To prepare the chicken
9

boneless, skinless chicken thighs

1 teaspoon

kosher salt

1 tablespoon

ground coriander

1 tablespoon

ground cumin

1 cup

plain yogurt

2

–

4

tablespoons butter (to be used for browning the chicken)
For the sauce
4 tablespoons

butter

1

large onion, diced

6

cloves garlic, minced

1 tablespoon

kosher salt

3 tablespoons

garam masala

1

large piece of ginger (

2

–

3

inches in size), peeled and grated

4 cups

crushed tomatoes

1 tablespoon

sugar

1

whole jalapeno, washed, stem removed and pierced several times with a sharp knife

2 teaspoons

cornstarch

1 1/2 cups

heavy cream
To Serve
Buttered basmati rice with peas
Chopped cilantro (for garnish)
---
Instructions
Cut the chicken thighs into 1 to 1 ½ inch pieces. Place in a bowl with the 1 teaspoon salt, coriander, cumin and yogurt. Stir until all of the chicken pieces are coated. Cover and let sit for about 10-15 minutes at room temperature.
In a large skillet over medium high heat, brown the chicken pieces in batches – using about a tablespoon of butter per batch. Transfer the browned chicken to the slow cooker as each batch is finished.
Once all of the chicken is cooked, using the same skillet, prepare the sauce by melting the 4 tablespoons of butter over medium high heat. Add the onions, garlic and 1 tablespoon of salt and cook, stirring frequently until the onions are lightly brown around the edges.
Stir in the garam masala and ginger, and cook for about 1 one minute.
Raise the heat to high and add in the crush tomatoes and sugar. Stir frequently, scraping the browned, caramelized bits from the bottom of the pan. When the tomato mixture comes to a boil, remove from heat and pour into the slow cooker. Add the pierced jalapeno pepper.
Put the lid on the slow cooker and cook on low heat for 5 hours, or until the chicken is tender.
Whisk the cornstarch into the heavy cream and stir until smooth. Add the heavy cream mixture to the slow cooker and stir to blend. Replace the lid and cook for another 10 minutes or until the sauce is bubbling around the edges.
Serve the Chicken Tikka Masala over hot buttered rice and peas. Garnish with chopped cilantro (optional but recommended).
---
You may also like:
Slow Cooker Tomato and Tortellini Soup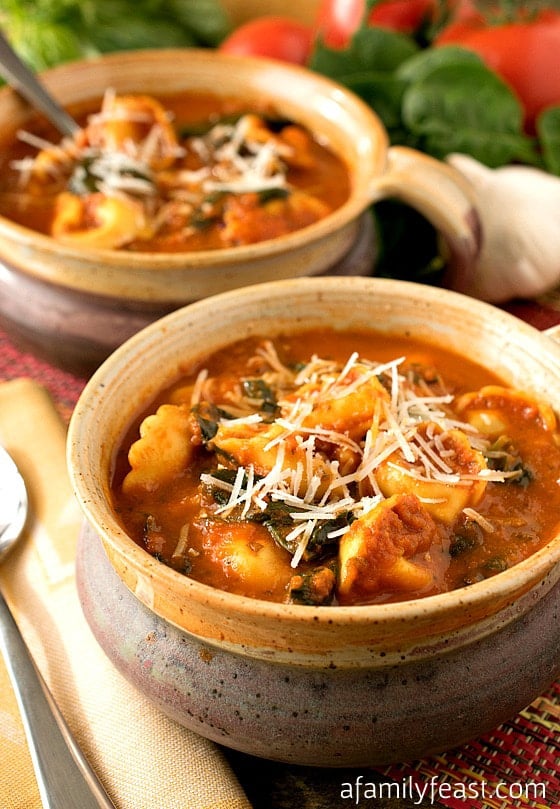 Slow Cooker Tuscan White Bean Soup