This Butter Chicken Panini recipe was sponsored by Stonefire Naan. All opinions are 100% mine.
At any given time, if you looked in the drawer of our freezer, you would find a package of Stonefire@ Naan flatbreads.  So we were thrilled when Stonefire asked us to share one of our favorite recipes using their delicious flatbreads! Sure – Stonefire Naan flatbreads are delicious with just about any meal, and they also make great flatbread pizzas. But we think that Stonefire naan are the perfect choice of bread for making a panini!
Butter chicken is a popular chicken dish in Indian cuisine, typically served with naan on the side for sopping up the delicious curry-spiced sauce.  We decided to change up that traditional meal – by turning it into a Butter Chicken Panini!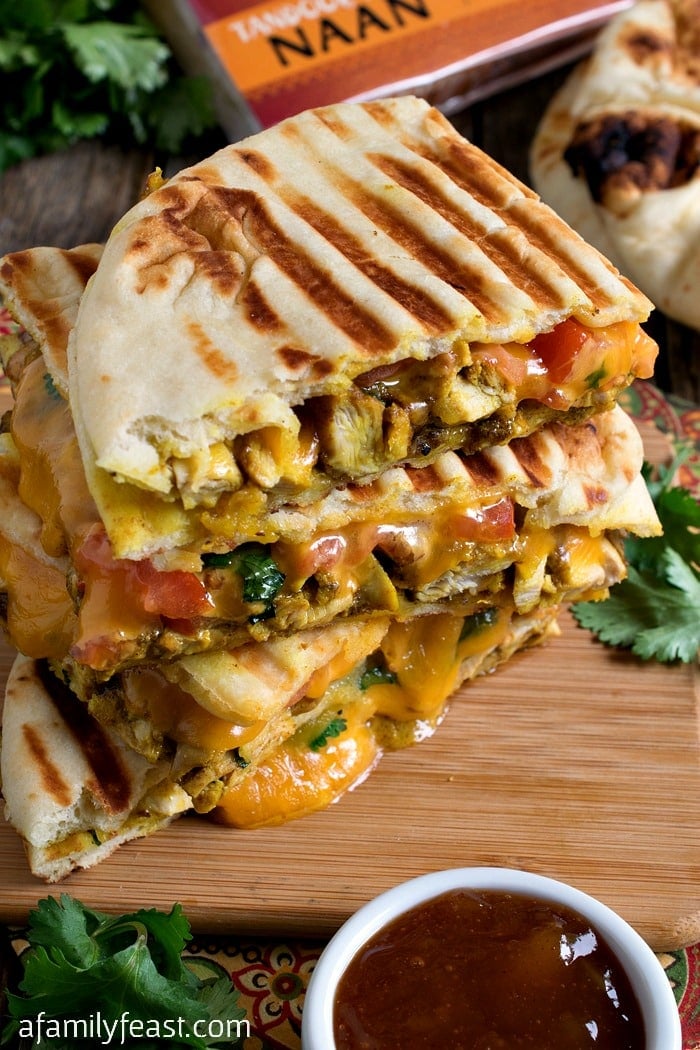 We found our Stonefire Naan at our local Stop & Shop, on a display in the deli department.
Stonefire Naan comes in a variety of delicious flavors – and because our butter chicken already has a lot of spices and flavors, we selected the Original and Whole Grain varieties for our recipe today.
If you follow us over on Instagram – you saw earlier this week that we assembled a delicious variety of ingredients: cooked Butter Chicken, fresh cilantro, cheese, sliced tomatoes, mango chutney (for dipping) and of course our Stonefire Naan flatbreads.

Here's a closer look at all of the ingredients:
After laying our ingredients on the Stonefire Naan…
…we heated the sandwich in a panini press until the cheese was melted.
This Butter Chicken Panini is delicious – thanks in no small part to the delicious Stonefire Naan.  The naan toasts up perfectly golden and crispy and it is a delicious choice for any sandwich.
Stonefire makes authentic naan flatbreads with no added preservatives so you can feel good about feeding them to your family.  Stonefire flatbeads are shipped frozen to the store, and they work with all of their retail partners to properly date code the package so you can ensure that the flatbread you buy is fresh and delicious.  (Just look for the 'use by' date on the price sticker on every package.)
Stonefire Naan can also be frozen (like we do) for up to one year if frozen immediately after purchase – so you can always have some on hand for your meal. Be sure to stock up at your local Stop & Shop supermarket.
You can read more about Stonefire products online, or follow them on Facebook, Instagram, Pinterest and Twitter.  #HelloNaan
Print
Butter Chicken Panini
Prep Time:

8 hours 30 mins

Cook Time:

1 hour

Total Time:

9 hours 30 minutes

Yield:

2-4 servings
---
For Butter Chicken
¾ cup

full fat Greek yogurt

1 tablespoon

lemon juice

1 tablespoon

roasted ground cumin

1 tablespoon

garam masala

2 teaspoon

ground turmeric

1½

pounds boneless, skinless chicken thighs (about

6

thighs)

4 tablespoons

butter

2 teaspoons

canola oil

½

pound onion, sliced thick

1 tablespoon

minced fresh garlic

1 tablespoon

minced fresh ginger

1½ teaspoons

roasted ground cumin

1

small cinnamon stick

1 tablespoon

minced fresh jalapeno pepper, seeds removed

½ teaspoon

kosher salt

½ cup

chicken stock

½ teaspoon

tomato paste

¼ cup

heavy cream

¼ cup

cilantro chopped
For Panini
4

Stonefire@ Naan flatbreads (

2

packages)
Butter chicken from above, sliced or shredded

1

–

2

medium tomatoes sliced thin

½ cup

fresh cilantro leaves

6 ounces

shredded yellow cheddar cheese

2 tablespoons

melted butter
Mango chutney, for dipping or as a condiment when serving
---
Instructions
The night before, mix yogurt with lemon juice, 1 tablespoon cumin, garam masala and turmeric. Coat the chicken thighs then place chicken and marinade in a gallon zip lock bag and refrigerate over night.
About an hour before service, place a large skillet or sauté pan over medium heat and melt butter in oil.
Once hot, add onion and cook for about five minutes until onions are just starting to turn translucent.
Add garlic, ginger and 1 1/2 teaspoons cumin and cook for two minutes.
Add cinnamon stick, jalapeno and salt and cook for five minutes, keep heat at medium the entire time.
Add the chicken pieces along with all of the marinade and cook chicken three minutes per side.
Add stock, bring to a boil and lower to a simmer and cook for 30 minutes uncovered, turning chicken over once or twice.
Mix in tomato paste and cream and cook for 10 more minutes on medium.
Remove from heat and stir in the chopped cilantro.
Remove chicken to a cutting board and slice or shred then add back to the sauce and mix however remove and discard the cinnamon stick.
To assemble the panini, place Stonefire@ Naan on your counter, flat side in, bubbled side out.
Divide chicken between two slices.
Top each with tomatoes, cilantro and cheese, then cover each with another slice of Naan. Butter the top of each sandwich with half the butter and set aside.
Heat panini press and once hot, use the remaining butter to butter the bottom ribbed grill plate. Place both sandwiches on the press and close to heat both sides. (Depending on the size of your press, you may need to cook one at a time).
Grill until browned and the cheese has melted. We actually browned, removed to a board and cut into quarters, then back on the press to really get the cheese to melt and ooze. Total time on the panini press was about eight minutes but your time will vary.
Serve finished panini with mango chutney (jarred is fine)
---