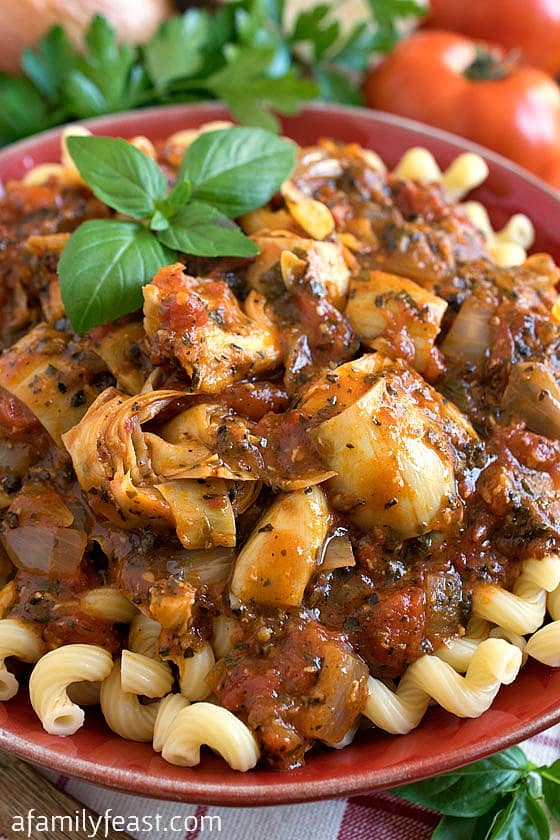 If you've followed A Family Feast for a while now, then you already know what a huge fan I am of the long-time classic, The Silver Palate Cookbook.
That cookbook was one of the very first that I owned and years later, it still has a strong influence on the way that I like to cook – recipes with sophisticated flavors made from accessible ingredients using simple cooking techniques.
This dish – Pasta Sauce Raphael – is a popular recipe from that cookbook, and it combines simple ingredients into one amazing sauce! Tomatoes (fresh or canned), onions, garlic, and artichokes are transformed into a bold and zesty sauce that is flavored with basil, oregano, parsley, crushed red pepper flakes and coarsely ground black pepper. Some freshly grated Romano cheese is added at the end, just before serving this fantastic sauce over cooked pasta.
I should note that the original recipe in The Silver Palate listed three tablespoons of coarsely ground black pepper in the recipe which we found to be far (FAR!) too much. So our version cuts it back to one tablespoon of pepper which still gives this Pasta Sauce Raphael a great, zesty kick (but not TOO much of a kick)! Feel free, of course, to add more pepper if you'd like.
This Pasta Sauce Raphael can be served hot or cold, but we think it's best served along with some nice crusty Italian bread for soaking up every last bit of this sauce!
Adapted from The Silver Palate Cookbook
.
Print
Pasta Sauce Raphael
Prep Time:

30 mins

Cook Time:

1 hour 30 mins

Total Time:

2 hours

Yield:

6-8 servings
---
Description
If using canned tomatoes, skip steps 1-4.
---
4

pounds ripe fresh tomatoes (or if using canned –

6 cups

of whole tomatoes)

½ cup

good quality extra virgin olive oil

2 cups

roughly chopped onion

3 tablespoons

minced garlic

¼ cup

dried basil

½ tablespoon

dried oregano

½ cup

fresh Italian parsley, chopped

½ teaspoon

crushed red pepper flakes

1 tablespoon

coarsely ground black pepper

1 teaspoon

kosher salt

2

6-ounce jars marinated artichokes (reserve marinade)

¼ cup

freshly grated Romano cheese plus more for serving

1

pound Cellentani, or your favorite pasta
---
Instructions
If using fresh garden tomatoes, bring a large pot of water to a boil. Then remove core and cut an X into the opposite end of each tomato. Have an ice bath standing by. When the water boils place half the tomatoes in the water and leave in just until the skins start to peel back (less than a minute). With a spider or strainer, remove to ice bath and place second half of tomatoes into water and repeat process.
Have a bowl with a strainer on your counter and another bowl next to it.
Remove tomatoes from ice bath to a platter and one at a time, remove skin and place skin in strainer over the bowl. Then cut tomato in half horizontally and scoop seeds out into strainer. Take the tomato meat and place in the second bowl. Repeat for all tomatoes.
Once done, press the skin and seeds in the strainer and let the squeezed juice fall into the bowl below. Discard the seeds and skin and add the juice to the bowl with the tomato meat. This should be about six cups.
In a medium to large pot, add olive oil, onions, garlic, basil, oregano, parsley and pepper flakes and bring up to medium heat. Sauté this mixture for five minutes on medium heat.
Add crushed black pepper, salt and tomatoes and bring to a medium simmer. Simmer uncovered for one hour stirring occasionally.
Bring a pot of water to a boil while working on next step.
After the hour, add the marinade from the artichokes to the sauce but not the artichokes themselves yet. Cook 15 minutes more at a slow simmer, stirring occasionally.
Add pasta to pot of boiling water while preparing next step.
Add the artichokes to sauce and cook for another 10 minutes.
Drain pasta.
Add Romano cheese to sauce. Add cooked pasta to sauce and cook for just a few minutes to meld flavors. Alternatively, you could serve the sauce separate from the pasta or just ladle the sauce over each portion of pasta.
Serve with additional Romano cheese.
---
Disclosure: This post contain affiliate links.
You may also like:
Honey Mustard Soy Glazed Chicken Wings