I can't get enough of this delicious Thai Peanut Chicken Noodle Salad! With layer-upon-layer of wonderful flavors – it is my idea of the perfect, make-ahead, summertime meal.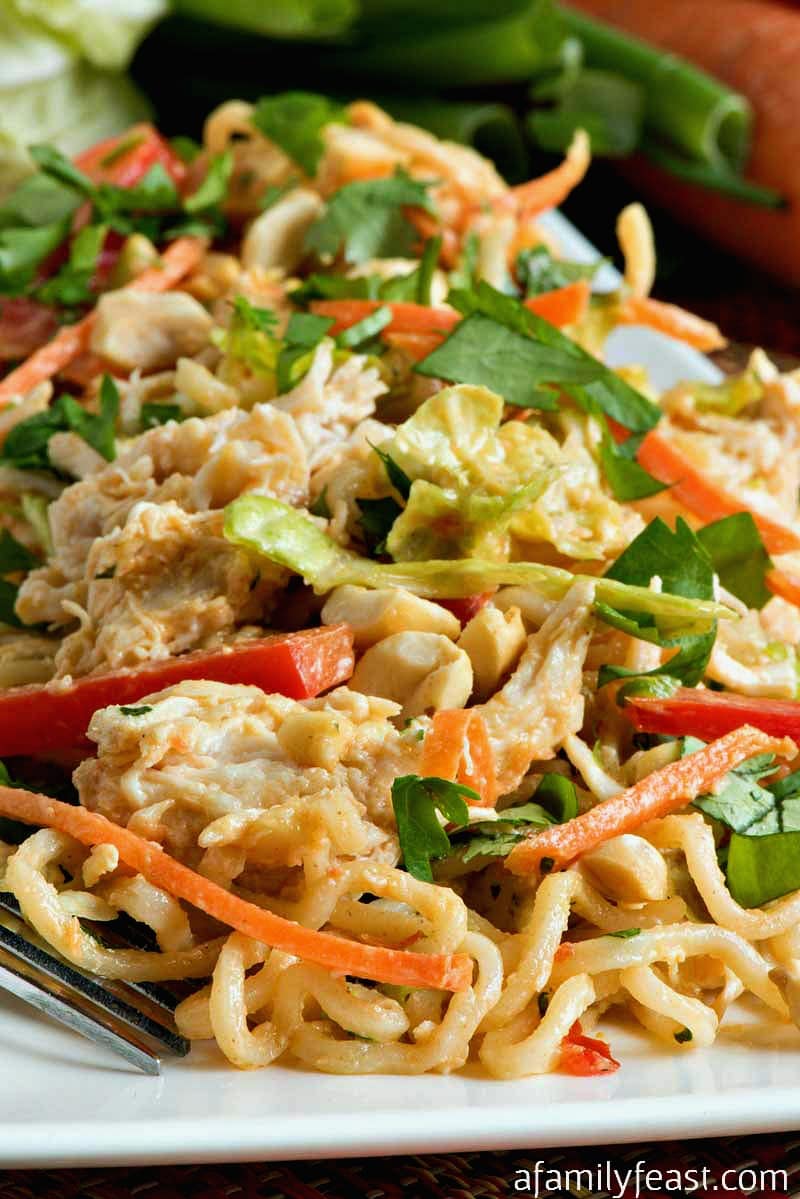 To make this Thai Peanut Chicken Noodle Salad, you'll start by cooking some chicken breasts in a flavorful poaching liquid of chicken stock, fresh ginger, scallions, cilantro and whole black peppercorns. (I have to say – this tender poached chicken is amazing all by itself!)
Once cooked and cooled, shred the poached chicken. Next, add the chicken to a big bowl of cooked ramen or lo mein noodles that has been tossed with both sesame and peanut oil – plus sliced carrots, red peppers, scallions, Napa cabbage, chopped peanuts, and fresh cilantro.
Finally, you'll toss the salad together with some of our luscious Thai Chili Peanut Sauce – an easy and addictively good peanut sauce with a kick of Thai spices and flavors – as the dressing. A final sprinkle of more chopped peanuts and cilantro tops things off.
This Thai Peanut Chicken Noodle Salad is also a great option when you've been asked to bring a salad to a summer cookout.  It's equally delicious served chilled or at room temperature.
Print
Thai Peanut Chicken Noodle Salad
Prep Time:

30 minutes

Cook Time:

15 minutes

Total Time:

45 minutes

Yield:

8-10 servings
---
Description
Note: Before poaching, try to get the pieces of chicken uniform in size by holding the breast on your cutting board on its side, then run a sharp knife to cut the breast in half. You should have two identical pieces each about the same thickness.
---
2 cans chicken stock, plus enough water to equal one quart
2 quarter inch slices fresh ginger
2 scallions cut into thirds
2–3 sprigs cilantro
1 teaspoon whole black peppercorns
2 pounds boneless skinless chicken breasts, trimmed of all visible fat and cut in half, see note above
5 3-ounce packages ramen noodles, omit season packet (or 1 pound dry lo mein noodles)
1 teaspoon sesame seed oil
2 tablespoons peanut oil
1 cup shredded or julienne carrots, about two medium carrots
1 ½ cups thin red bell pepper strips, about one large bell pepper
½ cup sliced scallion greens, about 3–4 scallions
3 cups shredded Napa cabbage, about half a small head
1 recipe Thai Chili Peanut Sauce, (about 2 cups) see recipe here
¾ cup roasted peanuts, coarsely chopped, divided
¼ cup cilantro, coarsely chopped, divided
---
Instructions
Heat stock, water, ginger, scallions, cilantro and peppercorns to a boil in a medium to large pot with a lid.
Add whole chicken pieces, turn off heat and cover with lid. Let the chicken sit in the poaching liquid with burner off for eight minutes. Check a piece and if still a little pink, let sit for two more minutes.
Remove to a platter and discard liquid. Let chicken cool to room temperature (it will cook a little more and if done right, will be very tender). Then shred with two forks.
Break noodles in half then cook according to package directions and drain. (If using packaged ramen noodles – three minutes according to package. If using lo mein noodles, cook according to package directions.)
After noodles are drained, place them in a large bowl and pour over both oils and toss gently.
Add the reserved cooked chicken, carrots, peppers, scallion, cabbage, peanut sauce, ½ cup of the peanuts and half of the cilantro.
Toss to combine and top the serving bowl with the remaining peanuts and cilantro.
Serve at room temperature or chilled.
---
Disclosure: This post contains affiliate links.
You may also like: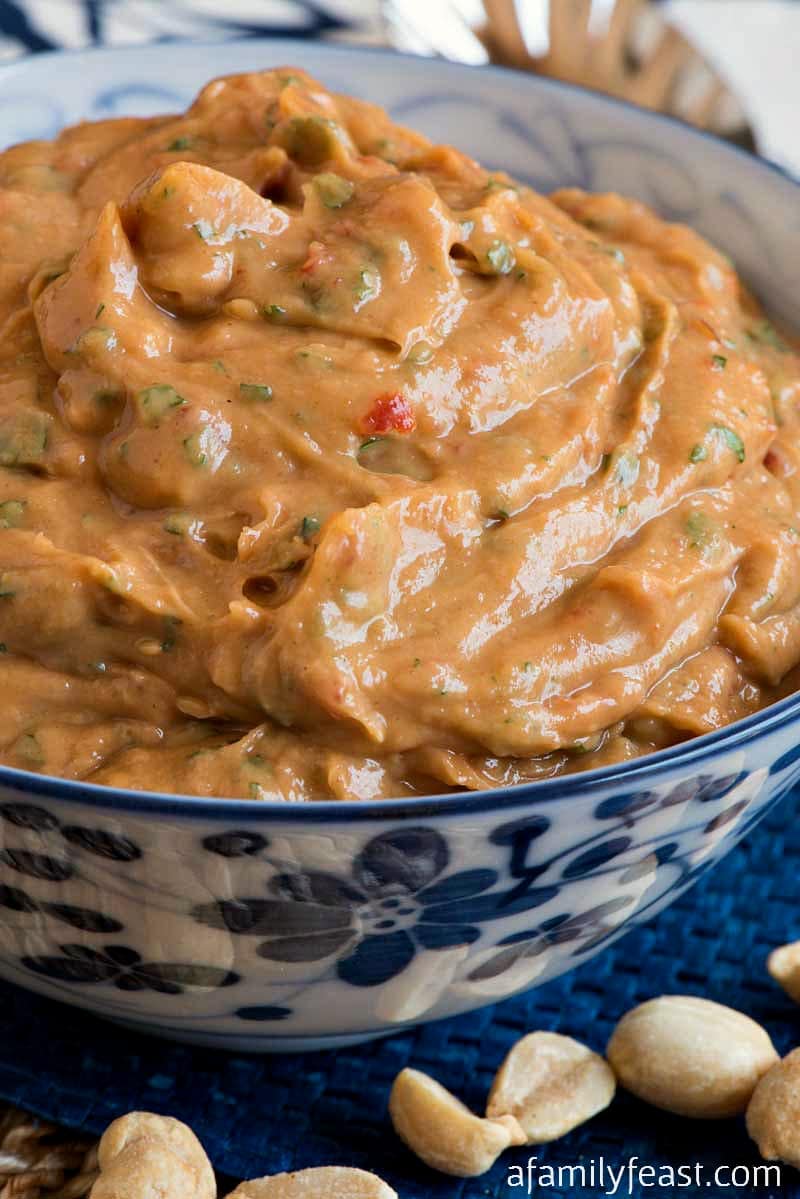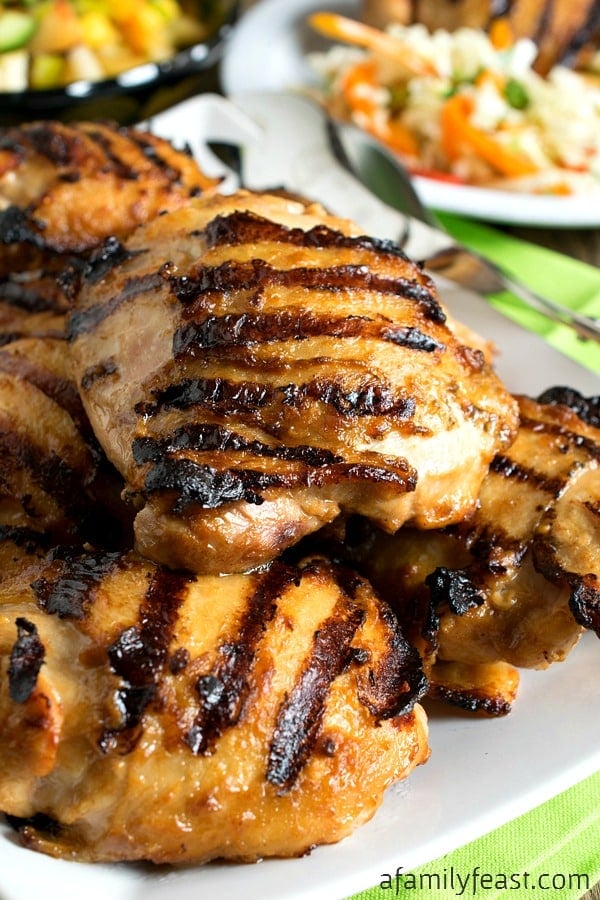 Crunchy Vegetable Rice Bowl with Warm Peanut Sauce