Texas Chili has tender chunks of beef in a super flavorful red chili pepper base. No beans, no tomatoes – just delicious beefy, spicy flavor!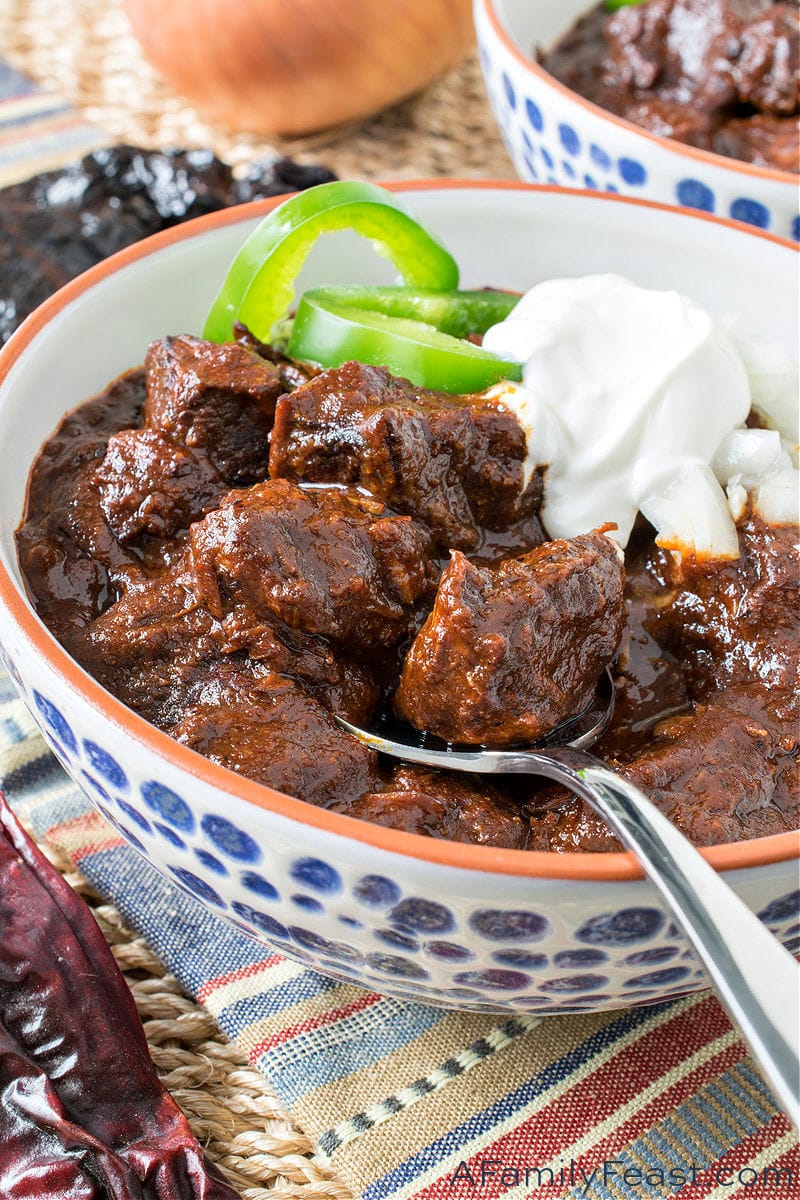 Toss away all of your assumptions about what "should" go into a pot of chili, then give this fantastic Texas Chili recipe a try!
Affectionately referred to as "Bowl of Red" or "Texas Red" by the locals, Texas-style chili is unique in that there are no beans or tomatoes – just chunks of fall-apart, tender beef in a rich sauce made with chili peppers. Those peppers give the sauce that gorgeous, deep red color which is the inspiration behind the recipe's name.
Why you'll love this Texas Chili
It has incredible flavors – both from the seared beef as well as the blend of chiles and spices in the sauce. We also toast the chiles, vegetables, and spices before adding them in – this extra step adds an amazing depth of flavor to the finished dish.
You can make this chili ahead of time. In fact, chili always tastes even better after the flavors sit and meld for a bit!
After some initial hands-on prep, your oven does all of the work – and your entire house will smell amazing as this chili cooks.
Chef's Tip

Look for dried chili peppers that look shriveled and not papery. California peppers sometimes look papery to start with but the New Mexico and Pasilla should look like the texture of a raisin.
Key ingredients and Substitutions
Dried chili peppers – These are the dried chiles you often see sold in bags in the supermarket produce section. We used a mix of mild California and Pasilla chiles, plus a few of the spicier New Mexico chiles.
Beef chuck – We selected a quality Angus chuck roast for this recipe that we trimmed and cut into bite-size chunks. Some versions of Texas Chili also include ground beef, but we did not.
Masa Harina – This golden corn flour is used to thicken the sauce as well as add delicious flavor.
Vegetables – A combination of yellow onion, fresh garlic, and jalapeño add body to the red sauce.
Beef Stock, Molasses, and Apple Cider Vinegar – Every liquid in the sauce adds more delicious flavors. This blend of savory, sweet, and tangy will make your taste buds very happy.
Seasonings – In addition to salt and pepper, add Mexican oregano and toasted cumin for earthy flavor. If you can't find toasted cumin, just use regular cumin and toast it for a few minutes in a dry skillet on the stove.
 Chef's Tip
Choose a good-quality chuck with some marbling of fat throughout the cut of beef. You will trim some of the fat off, so start with a five-pound roast. After trimming, you'll end up with about three pounds of usable beef for your chili.
Special supplies needed
Cast iron skillet to toast the vegetables
4-quart Dutch oven to slow cook the chili
How do I make Texas Chili?
Dry toast the vegetables in a hot dry cast iron skillet, brown the dried chili peppers along with yellow onion, garlic cloves, jalapeño and black peppercorns.
Soak the dried peppers in hot water to rehydrate.
Puree the rehydrated peppers and other ingredients to make the cooking sauce
Sear the chunks of beef in lard to brown and caramelize before adding it to the pot.
Combine and cook everything together in a low and slow oven for a few hours until tender.
Serve with a dollop of sour cream, chopped onions and sliced jalapeño on top.
Frequently asked Questions
Why does Texas Chili have no beans? According to chili cooking champions, beans are overpowering and "dilute" the true chili taste.
Can I make this chili ahead of time? Yes! In fact, chili always seems to taste better the next day after the flavors have a chance to meld together.
How do I reheat this chili? You can heat the entire batch up on the stovetop, right in the Dutch oven you originally cooked in. If you are only reheating a serving, in a bowl in the microwave works just fine.
How do I store it? Store your Texas Chili in an air-tight container in the refrigerator for up to three days.
Can I freeze Texas Chili? Yes, this chili freezes well. We'd recommend freezing in a zipper-seal plastic bag with the air squeezed out to avoid any freezer burn.
You may enjoy these other Chili recipes:
Print
Texas Chili
Author:

Prep Time:

45 minutes

Cook Time:

3 hours

Total Time:

3 hours 45 minutes

Yield:

6 servings

Category:

soup

Method:

braise

Cuisine:

Tex-Mex
---
5 pounds good quality boneless chuck roast
8 dried California chili peppers
2 dried Pasilla chili peppers
2 dried New Mexico chili peppers
1 large fresh jalapeño pepper
½ large yellow onion, cut into wedges (The other half used as garnish)
4 large peeled garlic cloves left whole
½ teaspoon black peppercorns
2 teaspoons kosher salt
2 teaspoons roasted or toasted ground cumin (if you can't find this, toast ground cumin yourself in a small dry saute pan over medium heat until fragrant)
1 ½ teaspoons dried Mexican oregano
¼ cup masa harina (golden corn flour)
4 tablespoons lard, divided
3 cups beef stock or broth, divided
2 tablespoons molasses
2 tablespoons apple cider vinegar
Chopped yellow onion, for garnish
Sliced fresh jalapeño, for garnish
Sour cream, for garnish
---
Instructions
Cut the strings from the chuck and lay out the pieces. Trim each piece of visible fat or gristle then cut the meat into one-inch sized pieces. You should have about three pounds of usable meat after trimming a roast that started off as five pounds. Some of that weight is liquid that gets absorbed into the packing pads and the rest of the waste is fat and scarps. Pat dry with paper towels and set aside.
Heat a tea kettle with water to boiling.
In a dry cast iron skillet heated over medium heat, toast the dried chili peppers whole for about 1-2 minutes on both sides. They will become dark and blackened. After toasting all of the dried peppers, pull off and discard stem then tip stem-side down and shake out the seeds. You may need to split them down the center if the seeds don't come out when tipped.
Place all of the toasted, stemmed and seeded peppers into a metal or glass bowl and cover with the boiling hot water. Place a plate or cover over the top and let sit for 30 minutes. Do not discard soaking liquid.
Preheat the oven to 325 degrees F.
While peppers are softening, heat the skillet back up and toast the whole jalapeño, the onion wedges, and the garlic cloves for 3-5 minutes on each side to blacken.
Seed and stem the jalapeno then place all in a blender.
Add peppercorns into hot skillet and toast for 30 seconds then add to the blender.
After 30 minutes, add the soaked peppers to the blender in with the other ingredients and add two cups of the soaking liquid, salt, cumin, oregano and the masa harina. Puree this mixture to a paste and set aside.
In a 4–5-quart Dutch oven, heat two tablespoons of the lard over medium high heat and once melted and shimmering hot, start cooking the beef in small batches so that the pieces do not touch each other, about two minutes per side. Half way through cooking batches, add the remaining two tablespoons of lard and continue searing. I seared six batches, placing onto a plate as I seared.
Keep the heat on medium high and add one cup of the beef broth to deglaze the pan then immediately add the contents of the blender. (Be careful of splattering)
Pour the remaining two cups of broth into the blender and puree just to loosen the paste stuck to the sides and add that to the chili and stir.
Add the beef along with any liquid that accumulated on the plate and bring the chili to a bubble, cover and place in the oven for 2 hours.
After two hours, remove cover, stir and cook 30 more minutes to thicken.
Remove from the oven and stir in the molasses and vinegar and cook on the stove top five minutes just to blend the flavors.
Serve hot with chopped yellow onion, slices of fresh jalapeño and a dollop of sour cream.
---