Last month – after our daughter's most recent swim meet – a group of us went out to lunch at an Italian restaurant near the pool called The Mezza Luna. The Mezza Luna restaurant has been in business for more than 70 years – serving big portions of Italian classic dishes at reasonable prices – and it was the perfect place for some hungry swimmers and their parents to fill their bellies!
I wasn't really in the mood for a heavy pasta dish, so instead, I ordered a cold, crisp wedge salad and one of their giant Stuffed Meatballs. And that became the inspiration for our recipe today.
My husband Jack has made different variations of Stuffed Meatballs over the years – and today's recipe is one of our favorites. He starts by making a firm, Italian-style meatball mixture (which is  incredibly delicious on its own) and then stuffs it with a super flavorful mix of baby spinach, prosciutto, sweet capicola, Genoa salami, and provolone, mozzarella and Parmesan cheeses – plus other seasonings!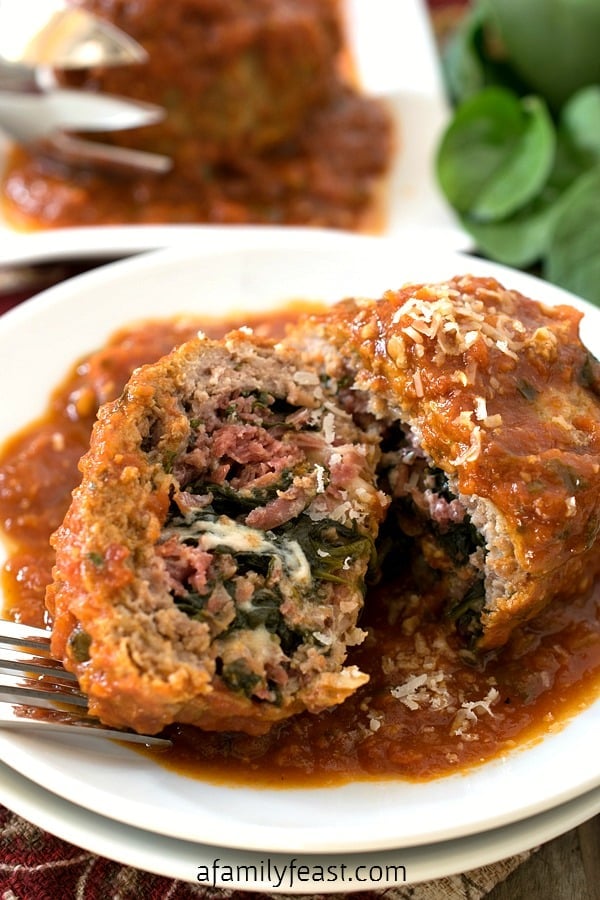 Our recipe makes eight giant stuffed meatballs – which can be served as a generously-portioned appetizer, or as a side to a dish of your favorite pasta. We serve them with our popular Italian Tomato Sauce. Mangia! 😉
Print
Stuffed Meatballs
Prep Time:

1 hour 15 mins

Cook Time:

35 mins

Total Time:

1 hour 50 minutes

Yield:

8 large meatballs
---
Filling
1 tablespoon

extra virgin olive oil

¼ cup

finely diced onion

1 teaspoon

Italian seasoning blend (or half dried basil and half dried oregano)

1/8

pound prosciutto, diced

2 ounces

uncooked baby spinach

1/8

pound sweet capicola, diced

1/8

pound Genoa salami, diced

1/8

pound provolone, diced

¼

pound fresh mozzarella, shredded or diced

¼ cup

freshly grated Parmesan cheese
Meatballs
2

slices white or soft wheat bread, crusts removed

¼ cup

whole milk

2 tablespoons

extra virgin olive oil

1 cup

onion diced fine

1 tablespoon

fresh garlic, minced

2

whole eggs

1 tablespoon

Italian seasoning

3 tablespoons

fresh parsley, chopped

1 teaspoon

kosher salt

½ teaspoon

freshly ground black pepper

¼ cup

freshly grated Parmesan cheese

1

pound ground 80/20 beef

1

pound ground pork

1 quart

of Italian Tomato Sauce (or your own favorite sauce) for serving, plus more if serving with pasta
Additional Parmesan cheese for serving
---
Instructions
To make the filling, in a medium sauté pan, heat oil and sauté onions with Italian seasonings over medium heat. After five minutes add prosciutto and cook for another three minutes. Add spinach and cook for two more minutes. Remove from heat and let cool.
In a medium bowl, place capicola, salami, provolone, mozzarella and Parmesan cheese. Mix to combine.
Add cooled mixture from pan to meat and cheese and stir to combine. Do not clean the sauté pan yet.
Cover and refrigerate filling until a later step.
To make meatballs, place bread in a large bowl and cover with milk, making sure bread is completely covered and soaks up the milk.
In the same sauté pan as before, over medium heat place olive oil and add onions. Cook for five minutes then add garlic and cook for one more minute. Remove from heat to cool.
Add the whole eggs to the soaked bread and stir vigorously to combine. Add Italian seasoning, parsley, salt, pepper and Parmesan cheese and again mix to combine all ingredients.
Add ground beef and pork and gently combine to incorporate but do not over mix.
Divide this mixture into eight equal portions.
Line a small sheet tray with parchment paper and set aside.
Fill a bowl with water to wet your hands as you work. Also have a spatula and cutting board standing by.
Remove the filling from refrigeration and divide that into eight portions.
Take one portion of meatball mix and with wet hands, roll into a ball then place on a cutting board and press down into the center. Compress a portion of filling in your hands and place on the meat. Use the spatula to lift it from the board to your hand and start pressing the sides up around the filling to the top, pinching closed at the top.
Place this pinched side down on the sheet tray.
Repeat for the remaining meatballs.
Cover and refrigerate for 30 minutes.
Preheat oven to 425 degrees F. Once the oven is up to temperature, pull the tray from refrigeration and spray the tops and sides of each meatball with a kitchen pan spray or brush with oil and then place directly into the oven. Bake for 20 minutes uncovered.
While the meatballs are cooking, place a large skillet on a stove burner and heat up your tomato sauce to hot.
When the meat balls come out of the oven, use a spatula and place all eight into the sauce, covering the tops with sauce. Cover the skillet and cook on a low simmer for 15 minutes. Discard any fat that collects on the sheet pan.
Remove meatballs from sauce after 15 minutes and serve with additional Parmesan cheese..
---
You may also like: