To quote the words of my husband Jack, this Strawberries Romanoff is an "O-M-G" recipe!"  One taste of this delicious dessert and we both predict you'll be saying "Oh my God – this is SO good!"
I've been looking forward to making Strawberries Romanoff ever since I ran across the recipe as we did some research for our earlier Noodles Romanoff post.  (The common ingredient between the two 'Romanoff' recipes is sour cream – which lends a creamy and slightly tangy flavor that is a perfect complement to the otherwise sweet flavors in this wonderful dessert.)
And so, with some gorgeous, sweet fresh strawberries on hand, plus a container of sour cream in the refrigerator we wanted to use up – it was finally time to make our own version of Strawberries Romanoff to share with all of you today!
If you search around online, there are many different versions of Strawberries Romanoff as well as several different stories about exactly who created this fantastic recipe.  This article claims that the recipe is the creation of Marie Antoine Careme – chef to the Russian ruler Nicholas I from the Romanoff family.
Another website claims that a version of this recipe (called Strawberries Americaine Style) was the creation of a Chef Escoffier from the Carlton Hotel in London and later renamed Strawberries Romanoff by "Prince" Michael Romanoff who opened a restaurant in Hollywood called Romanoff's and pretended that he was royalty.
Some versions of this light but luxurious dessert are made with liquor-flavored whipped and sour cream – served over freshly sliced strawberries.  Other versions macerate the strawberries in orange-flavored liquor (or orange juice if you want to keep this recipe kid-friendly), then top the berries with vanilla ice cream that has been combined with heavy cream.
To make our version of Strawberries Romanoff, we macerated the strawberries in a little bit of confectioner's sugar and Grand Marnier liquor. We also mixed sour cream with brown sugar and brandy before stirring it into freshly whipped cream.
Strawberries Romanoff takes just minutes to prepare but it is a fantastic dessert to serve for a special occasion. Guaranteed – this is a dessert your dinners guests will talk about for months!
Print
Strawberries Romanoff
Prep Time:

20 mins

Total Time:

20 minutes

Yield:

4 servings
---
4 cups

quartered strawberries (approximately

2 pints

)

2 tablespoons

confectioner's sugar

2 tablespoons

Grand Marnier liqueur

½ cup

sour cream

3 tablespoon

brown sugar

1 tablespoon

brandy

½ cup

heavy cream
---
Instructions
In a medium bowl, combine quartered strawberries, confectioner's sugar and Grand Marnier liqueur. Stir gently and mix well. Allow to sit for 20 minutes to macerate.
While the strawberries macerate, in a medium bowl, mix sour cream, brown sugar and brandy. Stir to combine until the sugar is fully dissolved. Set aside.
In a separate chilled metal bowl, whip heavy cream into stiff peaks. Fold heavy cream into sour cream mixture and blend well.
When ready to serve, spoon macerated strawberries into individual serving bowls. Spoon whipped cream mixture over the top.
---
You may also like:
Strawberry Shortcake with Mini Angel Food Cakes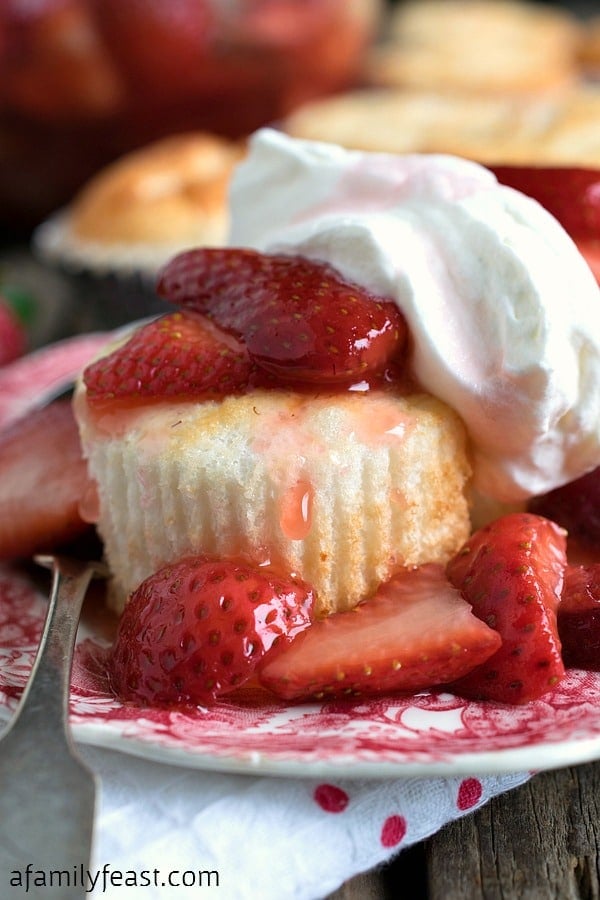 Roasted Strawberry Crème Fraîche Ice Cream
Noodles Romanoff with Mushrooms