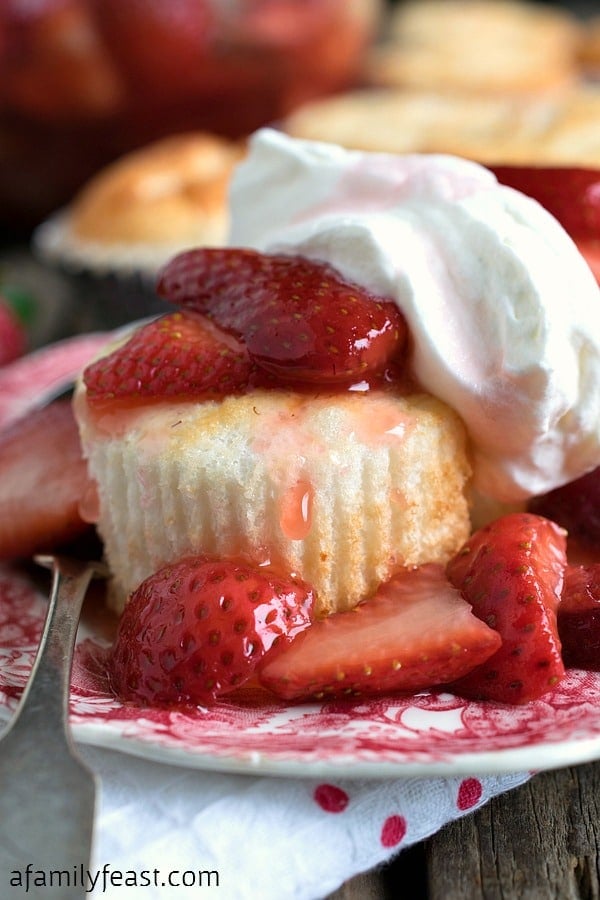 It's my favorite time of year – fresh strawberries are in season, and I can't get enough of them! 🙂
We've found some great deals at the supermarket on gorgeous, red and juicy strawberries lately – so of course, we had to share one of our favorite, classic recipes: Strawberry Shortcake, and we made this dessert with Mini Angel Food Cakes.
These mini angel food cakes are baked as cupcake-sized portions – so this dessert is easy to portion-out and serve.  (This is also great when you've been tasked with bringing dessert to a party or picnic – the individual angel food cakes are easy to transport in a cupcake carrier!)
Our mini angel food cakes have a light texture, and a sweet and citrusy flavor that goes perfectly with the fresh, sliced strawberries that we sweetened with some confectioner's sugar. Top with a generous dollop of whipped cream – and dig in!
P.S. If you prefer your Strawberry Shortcake made with biscuits instead of angel food cake – our Sweet Buttermilk Biscuits recipe is a fantastic alternative. You can see that recipe here.
Print
Strawberry Shortcake with Mini Angel Food Cakes
Prep Time:

30 mins

Cook Time:

15 mins

Total Time:

45 minutes

Yield:

6 servings
---
Description
Note: If you can't find super fine granulated sugar at your supermarket, simply place granulated sugar in a food processor and process for two minutes.
---
Ingredients
Mini Angel Food Cakes
½ cup

plus 2 tablespoons super fine granulated sugar (see note above)
Pinch table salt

½ cup

cake flour

6

egg whites at room temperature. (Very important – this must not contain any yolks at all)

2 tablespoons

warm water

¼ teaspoon

vanilla extract

¼ teaspoon

lemon extract

¼ teaspoon

orange extract

¾ teaspoon

cream of tartar
Other ingredients
1

pound fresh strawberries

1 cup

confectioner's sugar

1 cup

heavy cream
---
Instructions
Preheat oven to 360 degrees F. I know that sounds like an odd temperature but the oven needs to be slightly hotter than 350 degrees F for this to bake properly.
Prepare a 12 cup muffin pan with paper cup liners.
Make sure that the mixing bowl, whips, beaters and muffin tin are free from any grease or fat residue.
In a medium bowl mix half the super fine sugar with salt and cake flour. Set aside.
Either in the bowl of a stand mixer with a whip attachment, or with a hand mixer in a large bowl, slowly beat egg whites with water, all extracts and cream of tartar for two minutes. Increase speed to medium, add remaining sugar and beat until the mixture has medium peaks.
Remove from mixer. Place a sifter over mixture and slowly sift dry mixture over top of whipped egg whites while you gently fold in. Do this a little at a time until all of the dry has been folded in.
Using a scoop, divide the mixture between the 12 cups. The batter will fill to the top and pile slightly higher than the edge of each cup. This is what you want.
Gently place the tin in middle rack of preheated oven for 15 minutes. Insert a tooth pick into the center of a cupcake and if it comes out dry, remove the pan from the oven. If not, bake for 30 to 60 seconds longer.
As soon as the cupcakes are cool enough to touch, remove to a cooling rack with paper cups left on. Once they cool, the paper will peel right off so try not to peel them until completely cool.
Clean the mixing bowl and whip attachments then place both in the refrigerator. These will be used later to whip the cream and whipped cream comes out better with cold utensils and bowls.
To prepare the strawberries, wash them and drain but do not dry them. Remove the green top then slice the berries vertically into thick slices and place into a medium bowl. They will be wet to handle which is what you want.
Add the confectioner's sugar and toss. Over a period of 10-20 minutes, the confectioner's sugar will mix with the liquid and make a nice sauce. For a thicker sauce, add more powdered sugar. Set aside.
Remove the chilled bowl and whips and whip cream to whipped consistency. The berries are sweet enough so no need to add more sugar to the cream.
To assemble, peel two cooled cakes and place on a serving dish. Ladle berries and sauce over both and top with whipped cream.
---
Disclosure: This post contains affiliate links.
You may also like:
25 Sweet and Savory Strawberry Recipes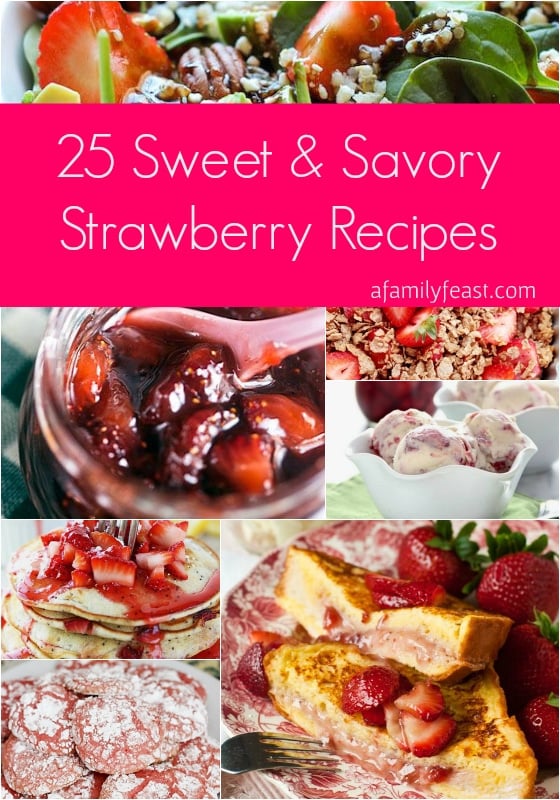 Roasted Strawberry Crème Fraîche Ice Cream