Our Stir-Fry Bok Choy with Red Pepper and Broccoli is simple and delicious. A simple sauce of garlic, fresh ginger, and soy sauce adds fantastic flavor to this easy vegetable side dish.
Recently (and reluctantly) I've come to the realization that my 12-year-old daughter's aversion to eating vegetables is probably inherited from me. Sorry sweetie…blame those picky taste buds on me!
While my husband Jack would gladly eat a plateful of vegetables, aside from salads, I admit that I eat most vegetables because I know that they are good for me — but I wouldn't say that I love them.
Jack loves a challenge — and today's Stir-Fry Bok Choy with Red Pepper and Broccoli is his latest attempt to get both my daughter and me to eat (and enjoy) more veggies. And he succeeded!
How do you make Stir-Fry Bok Choy with Red Pepper and Broccoli?
This Stir-Fry Bok Choy with Red Pepper and Broccoli comes together quickly in a wok or large skillet. Like most stir-fry dishes, each ingredient often takes different lengths of time to cook — so chop, slice and measure out the ingredients ahead of time, then cook them in batches according to the steps in the recipe below.
You'll start by simmering the stems from the bok choy (a type of Chinese cabbage sold at most supermarkets) with the sliced broccoli stems — they take the longest to cook.
After about four minutes, add in the sliced red bell pepper and the broccoli florets. Turn the heat under your wok to high and cook the vegetables until just tender, but not overcooked.
Finally, toss in the bok choy leaves, along with some oil, minced garlic and finely grated fresh ginger, plus soy sauce, and cook for another minute.
The veggies in this Stir-Fry Bok Choy with Red Pepper and Broccoli are so nicely complemented by the simple garlic-ginger-soy sauce – even the pickiest of vegetable eaters will enjoy this healthy side dish!
You can serve this Stir-Fry Bok Choy with Red Pepper and Broccoli as a side dish to just about any meal. Or, you could toss in some cooked shrimp or chicken for a healthy all-in-one meal if you'd like.
You may like these other Stir-Fry Recipes:
Print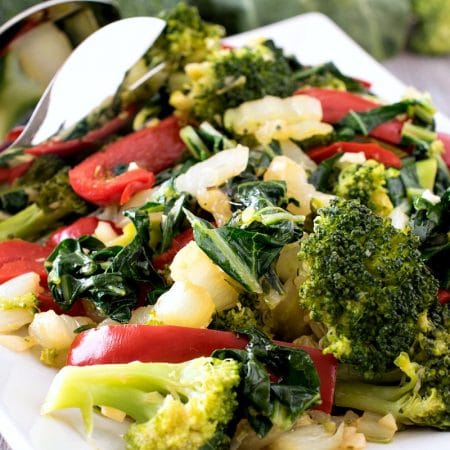 Stir-Fry Bok Choy with Red Pepper and Broccoli
Author:

Prep Time:

15 minutes

Cook Time:

20 minutes

Total Time:

35 minutes

Yield:

4-6 servings

Category:

side dish

Method:

stir-fry

Cuisine:

Asian
---
1–2 pounds Bok Choy (about 4–8 cups depending on size of head)
1 pound broccoli
½ cup water
1 large red bell pepper cut into short thick strips
2 tablespoons canola oil
1 ½ tablespoons garlic, minced
1 tablespoon ginger, grated fine (to a paste consistency)
3 tablespoons soy sauce
---
Instructions
Cut Bok Choy white stems into one-inch pieces. Cut leaves into shreds but keep separate from white stems
Remove stalk from broccoli and peel off outer skin, then cut into slices. Break up broccoli into small florets. Keep florets separate from the stalks.
In a wok or large skillet, heat the water to boiling then add the bok choy stems and the broccoli stalks and lower to a simmer covered. Simmer for four minutes then add red bell peppers and broccoli florets.
Uncover and raise heat to high and cook just until vegetables are tender, about four more minutes. Try not to overcook**, they need to be a bit crunchy.
Add the bok choy leaves along with oil, garlic and ginger and toss and cook for just a minute.
Add soy sauce, toss and serve.
---
Notes
*Use a ginger grater or a fine grater or rasp to get the ginger to a fine paste.
**The broccoli should still be vibrant green. If it turns to a dull green, they are overcooked.
Keywords: Stir-Fry Bok Choy with Red Pepper and Broccoli