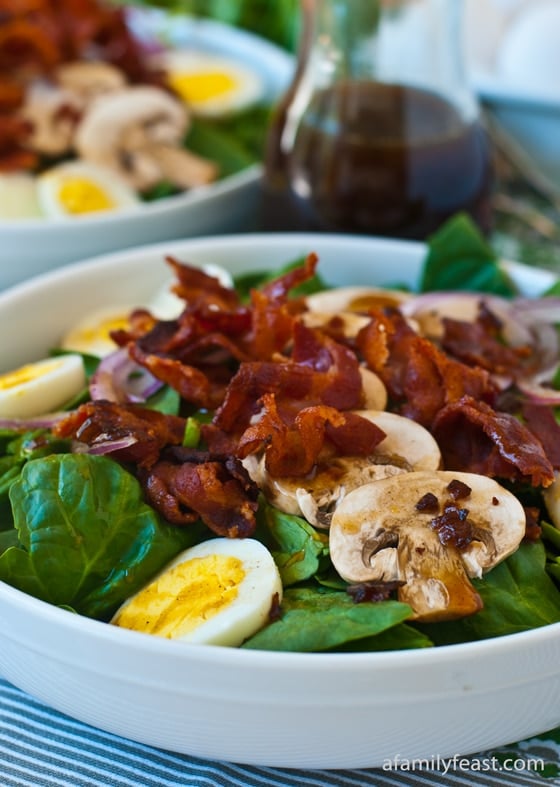 Today we're sharing a recipe for one of my all-time favorite salads – Spinach Salad with Warm Bacon Dressing.  This is a recipe that my husband Jack has perfected over the years and it was served often at many of the catered events he managed.
Fresh baby spinach is combined with slices of hard-boiled eggs, fresh mushrooms, red onion and crumbled bacon.  But the dressing – oh the hot bacon dressing! – is really the best part of this fabulous salad!  It's warm, rich, sweet, tart and salty all at the same time and is the perfect complement to the fresh spinach and other ingredients.  (We've also used a maple-flavored bacon in the warm bacon dressing which adds an extra boost of sweetness and flavor.)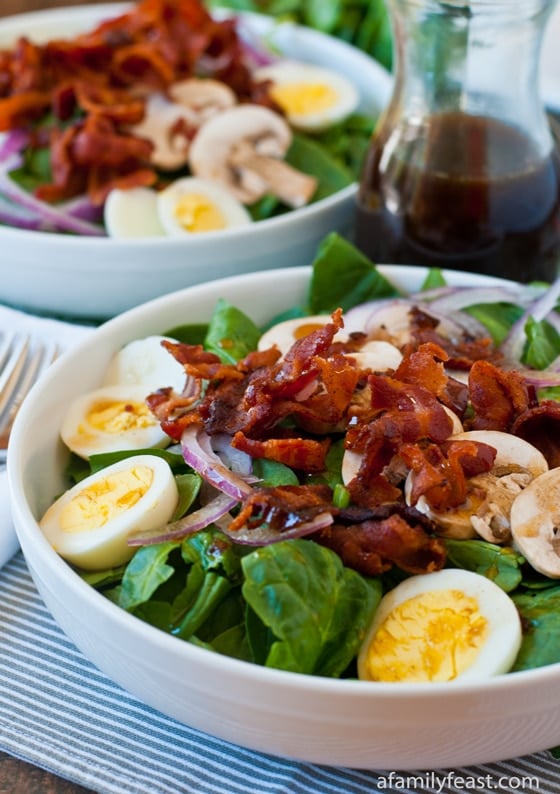 This spinach salad with warm bacon dressing is a versatile salad in that it can be served many different ways.  We've made individual salads for our photos, however this salad is also great served as a large mixed salad or even as a layered salad.  If serving it as a layered salad, select a clear, deep sided bowl (such as a trifle bowl
) and layer the ingredients along the outer edge so your guests can see the different ingredients, and then serve with the warm bacon dressing on the side.
Regardless of how you serve this spinach salad, just make sure the bacon dressing is  nice and hot (it will cool fairly quickly), and well-mixed when served.  If you are serving this as a large tossed salad, pour the dressing over the salad and toss just before serving, or dress the individual salad portions and serve immediately.
Print
Spinach Salad with Warm Bacon Dressing
Prep Time:

20 mins

Cook Time:

20 mins

Total Time:

40 minutes

Yield:

6 servings
---
6

uncooked eggs, at room temperature

1 tablespoon

white vinegar

1

pound maple-flavored bacon

10 ounces

fresh baby spinach

8 ounce

package of button mushrooms, sliced very thin

1

small red onion (half chopped and half thinly sliced, divided)

½ cup

white balsamic vinegar

½ cup

white sugar

2 teaspoons

Dijon mustard

¼ cup

water
---
Instructions
In a medium to large sauce pan, fill ¾ full with water and add the one tablespoon of white vinegar. Bring to a boil and gently spoon in the six room temperature raw eggs in shells, being careful not to break the shells. When the water comes back to a boil, time five minutes and shut off burner. Leave the eggs in the hot water for 15 more minutes. Pour off water, shake pan to crack shells and under cool running water, peel the shells from eggs. Slice cooled eggs into about 4-5 slices per egg.
In a large skillet, cook bacon until crisp. Remove to paper towels and crumble or rough chop and set aside. Reserve two tablespoons of the bacon fat and discard the rest.
Heat the bacon fat over medium heat and sauté the chopped red onion until translucent, about five minutes. Add the white balsamic vinegar and scrape down pan of any brown bits. Add sugar, mustard and water and stir to combine. Remove from heat until ready to serve.
In one large bowl layer all ingredients or in six individual serving bowls, divide ingredients between each. (Spinach, sliced red onion, sliced mushroom, sliced cooked eggs and crisp crumpled bacon)
To serve, heat dressing to hot and serve over salad or on the side.
---
Disclosure: This post contains affiliate links.
You may also like: