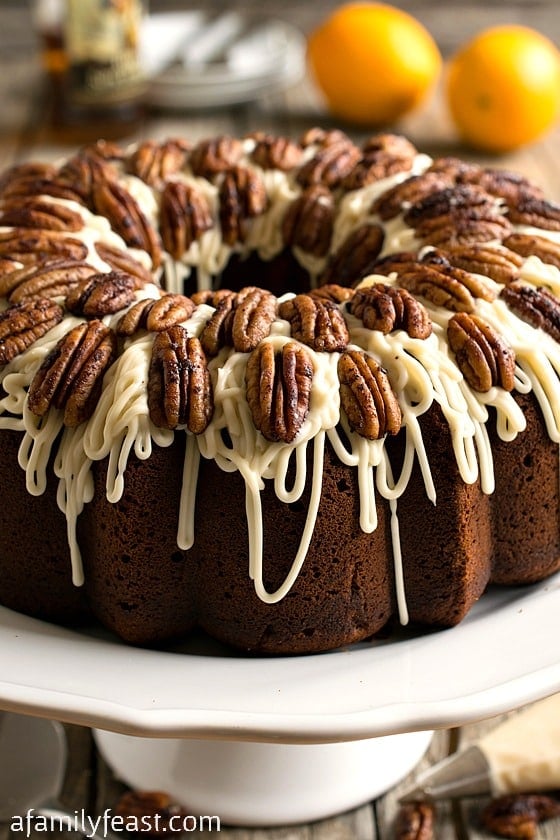 This Spiced Rum Bundt Cake is a decadent dessert that is perfect for a special fall gathering!
It's sweet, super moist, and spicy thanks to a wonderful blend of spices including freshly grated nutmeg, cinnamon, mace, anise seed, ginger and a pinch of clove! The cake also has a bit of spiced rum in the batter as well as some orange zest – adding even more great flavors to this cake!
But it doesn't stop there – toasted and sweetened spiced pecans are pressed into a vanilla and cream cheese glaze that is drizzled over the top of this spiced rum bundt cake, adding both a decorative look to this special cake as well as flavor and crunch!
This recipe was inspired by a spiced bundt cake recipe we found in my mom's old recipe box (I don't remember her making this, but I'm sure glad she saved this recipe because it's fantastic)!  We updated her cake recipe quite a bit and added the icing and toasted pecans. It's a delicious cake that you're sure to love!
Print
Spiced Rum Bundt Cake
Prep Time:

45 mins

Cook Time:

60 mins

Total Time:

1 hour 45 minutes

Yield:

10-12 servings
---
For the Cake
2 tablespoons

butter to grease the bundt pan

2 ½ cups

flour

¼ teaspoon

ground mace

1 teaspoon

ground anise seed (easily ground in mortar with pestle)

½ teaspoon

freshly grated nutmeg

1 teaspoon

roasted cinnamon (we used roasted Saigon cinnamon)

½ teaspoon

ground ginger
Pinch of ground clove

6

eggs separated

2/3 cup

granulated sugar
Zest from

one

navel orange

1 ¼ cups

extra virgin olive oil

1 ¼ cups

(honey and agave mixed or all of

one

or the other)

¼ cup

spiced Rum (We used Captain Morgan)

1/8 teaspoon

salt
For the Toasted pecans
6 ounces

pecan halves

1 tablespoon

butter

1 tablespoon

olive oil

½ teaspoon

cinnamon

¼ teaspoon

freshly grated nutmeg

¼ teaspoon

ground ginger

1/8 cup

granulated sugar
For the Icing
4 ounce

cream cheese softened

2 cups

powdered sugar

1 tablespoon

vanilla extract

2 tablespoons

heavy cream
---
Instructions
Preheat oven to 375 degrees with rack in the top third of the oven.
Butter a ten inch Bundt pan with two tablespoons butter.
Sift flour, mace, anise, nutmeg, cinnamon, ginger and cloves into a bowl and set aside.
In the bowl of a stand mixer with the paddle attachment, beat egg yolks and sugar until light and fluffy for about five minutes. They should start to take on the appearance of mayonnaise and get a bit thick.
Add orange zest and beat to combine.
With the mixer on low, add in olive oil, honey, agave and rum until blended.
Add dry to wet and slowly mix to combine. Scrape sides and mix again.
Beat the egg whites and the salt with a hand mixer until you have soft peaks and gently fold into cake batter by hand.
Pour batter into buttered Bundt pan. Rap the pan on the counter a few times to pop any big bubbles and bake for 50-60 minutes or until a tooth pick inserted comes out clean. If after 50 minutes, the cake looks like it is getting too dark along the edges, lower heat to 325 for the last ten minutes.
Cool inverted on a cooling rack until completely cool.
While cake is cooking, bring a small pan of water to a boil and drop in pecans. Boil one minute then drain.
In a medium pan over medium heat, melt butter and oil and add pecans and all seasonings. Stir and toss for about five minutes until golden brown. Pour out onto a plate lined with paper towels and cool.
To make icing, beat cream cheese and powdered sugar in stand mixer with paddle until creamy and well combined. Add vanilla and cream on low speed until combined. Scrape bowl and mix again. The icing will be piped onto cake so make sure you beat out all lumps so it doesn't clog the piping tube.
To assemble, invert Bundt onto plate or pedestal with rounded side up.
Spoon icing into pastry bag lined with small round tip.
In sweeping motions, swirl back and forth around whole cake until all of the icing is used.
Place toasted spiced pecans over cake while icing is still soft.
Allow to cool before serving.
---
You may also like: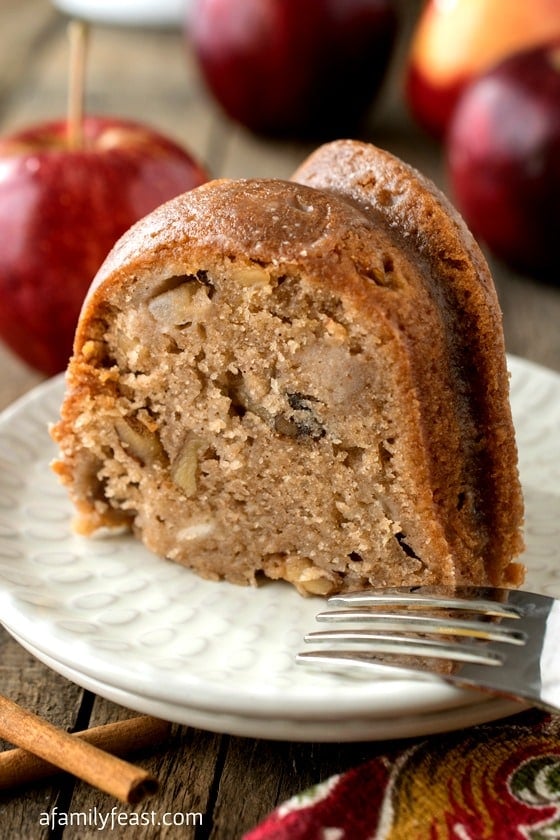 Spiced Eggnog Chocolate Chip Cake