Apple Topped Cake – A moist, dense and super delicious cake that is just perfect for baking with in-season apples!
I'll share a little secret with all of you today…up until about two weeks ago, Jack and I had been without a fully-functioning oven in our kitchen since the beginning of May!
Our almost-10-year-old gas range starting acting up a few months ago – so we knew it was time to buy a new one. The new range we selected took a little over a month to be delivered…but no problem – it was the beginning of the summer so who wants to turn on the oven anyway!?
Then a BIG delivery mix-up (that's a loooong blog post for another day!) delayed things until the middle of June. THEN – we discovered that the oven temperature in our brand new appliance was way off, and food wasn't baking in anywhere near the time that it should. (Still OK…we shared lots of delicious grilled recipes with you all, like this one, and this and this – no oven required!)
So after three visits from the appliance repairman and numerous replaced parts over the last three months…we finally (finally!) have a fully-functioning oven! And now…I'm baking up a storm…including this Apple Topped Cake! This is a moist, dense and super delicious apple cake that is another perfect way to bake with in-season apples – and it's really easy to make too!
A sweet (but not too sweet) cake flavored with hints of orange juice and vanilla is topped with cinnamon-coated apple slices which bake up into a wonderful golden, mahogany color that is gorgeous to look at, as well as delicious to eat! A sprinkle of powdered sugar before serving also helps make the apple design standout on top this very pretty cake.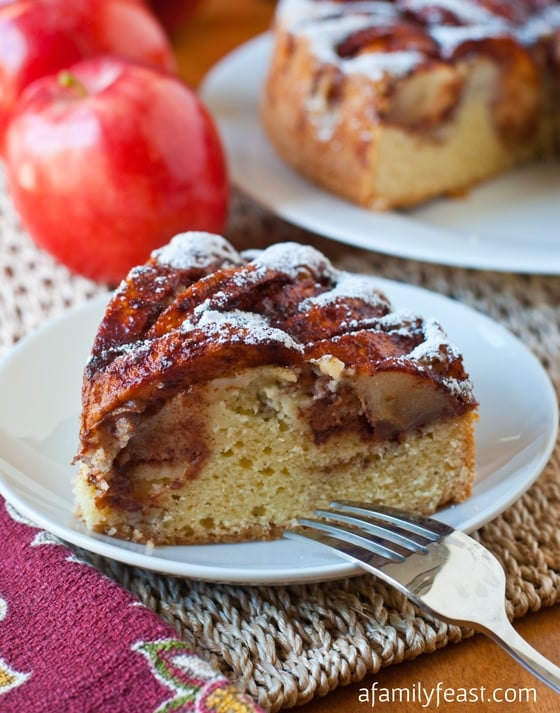 Adapted from a recipe originally clipped from The Boston Globe newspaper, this apple topped cake is a variation of a cake that cookbook author Julie Riven
's mother used to make.
What kind of apples should I use for baking this Apple Topped Cake?
The authors recommend making this cake with apples that remain firm after baking such as Cortlands, Macouns, Ida Reds, Jonathans, Empires, Baldwins and Rome Beauties. We also used the Honey Crisp variety in our apple topped cake with great results!
You might like these other Apple recipes:
Print
Apple Topped Cake
Prep Time:

20 mins

Cook Time:

1 hour 30 mins

Total Time:

1 hour 50 minutes

Yield:

8 servings

Category:

dessert

Method:

baking

Cuisine:

American
---
Butter (for greasing the pan)
Flour (for dusting the pan)

2 cups

flour

1 cup

granulated sugar

2 teaspoons

baking powder

¼ teaspoon

salt

2/3 cup

canola or vegetable oil

3

eggs

2 tablespoons

orange juice

2 teaspoons

vanilla extract

3

apples, peeled, quartered and sliced (we used a mix of Honey Crisp and Cortland but any apple that stays firm after baking will work for this recipe)

1 tablespoon

ground cinnamon mixed with 5 tablespoons granulated sugar
Confectioners' sugar
---
Instructions
Preheat the oven to 325 degrees. Butter and lightly flour a 9-Inch Springform Pan, tapping out any excess flour. Set pan aside.
In the medium bowl, combine the flour, sugar, baking powder and salt and stir with a whisk until well blended.
In the bowl of an electric mixer, mix together the oil, eggs, orange juice and vanilla. Add the flour mixture and mix just until smooth (do not over mix), scraping down the sides of the bowl as needed to ensure that all of the dry ingredients are incorporated.
Pour the batter into the prepared springform pan.
In a bowl, toss the sliced apples with the cinnamon-sugar mixture until well-coated.
Arrange the apples all the way around the edge of the cake so that the rounded side of the slices are standing up and the pointed end of each slice is pressed into the batter. Following the same method, make additional inner rows of apples (depending on the size of your apples, this could be one or two rows) until the entire top of the batter is filled in with apples.
Bake the cake for 1½ to 1¾ hours or until a skewer inserted into the center of the cake comes out dry. (The skewer might be slightly sticky from the apples, but there should be no wet batter on the skewer.)
Cool the cake on a wire rack for about 30 minutes, then release the cake from the springform (use a knife around the sides of the cake if necessary to loosen it from the pan).
Cool the cake completely and dust with confectioner's sugar before serving.
---
Keywords: Apple Topped Cake