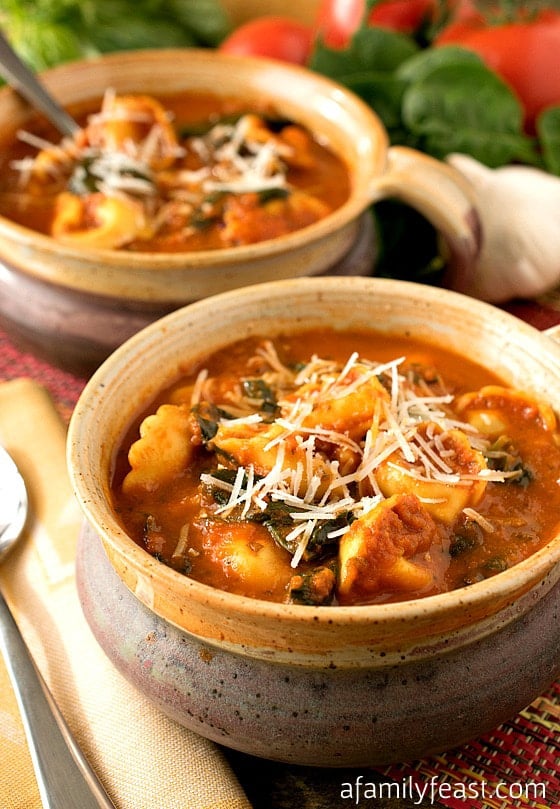 On the weekends, it's not uncommon to find my husband Jack making soup!  He will start the day off by filling up a big pot with all of the ingredients to make a fantastic stock (like this one, or this or this) and the house is full of wonderful smells for hours while it cooks!
But lately, we've been very busy on the weekend with family and friends visiting, as well as activities with our seven-year-old!  So staying home while a pot of stock cooks down on the stove for hours hasn't been possible.
And that's where recipes like this Slow Cooker Tomato and Tortellini Soup come in!  This is a simple and creamy soup full of tomatoes and other vegetables – and it gets wonderful flavor from adding a few leftover Parmesan cheese rinds as the soup cooks in the slow cooker!  (Helpful hint: Anytime you use up a wedge of Parmesan cheese – save that rind in the freezer so you can add it later to soups and sauces!)
You'll quickly sauté some diced vegetables in a skillet at the beginning of this recipe along with some tomato paste which serves as a thickener, then the soup is cooked the rest of the way using the slow cooker.  The base of this soup is fantastic on its own – but we like to add frozen cheese tortellini as well as fresh baby spinach just before serving to make this a complete and delicious meal!
Scroll down below to watch a video that shows how we make this delicious soup!
Print
Slow Cooker Tomato and Tortellini Soup
Prep Time:

15 mins

Cook Time:

4 hours 10 mins

Total Time:

4 hours 25 minutes

Yield:

8-10 servings

Category:

soup

Method:

slow cooker

Cuisine:

Italian
---
Description
Notes: Before you begin, you will need a four quart or larger slow cooker. If you have a smaller slow cooker, cut the recipe in half. Secondly, the soup will be pureed at the end, so the dice size of the vegetables in this recipe really doesn't matter. Lastly, a simple trick is to freeze cheese rinds as you finish a wedge of Parmesan and then use in soups that call for Parmesan. If you don't have any, you may want to add some grated Parmesan at the end.
---
1 quart

vegetable stock

2

28-ounce cans ground peeled tomatoes (we like Pastene or Cento)
A few Parmesan cheese rinds, optional (will be removed after cooking)

1

large bay leaf (will be removed after cooking)

¾ cup

fresh basil roughly cut

1 ½ teaspoons

fresh thyme (or

¾ teaspoon

dried thyme)

3 tablespoons

extra virgin olive oil

1 cup

diced celery

1 cup

diced onion

1 ½ cups

diced carrots

1 tablespoon

chopped garlic

1 ½ teaspoons

salt

½ teaspoon

freshly ground black pepper

1 teaspoon

paprika
Pinch red pepper flakes (optional)

4 tablespoons

tomato paste

½ cup

white wine

¾ cup

freshly grated Romano cheese

½ cup

heavy cream

2 tablespoons

butter (to smooth out the acidity, but optional)

12

-ounce package of frozen cheese-filled tortellini

8 ounces

baby spinach or fresh spinach, stems removed and chopped (or frozen may be used if fresh is not available)
---
Instructions
In a four quart slow cooker, place stock, tomatoes, cheese rinds, bay leaf, basil and thyme. Turn your slow cooker on, setting the timer on high for four hours or low for six hours, and cover the mixture (this will allow your slow cooker to start heating up).
While the slow cooker starts to heat up, in a large skillet, heat oil over medium high heat. Add celery, onions and carrots and cook for three to four minutes until almost soft. Add garlic, salt, pepper, paprika and pepper flakes and cook for one more minute. Add tomato paste and cook for about two minutes (being careful not to burn), then add wine to deglaze the skillet. Pour this mixture into slow cooker and stir to mix. Cover again and allow to cook for four to six hours.
After the cooking time is up, remove cheese rinds and bay leaf and discard. With an immersion blender puree mixture until very smooth. Add Romano cheese, cream and butter and stir with a spoon to combine. Taste and add more salt and pepper only if needed.
Turn the slow cooker to high (if it isn't already), then add frozen tortellini. Cook until they are fully cooked (approximately 10 minutes), then add spinach. Continue cooking just until spinach has wilted into the soup (only a minute or two). If soup is too thick, dilute with more cream or more vegetable stock.
You may also like:
Slow Cooker Chicken Tikka Masala
Slow Cooker Pulled Buffalo Chicken