This Scallop Corn Chowder is loaded with chunks of tender scallops, sweet summer corn, and potatoes in a creamy, rich broth. Don't forget the bacon on top!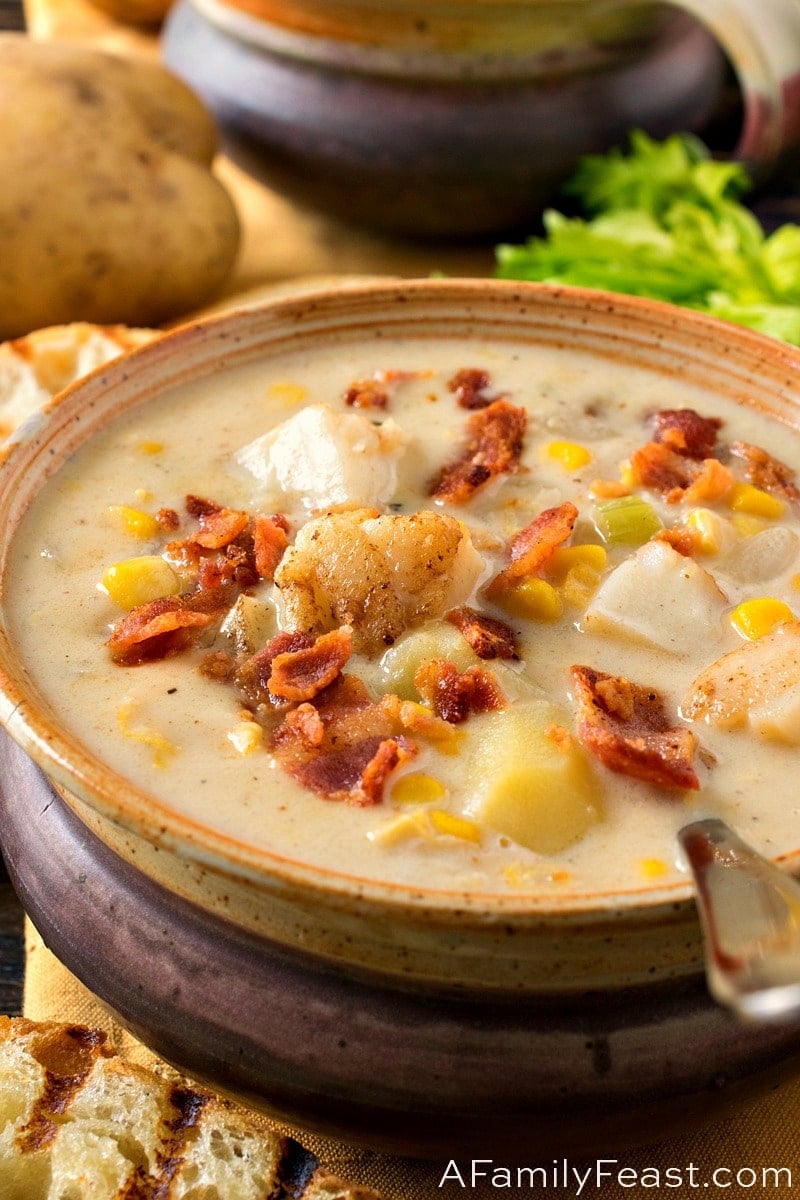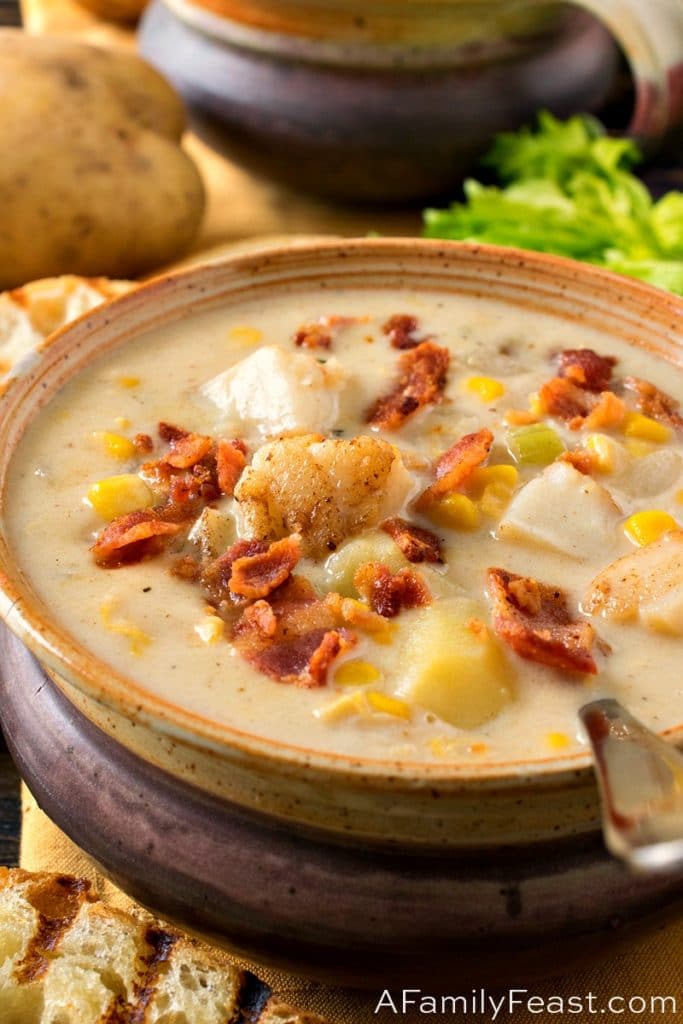 Hey everyone – it's Jack. I made this Scallop Corn Chowder with my dad (aka Grampa) in mind.
Scallops are his all-time favorite food, and we happened to have a few pounds of scallops in our freezer. So I decided to make a batch of this delicious Scallop Corn Chowder for him as a special treat.
The day I brought this chunky and delicious chowder over to his house, I swear, Grampa had it heating up on the stove before I even had my jacket off.  And, by the time my visit was over, he ate two big bowlfuls (which gave me more satisfaction than eating it myself).
How do you make Scallop Corn Chowder?
Like most other chowder recipes, this Scallop Corn Chowder is fairly quick and quite easy to make.  Most of your prep time will be spent chopping vegetables including yellow potatoes, celery, and sweet onions, and measuring out ingredients – and it's helpful to do all of the prep before you begin any cooking.
You'll need two pounds of fresh or frozen sea scallops. (Click here to read our article about Buying and Cooking with Scallops).  We also used canned corn – both kernels and creamed corn – but you can swap in fresh corn kernels for the canned when corn on the cob is in season.
You'll start by cooking up some bacon until crisp, and then keeping some of the rendered bacon fat to sauté the scallops later in the recipe.
In a large stock pot, sauté the chopped vegetables (mentioned above) in diced salt pork and butter, then add potatoes, chicken stock, clam juice, both kinds of corn, and seasonings including Worcestershire sauce, thyme, salt and pepper, and a few dashes of your favorite hot sauce which helps cut the richness a bit.
While that stock simmers (just long enough to cook the potatoes), sear your scallops in a mix of bacon fat and butter – just long enough to brown them on the outside. It's OK if they aren't fully cooked through – they will finish cooking as you finish assembling the Scallop Corn Chowder.
Once the scallops and potatoes are both cooked through, add the scallops to the pot along with milk and cream. Heat through – and you're ready to serve.
How do I serve Scallop Corn Chowder?
We served our Scallop Corn Chowder with that crispy bacon on top and some toasted bread on the side.
Enjoy!
P.S. To sound like us New Englanders (or at least like me), this recipe is pronounced Corn 'Chowdah' with 'Scaulups'. 😉
You might like these other Chowder recipes:
Print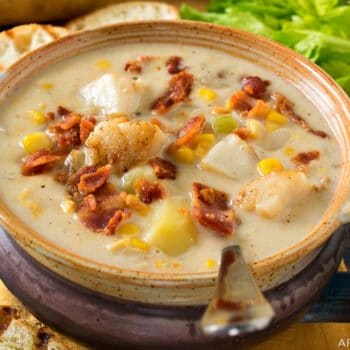 Scallop Corn Chowder
Author:

Prep Time:

30 minutes

Cook Time:

30 minutes

Total Time:

1 hour

Yield:

10 servings

Category:

soup

Method:

stovetop

Cuisine:

New England
---
1 ½ pounds yellow potatoes (3 cups once peeled and cubed)
1 pound bacon
5 ounces salt pork diced small (see How To Dice Salt Pork here)
8 tablespoons butter, divided
1 cup celery diced
2 cups sweet onion diced
1 tablespoon garlic, minced
2 cups chicken stock
2 cups bottled clam juice
1 14.5-ounce can good quality creamed corn
2 14.5-ounces cans good quality kernel corn, NOT drained
1 teaspoon Worcestershire sauce
½ teaspoon dry thyme
½ teaspoon celery salt
½ teaspoon black pepper
Few dashes of your favorite hot sauce
2 pounds sea scallops
6 tablespoons all-purpose flour
1 cup whole milk
1 cup heavy cream
Grilled toast slices, for serving
---
Instructions
Peel and cut potatoes to bite sized pieces and keep in a bowl of cold water for now to stop from oxidizing.
Cut the sliced bacon slab into quarters to make it easier to fit in the pan to cook.
Place a 6-quart Dutch oven over medium high heat and add the bacon and cook until crisp. Remove to paper towels and when cool, crumble for serving later in this recipe. Pour off and save bacon fat, leaving a little in the pan bottom.
Heat pan again to medium high and add the salt pork and cook until crisp.
Leave the salt pork in the pot and add 3 tablespoons of butter to the fat and once melted, add the celery, onions and garlic and cook for three minutes.
Drain the raw potatoes and add to the pan along with the stock, clam juice, creamed corn, kernel corn with liquid, Worcestershire sauce, thyme, celery salt, black pepper and hot sauce. (Note: Cooking the potatoes in the chowder will help thicken the chowder)
Bring to a boil, lower to a simmer and cook ten minutes uncovered or until potatoes are tender.
Remove the muscle from the side of each scallop and pat the scallops dry with paper towels.
While the chowder is simmering, in a large wide skillet over high heat, add a tablespoon of bacon fat and three tablespoons of butter and once hot and frothy, add half the scallops not touching each other and sear for a minute or two on each side. Remove to a plate and repeat for the remaining scallops. Let them cool a bit and once cool, quarter each one and set aside. They may not be fully cooked but will cook further in the chowder. Better to undercook than overcook in this step.
Lower the pan heat to medium low and stir in the flour and cook for two minutes, stirring often. *see note below
Remove from heat and scoop out a few ladles of the chowder liquid and place in the pan with the cooked flour and butter and stir to combine and thicken, then pour back into the chowder scraping up every last bit with a rubber spatula and stir to combine.
Lower heat to medium low and add in milk, cream and the cooked scallops along with any liquid collected from the plate.
At this point, remove all heat from the chowder and stir in the remaining butter. Taste and add salt only if needed.
If serving with grilled toast, cut French, Italian or Ciabatta bread into slices, butter lightly and grill on a hot grill pan and serve with the chowder long with the cooked crumbled bacon.
---
Notes
*If your pan was not hot enough, the scallops may have stuck a bit to the pan bottom. If they did, you may have black bits that form in the pan. If that is the case, strain out the fat into a bowl, wipe the pan clean and add the fat back in before adding the flour in.
When reheating, heat just to serving temperature otherwise the scallops will get rubbery.
Keywords: scallop corn chowder