Rotisserie Chicken Skillet – Dinner is served in about 30 minutes with this easy and flavorful recipe!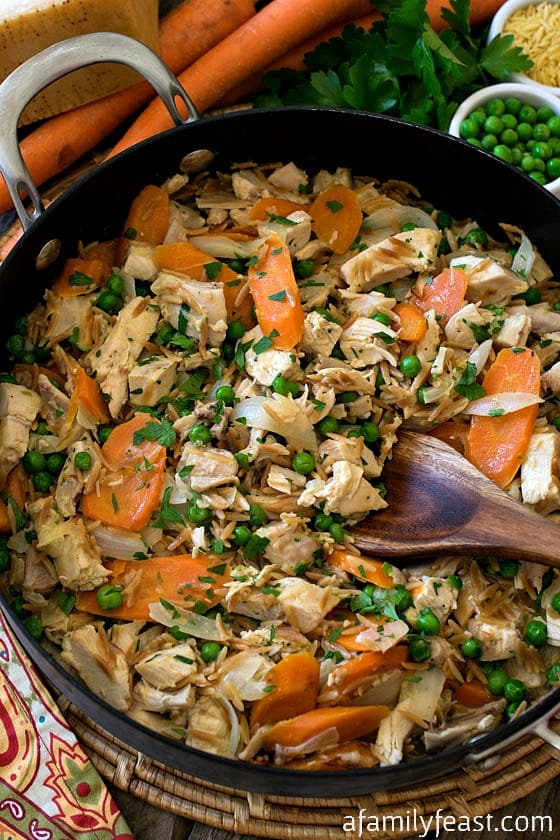 When people learn that my husband Jack and I are food bloggers, it usually sparks a very interesting conversation. We've found that most people are very passionate about eating great food – but so many people we've spoken to often don't have a whole lot of time to spend in the kitchen cooking dinner these days.
So what's a hungry family to do? How about this Rotisserie Chicken Skillet! This recipe is perfect for when your family is hungry for a delicious dinner but time is very tight.
How do you make this Rotisserie Chicken Skillet?
As a time-saving shortcut, we started this delicious skillet dinner with a store-bought rotisserie chicken. (And you know…although Jack and I do cook mostly from scratch ourselves, we're not at all against taking a short cut here and there.)
We both think rotisserie chickens have great flavor – and they are so convenient to pick up at the supermarket – so feel free to use them anytime a recipe calls for cooked chicken. (Or, if you've cooked some chicken at home, feel free to use those leftovers instead.)
This is a simple one-skillet meal! Lightly toasted orzo is cooked in chicken stock and seasonings. Then cooked carrots and onions, and frozen peas are added to the orzo along with some cream, the shredded rotisserie chicken and Parmesan cheese! Toss together – and dinner is ready in less than twenty minutes!
And if you have any leftovers – here's another time saver for you! Pack the leftovers up in single-serving sized containers – and lunch the next day is already packed!  Enjoy!
You may also like these other Easy Dinner Recipes: