Ready in 30 minutes, our Rotisserie Chicken Skillet might be the easiest, and most flavorful, dinner you've made all week.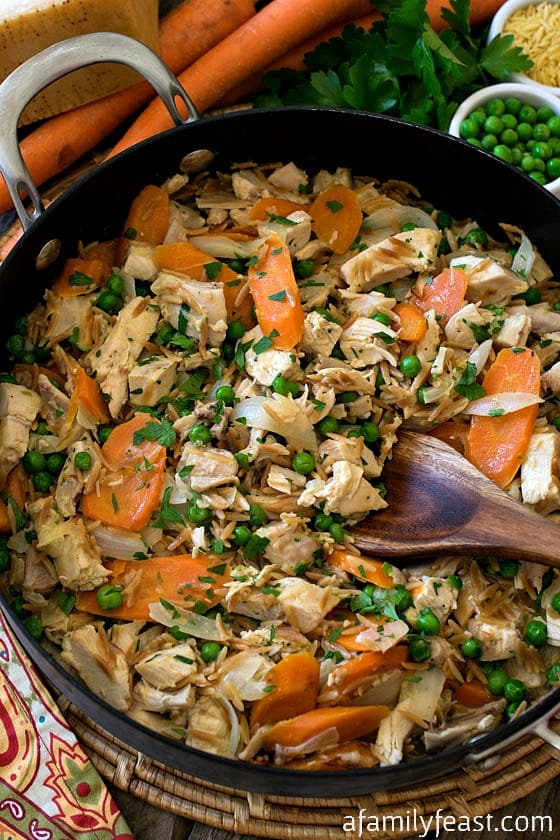 Looking for recipes to make with rotisserie chicken? Look no further than our Rotisserie Chicken Skillet!
This recipe is a wonderful option for those busy evenings when you need to get dinner on the table in a snap. And it's delicious to boot!
We combine rotisserie chicken, orzo, veggies, cream, and a sprinkle of Parmesan cheese to create this easy and scrumptious dinner the whole family will enjoy.  One reader even told us: "This recipe is the only reason my toddler eats veggies." So it's picky-eater approved!
Get dinner on the table fast!
To save a little time preparing this recipe, we used a store-bought rotisserie chicken. While we do love to create and cook from scratch, we also are fans of convenience ingredients when it doesn't sacrifice flavor. Not only is rotisserie chicken only already cooked for you, but is wonderfully seasoned.
And, while a rotisserie chicken is a perfectly acceptable alternative to roasting your own chicken, you can cook your own chicken if you prefer. (Here's a flavorful roast chicken recipe to try.)
Why You'll Love this Rotisserie Chicken Skillet
It's tasty. The combination of seasoned rotisserie chicken, broth, cream, and cheese is a dish that both kids and grownups will love.
It's fast. This recipe can be on the table in 30 minutes.
It's convenient. This one-pan dinner is the perfect way to use up any leftover cooked chicken.
Key Ingredients and Substitutions
Rotisserie Chicken – While this recipe specifically calls for store-bought rotisserie chicken, you can use any cooked chicken you like. You'll need 3 ½ cups of cooked meat in total. If you use chicken that you've cooked yourself, just keep in mind that you might need to add additional seasonings to the finished dish.
Orzo Pasta – Orzo is a rice-shaped pasta that cooks up quickly and mixes easily with other ingredients. You can, however, use any shaped pasta you'd like.
Vegetables – We use bias-cut carrots, chopped onions, and frozen peas in this recipe – but feel free to swap in other vegetable you prefer. Note that some veggies release more liquid as they cook so if you do swap in other vegetables, you might want to consider cooking them separately, then stir them in just before serving.
Cream – Heavy cream is the main dairy ingredient in the sauce, but can swap in light cream or half and half if you prefer. For those looking for a non-dairy alternative, one reader told us canned coconut milk worked well for her. (We haven't tried that ourselves to confirm.)
How Do I Make Rotisserie Chicken Skillet?
1. Prep the chicken and veggies – You'll need about 3 ½ cups of cooked meat. If you're using rotisserie, remove the meat from the bones and cut up into bit-sized pieces.
2. Toast the orzo – Brown the orzo in a dry skillet – similar to making rice pilaf – then set aside.
3. Sauté the veggies – Sauté onions and carrots in oil for just about four minutes. They won't be fully cooked at this point.
4. Simmer – Once the vegetables have cooked a bit, add the toasted orzo, chicken stock, and seasonings to the skillet. Cover and simmer until the orzo is cooked, about 8 minutes or so.
5. Heat through – At this point, you'll add the chicken, cream, and remaining ingredients to the skillet. Then heat until warmed through.
6. Serve – Sprinkle with Parmesan cheese and serve hot.
Frequently asked Questions
Can I use something other than heavy cream in this recipe? Yes – you can swap in light cream or half and half for a lower-fat version. We've also been told that coconut milk makes a nice substitute if you're looking for a dairy-free option.
Can I make this with rice instead of orzo? Yes – but only with some adaptations. Orzo (a pasta) absorbs much less liquid than rice (a grain) to fully cook so the recipe, as written, won't have enough liquid in the sauce to fully cook the rice. Additionally, the carrots would be over cooked if you simmered those for the full length of time it takes to cook the rice. We'd suggest cooking the rice separately, adding it at the end, and cutting back on the amount of cream you're adding to create the sauce.
Could I make this recipe ahead of time and freeze it for later? Yes, you can. Just note that cream has a tendency to separate when it has been frozen and thawed. We recommend making the recipe up until the step to add the cream, and freeze it at that point. When you thaw it out and are ready to reheat, pick up the recipe instructions right where you left off, and add the cream.
You may also like these other Easy Dinner Recipes: