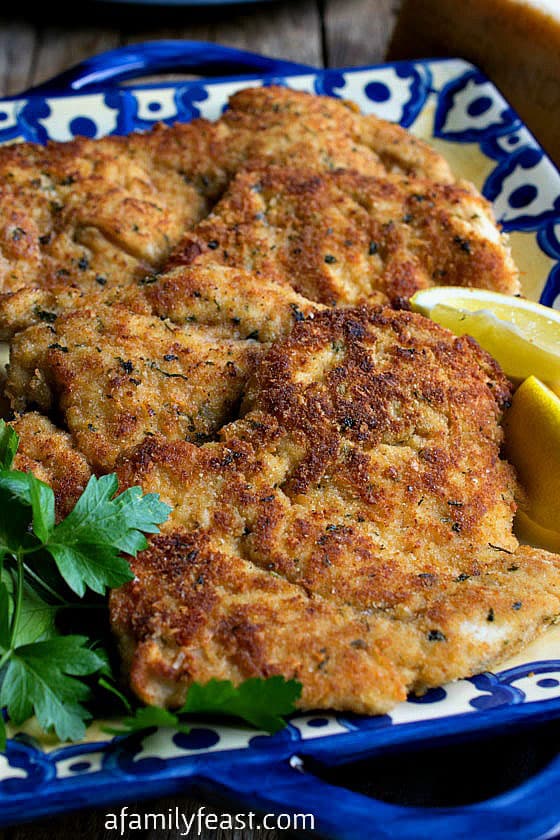 We eat chicken in our house fairly often so – long before we started blogging here on A Family Feast – we've always been on the lookout for different chicken recipes to try!  One of our all-time favorites is Ina Garten's recipe for Parmesan Chicken cutlets which originally appeared in her Barefoot Contessa Family Style cookbook.
I've made these delicious Parmesan Chicken cutlets so many times, I have the recipe memorized!  It's a very simple recipe that's quick to prepare and just delicious. (OK – all of Ina's recipes are pretty delicious – I admit I'm a big fan of hers!).  The Parmesan cheese and other seasonings added to the bread crumbs add a really great flavor that makes this more than just your typical breaded chicken cutlet recipe!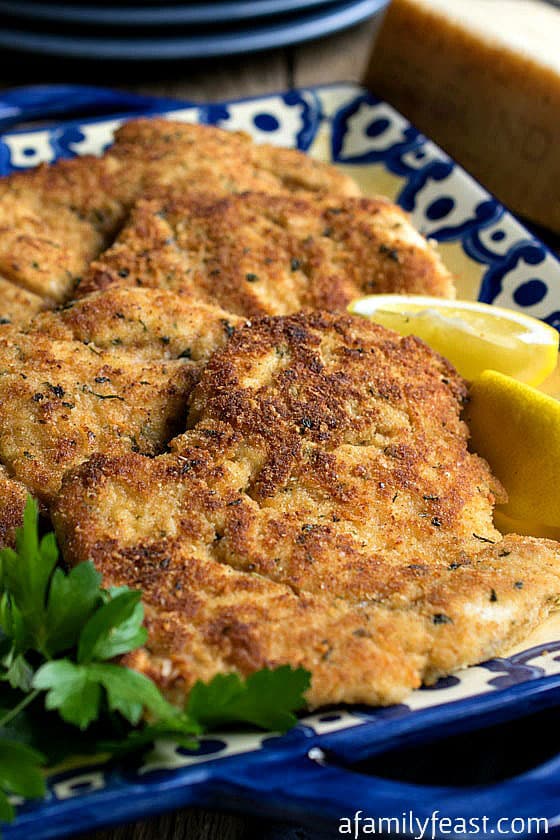 This recipe works best when you pound the chicken breasts to a 1/4-inch thickness before coating and frying.  And, we also like to add a squirt of fresh lemon juice over the cutlets just before serving (it adds great, fresh flavor!) – but that step is optional and not part of Ina's original recipe.  Either way, this is a delicious way to prepare boneless skinless chicken breasts and it's a must-have in your recipe box!
(This recipe was first published on A Family Feast in October 2012.  As you can see from our original photo below, we've come a long way since then!)
Print
Parmesan Chicken Cutlets
Prep Time:

20 mins

Cook Time:

10 mins

Total Time:

30 minutes

Yield:

4 servings
---
Description
A simple and flavorful variation on boneless, skinless chicken breast.
---
4

boneless, skinless chicken breasts

1 cup

flour

1 teaspoon

kosher salt

1/2 teaspoon

freshly ground black pepper

2

large eggs

1 tablespoon

water

1 1/4 cups

seasoned dry bread crumbs

1/2 cup

freshly grated parmesan cheese

2 tablespoons

butter, divided

2 tablespoons

olive oil, divided
Lemon wedges for serving, optional
---
Instructions
Pound or butterfly the chicken breasts until they are an even thickness (1/4-inch thickness works best).
Set up three dinner plates or shallow bowls for the coating breading process. On the first, combine flour, salt and pepper together. On the second, beat the eggs and water. On the third, combine the bread crumbs and parmesan cheese.
Coat the chicken breasts on both sides in the flour mixture. Then dip the chicken (both sides again) in the egg mixture. Finally, dredge both sides of the chicken in the breadcrumb mixture until completely coated.
In a frying pan, over medium-high heat, melt one tablespoon of butter and one tablespoon of olive oil and cook 2 of the chicken breasts on medium heat until cooked through (2-3 minutes on each side for a thinly pounded breast; 3-4 minutes on each side if you've left the breasts thicker.) Cook the remaining breasts using the remaining butter and olive oil.
Squeeze lemon juice over the cutlets before serving if desired.
Disclosure: This post contains affiliate links.
You may also like:
Crunchy Sweet and Salty Chicken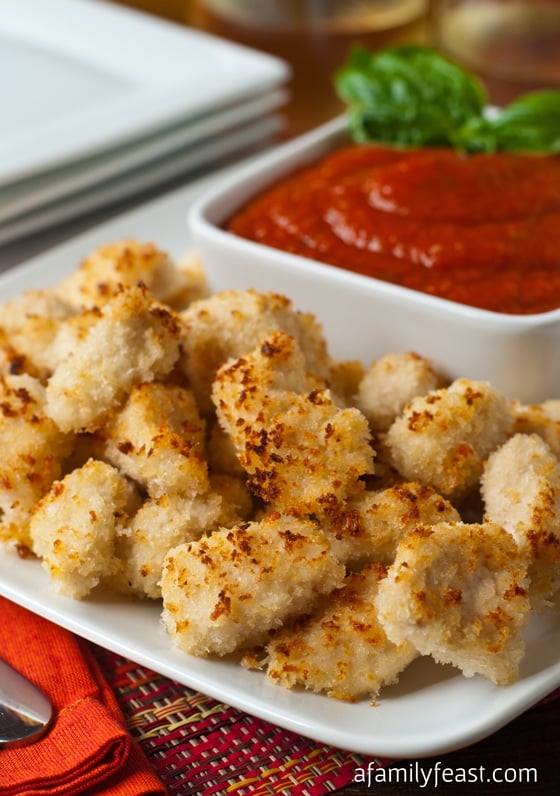 Crispy Pretzel Chicken with Parmesan Honey Mustard Sauce