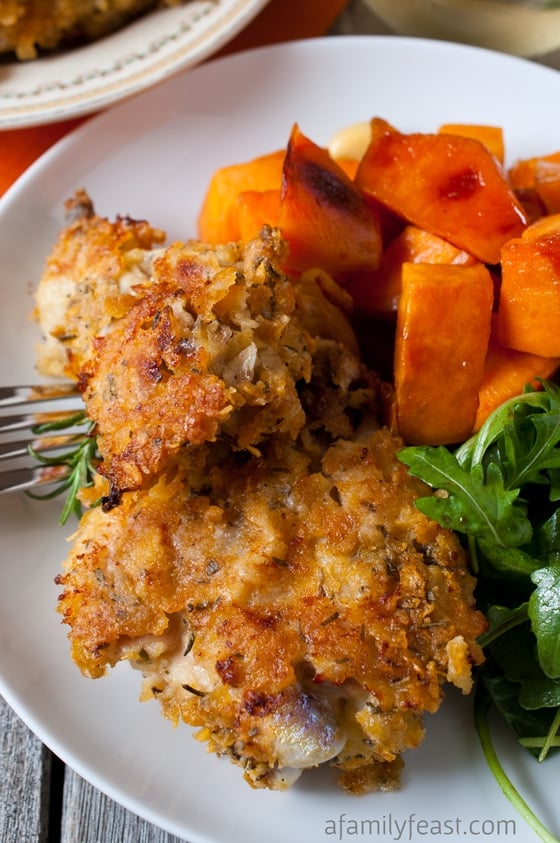 There's a popular saying about dieting that goes something like this:
"It's not what you eat between Thanksgiving and New Year's…it's what you eat between New Year's and Thanksgiving!"
It's definitely a true statement – but even at this time of the year when many diets fall off, I still try to find a balance between eating the holiday season sweet treats and eating healthier, lower calorie foods! So that's where our delicious Oven Fried Rosemary Chicken comes into play!
This recipe is actually an adaptation of a Weight Watcher's recipe from here
– an oven-fried chicken recipe where the skin has been removed to cut back on unwanted fat and calories!
Crushed corn flakes help give this oven fried rosemary chicken it's crispy coating, and we changed up the recipe to include some fragrant and super flavorful chopped fresh rosemary to the breading. The flavors in this dish are so fantastic you won't believe this is a lower calorie meal!
We also include the steps to brine the chicken overnight in the refrigerator and soak the chicken in buttermilk before breading and baking it. These extra steps help this oven fried rosemary chicken come out extremely juicy and moist – but if you don't have the time, these steps can be skipped! (But it might not come out as moist and juicy – so make the time to include these steps if you can!)
Print
Oven Fried Rosemary Chicken
Prep Time:

24 hours

Cook Time:

45 mins

Total Time:

24 hours 45 minutes

Yield:

4 servings
---
Description
Note: Because the skin has been removed from the chicken, the breading is very delicate and can slide off fairly easy. Be extremely careful when turning the chicken as you prepare this recipe, and also when removing to a serving platter so that the crust stays attached. Your diligence will be rewarded!
---
For the Brine
1 quart

water

¼ cup

salt

¼ cup

sugar

1

sprig fresh rosemary

2 cups

vegetable broth

1

bay leaf

6

juniper berries (optional)

2

peppercorns

1

star anise

1 quart

ice
Other Ingredients
2

pounds bone-in chicken parts, skin removed

½ cup

fat free buttermilk

¾ cup

corn flakes crushed

1 tablespoon

minced fresh rosemary

5 tablespoons

flour

¼ teaspoon

salt

¼ teaspoon

fresh ground black pepper

4 teaspoons

canola oil
---
Instructions
Place all brine ingredients except ice in a medium pan and bring to a boil. Lower to a medium boil and cook five minutes. Remove from heat and add ice and stir.
While brine is cooling, skin chicken pieces and discard skin. If brine is at room temperature, place chicken pieces and brine together in container or zip lock bag and brine overnight in the refrigerator (at least 12 hours).
Remove chicken from brine and discard brine. Place chicken in buttermilk and let sit at room temperature for one hour.
Preheat oven to 400 degrees and spray a baking sheet with non-stick spray.
Mix crushed corn flakes, rosemary, flour, salt and pepper and pour into a pie plate or bowl. Remove chicken from buttermilk and dredge in cornflake mixture, coating completely.
Place chicken pieces on prepared pan and drizzle canola oil over pieces.
Bake for 30 minutes, turn chicken and bake for another 15-20 minutes until done.
---
You may also like: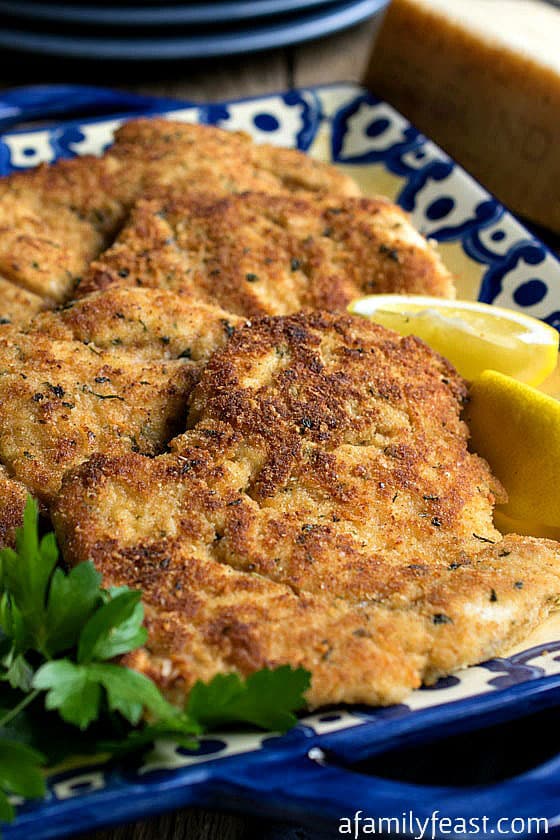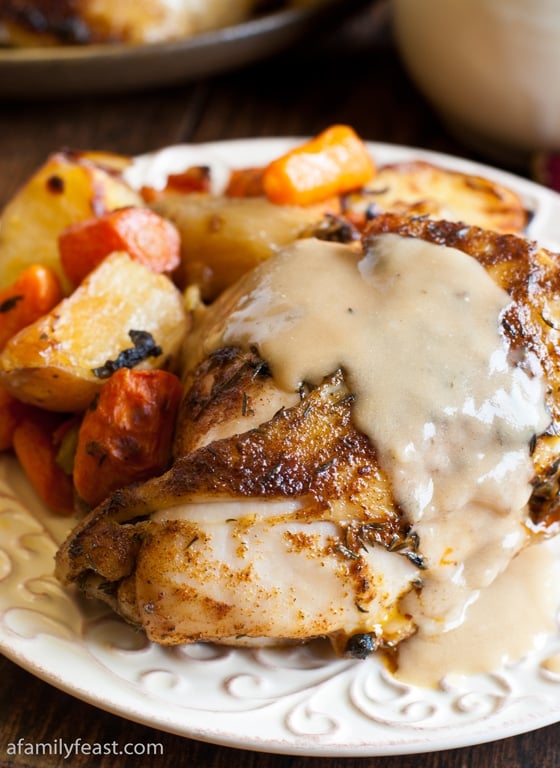 Chicken Breasts with Mushroom and Onion Dijon Sauce