I've been holding off jumping on the "holiday-desserts-made-with-peppermint" bandwagon…  And I have no idea why I waited so long now that I've made these delicious No-Bake White Chocolate Peppermint Cheesecakes!
Do you remember our No-Bake Mini Pumpkin Cheesecake recipe from a few months ago?  Well, that little recipe of ours became so popular over on Pinterest – as of this moment – it has been pinned over 210,000 times!  It's a fantastic – and easy – recipe and it's also one of those recipes that you can easily adapt to the flavors of the season or your own favorite flavors with just a little bit of culinary creativity!
For this Christmas season – when many people seem to enjoy peppermint desserts – we modified the recipe as follows:  The bottom crust is a combination of crumbled chocolate cookie wafers and chocolate mints, plus a little melted butter to hold the crust together.
Then – we used a combination of white chocolate pudding, cream cheese, cheesecake pudding, frozen whipped topping and a touch of peppermint extract to create a mousse-like cheesecake dessert that is creamy, light and delicious with a mild hint of peppermint flavor!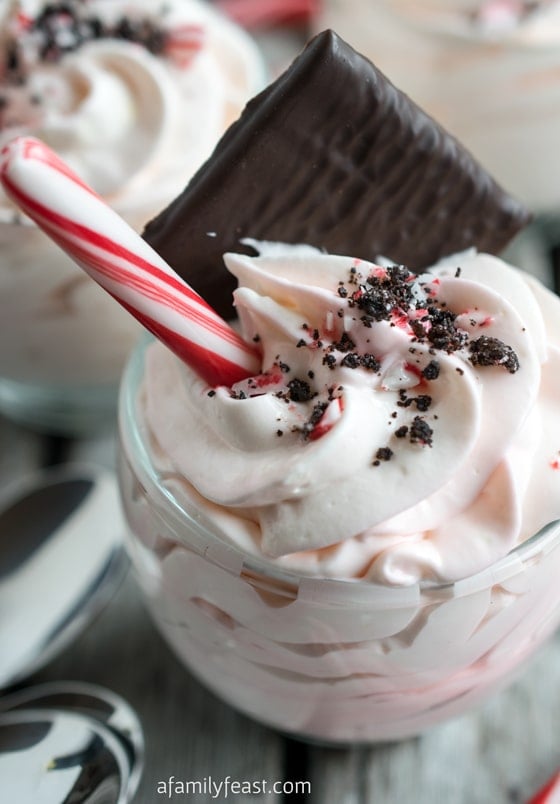 We used a large pastry bag with a star tip to pipe these no-bake white chocolate peppermint cheesecakes into each serving dish (I think the piping makes this dessert look so pretty!).  And, you can get creative with the garnish for this wonderful dessert as well!  We crushed up some extra chocolate cookies and candy canes and sprinkled the crumbs over the top of each cup.  Finish with a candy cane stick and a chocolate mint – and you've got a wonderfully festive dessert!
Print
No-Bake White Chocolate Peppermint Cheesecakes
Prep Time:

1 hour 30 mins

Total Time:

1 hour 30 minutes

Yield:

10-12 servings (using a 9-ounce clear plastic cup for serving)
---
Description
Note: Please be sure to use real peppermint extract in this recipe for the best results. Be careful NOT to buy mint extract which is usually a combination of peppermint and spearmint. The spearmint flavoring will be too strong for this dessert.
---
For the crust
½

package Nabisco Famous Chocolate Wafers (about

20

cookies)

10

After Eight chocolate mints

2 tablespoons

melted butter
For the filling
1

1-ounce package sugar-free white chocolate instant pudding mix (or a 3-ounce package of the regular pudding mix)

2 cups

whole milk

1

8-ounce package cream cheese, softened to room temperature

1

1-ounce package sugar-free cheesecake-flavored instant pudding mix (or a 3-ounce package of the regular pudding mix)

½ teaspoon

real peppermint extract (do not use mint extract which is typically a combination of peppermint and spearmint)

1

12-ounce container frozen whipped topping, plus extra for garnish, if desired

1

–

2

drops of red food coloring (optional)
Candy cane sticks, After Eight chocolate mints, and additional crushed chocolate wafers and crushed candy canes for garnish, if desired
---
Instructions
Place the chocolate wafers and chocolate mints in the bowl of a food processor and pulse into fine crumbs. Add the melted butter and pulse again until combined.
Spoon the crumbs into individual 9-ounce plastic cups (or other individual sized cups for serving). Place in the refrigerator to set while you are preparing the filling.
Prepare the white chocolate pudding with the milk according to package instructions. (Note: Do NOT prepare the cheesecake pudding mix – that will be added as a dry stabilizer later in the recipe.)
In the bowl of a stand mixer with the paddle attachment, beat the cream cheese until light and creamy.
Add the prepared white chocolate pudding, the dry cheesecake pudding mix and the peppermint extract and beat until completely mixed, scraping down the sides and bottom of the bowl to ensure that all ingredients are well combined.
Change your stand mixture attachment to the wire whisk. On slow speed, fold in the tub of frozen whipped topping and until well combined. If you'd like to tint your cheesecakes a light pink "peppermint" color, add 1 drop of red food coloring – you can leave the color swirled or mix completely for a light pink color. If desired, add a second drop of red food coloring if you want a darker pink color and mix again.
Allow the mixture to sit in the refrigerator for about an hour to firm up.
Using a large pastry bag with a large tip, or a spoon, top the chocolate mint crumb crust in each cup with the cheesecake mixture and refrigerate until ready to serve.
Garnish with additional whipped topping, a candy cane stick, a chocolate mint and crushed chocolate wafers and candy canes, if desired.
---
You may also like:
No-Bake Mini Pumpkin Cheesecakes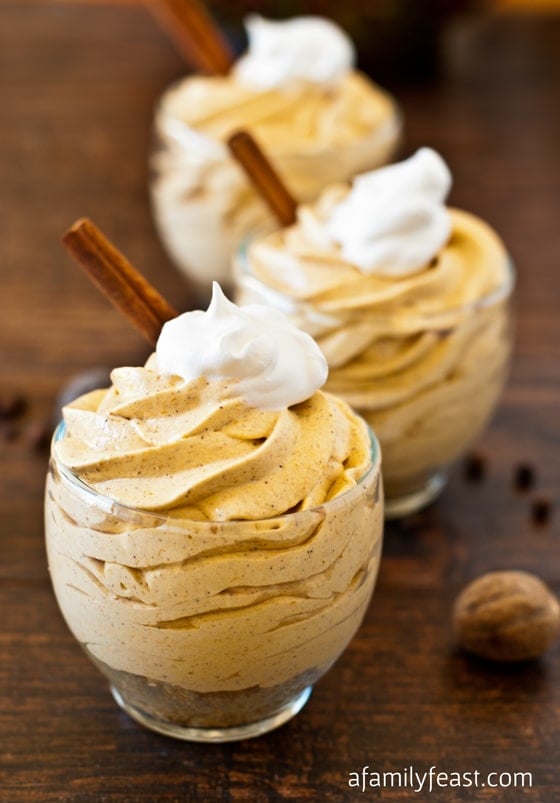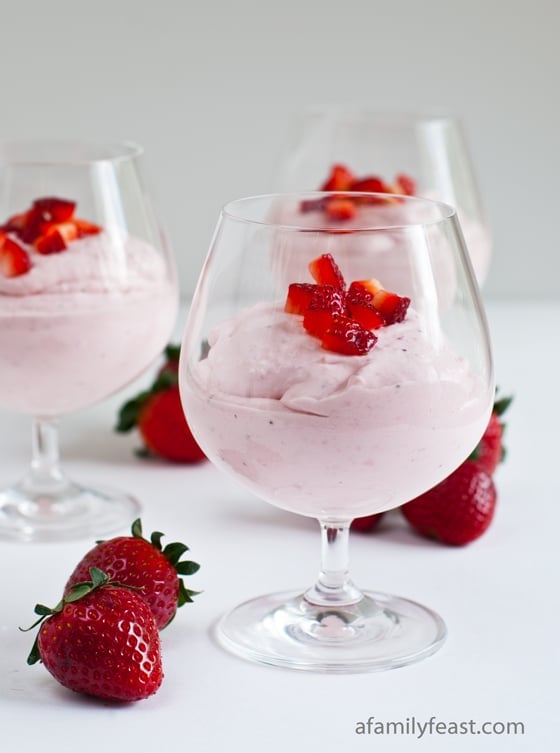 Chocolate Peppermint Milkshakes