Lemon Rosemary Chicken is a classic dish that everyone should know how to make!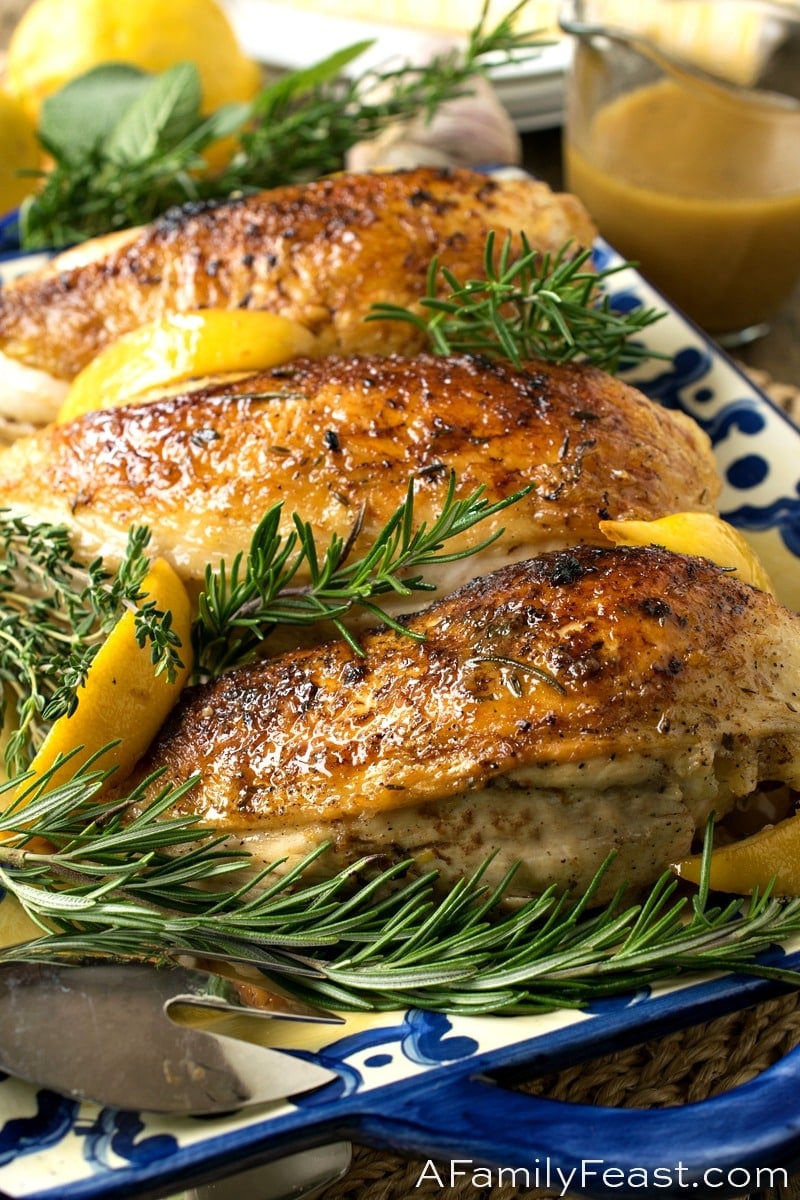 This easy, oven roasted Lemon Rosemary Chicken is one of those classic recipes I'll reach for again and again. It always turns out delicious – and it works just as well for a weeknight family meal, as it does a special dinner party.
How do you make Lemon Rosemary Chicken?
Season bone-in, skin-on chicken breasts with salt and pepper, then quickly sear in a super-hot skillet until golden brown.
Place the chicken breasts in a baking dish, then pour a luscious sauce made with butter, garlic, lemon zest, lemon juice, white wine and fresh rosemary and other herbs, over and around the chicken before it roasts in the oven until cooked through. (For extra lemony flavor, we also added some lemon wedges to the chicken while they baked.)
Our oven roasted Lemon Rosemary Chicken breasts came out super juicy and fork tender, with perfectly golden skin on top. We made a quick pan sauce from the juices in the baking pan and spooned it on top before serving – which just added even more delicious flavor to this meal!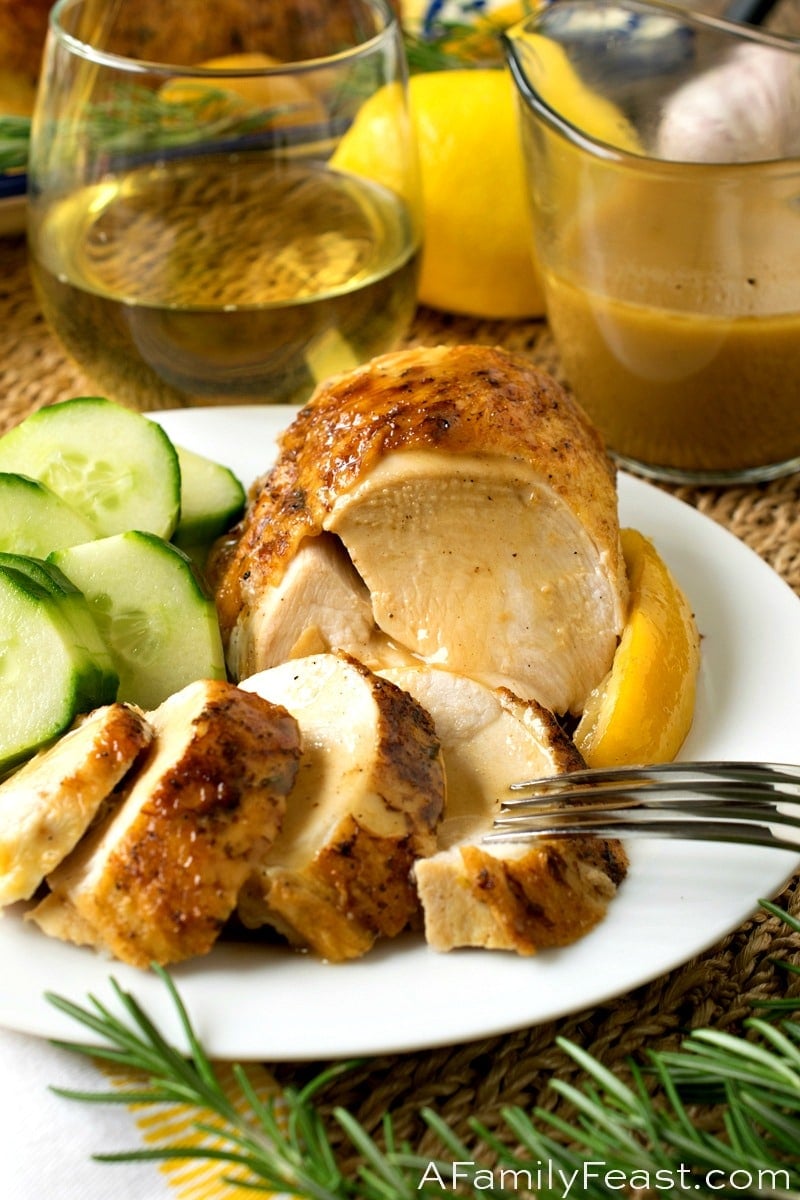 One last note: Your cooking time may vary depending on the size of your bone-in chicken breasts.  Ours were quite large – over a pound each – so if your chicken breasts are smaller, please adjust the cooking time accordingly.  To ensure optimal juiciness, we always recommend using a probe thermometer or an instant read thermometer to help you gauge when to take the chicken out of the oven.
This post was originally published on A Family Feast in December 2014. We've completely revamped the recipe and photos, and it's better than ever!
You may also like:
Disclosure: This post contains affiliate links:


Print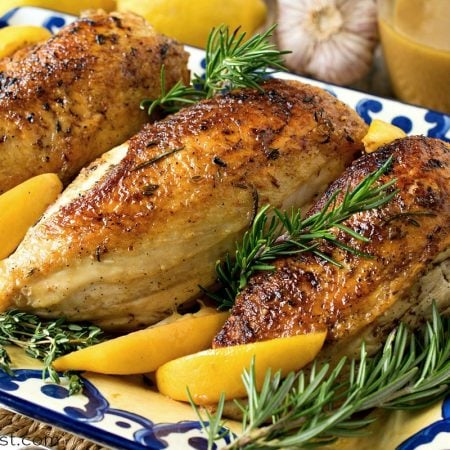 Lemon Rosemary Chicken
Author:

Prep Time:

10 minutes

Cook Time:

50 minutes (depending on the size)

Total Time:

1 hour

Yield:

4-6 servings

Category:

Entree

Method:

Roasted
---
Description
Feel free to change up the herbs in this recipe and substitute fresh oregano in place of the thyme or sage. But always use fresh rosemary!
---
3–4 pounds bone-in skin-on chicken breast (our breast halves were over a pound each so we cooked only three to serve 4–6 people. You may have smaller pieces and need more to reach the 3–4 pound mark)
1 teaspoon kosher salt
½ teaspoon freshly ground black pepper
2 tablespoons extra virgin olive oil
6 tablespoons butter, divided
2 large garlic cloves, peeled and cut in half
2 large rosemary sprigs
6 thyme sprigs (single stems)
2 large sage leaves
Zest of one lemon, about 4 teaspoons
¼ cup white wine
½ cup freshly squeezed lemon juice, about three large lemons
1 fresh lemon cut into 8 wedges.
---
Instructions
Preheat oven to 425 degrees F.
Pat chicken dry and sprinkle with the salt and pepper on the skin side only.
In a large skillet, heat the olive oil over medium high heat. Once shimmering, add chicken skin down and sear in two batches. Sear for 3-5 minutes or until the skin is golden. Only sear the skin side. Remove each batch to a 13X9 inch casserole dish.
In the pan used to cook the chicken, lower heat to medium and add 2 tablespoons of butter, the halved garlic cloves, the whole rosemary sprigs, whole thyme sprigs and the two sage leaves. Cook for three minutes then add the zest and white wine. Cook to evaporate the wine, about 2-3 minutes.
Flatten the garlic with a fork then add the lemon juice and cook for 2 minutes. Remove from heat and stir in 2 more tablespoons of butter.
Pour this mixture in and around the chicken pieces. Keep the skillet on the stove for a later step.
Scatter the 8 lemon wedges around the chicken.
Depending on the size of the breast halves, cooking time will vary. Our breast halves were about a pound and a quarter each and took 45 minutes. Smaller breast pieces will take less time.
Place the casserole in the oven uncovered and keep checking with a probe thermometer inserted into the thickest part from about the 30 minutes mark and remove from the oven at 160 degrees F. If the breast halves are not all the same size, some may be done sooner than others. Remove as they each reach 160. They will continue to cook outside the oven.
Remove the chicken and the lemon wedges to a platter and loosely cover with foil.
Strain the sauce and pour into the skillet you used earlier. Discard solids.
Heat until it starts to bubble, remove from heat and whisk in the remaining 2 tablespoons of butter. The sauce will thicken slightly. Serve alongside the chicken.
---
Keywords: lemon rosemary chicken recipe