Today's Chicken Thighs with Mushrooms, Lemon and Herbs recipe is perfect for a quick weeknight meal at home – but it's so delicious, you'll think you are eating at a gourmet restaurant.
And even better – this recipe is made with ingredients that you probably already have on hand in your kitchen.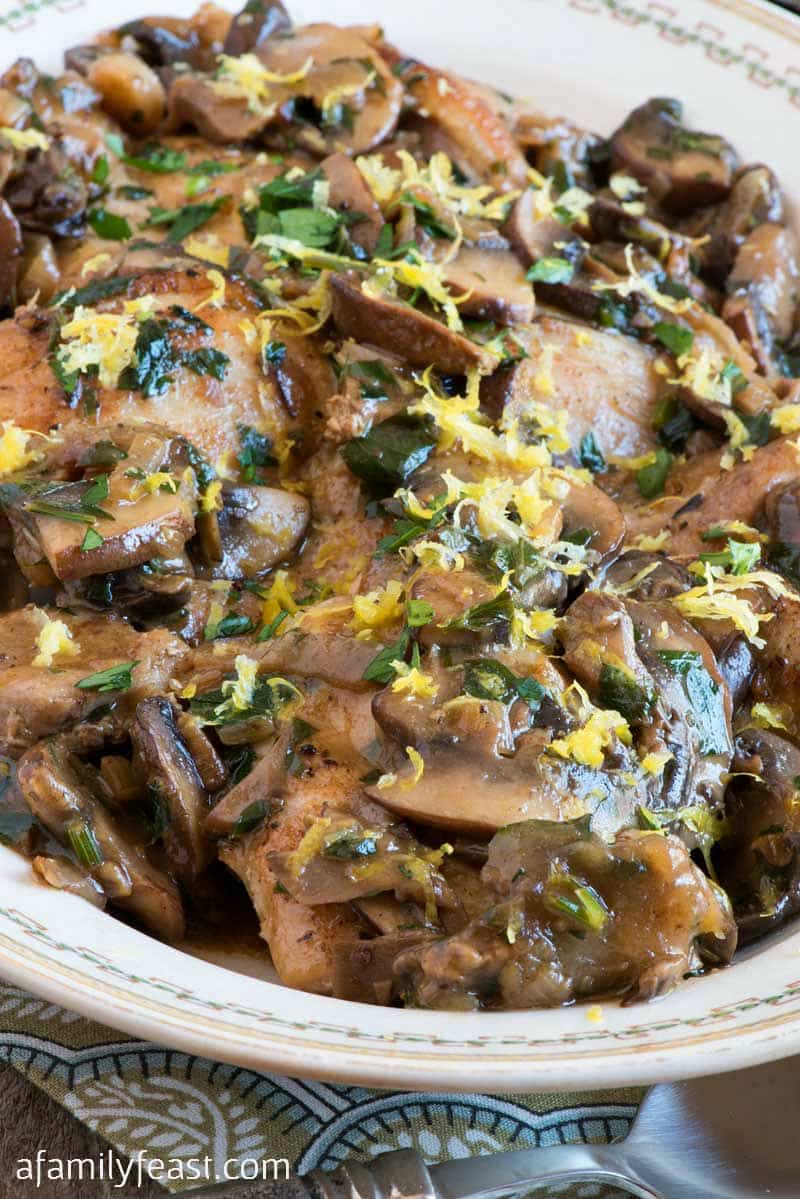 To make this Chicken Thighs with Mushrooms, Lemon and Herbs, you'll start by sautéing mushrooms in butter, olive oil and shallots (or sweet onions) until tender – then add fresh lemon zest and lemon juice, and cook until that wonderful lemon flavor is absorbed by the mushrooms.
Next, sauté herb-seasoned chicken thighs in a skillet until they are cooked through – then deglaze the pan with some vermouth (or white wine) and chicken stock. Add the mushrooms to the skillet with the chicken along with some fresh parsley and butter and sauté a little longer until heated through and a fantastic and flavorful sauce thickens.
Serve your Chicken Thighs with Mushrooms, Lemon and Herbs with a more fresh lemon zest and chopped parsley on top – then dig in! (You might want to serve this with some crusty bread on the side to soak up that wonderful sauce!)
Have a great weekend everyone!
Print
Chicken Thighs with Mushrooms, Lemon and Herbs
Prep Time:

15 minutes

Cook Time:

25 minutes

Total Time:

40 minutes

Yield:

4-6 servings
---
7 tablespoons butter, divided
3 tablespoons extra virgin olive oil, divided
1 cup shallots, sliced into half circles
12-ounce package Cremini (baby bella) mushrooms, sliced
Zest of half a lemon, plus more for garnish
2 tablespoons fresh lemon juice
1 ½ pounds skinless boneless chicken thighs
1 teaspoon kosher salt
½ teaspoon freshly ground black pepper
1 teaspoon dry crushed rosemary
½ teaspoon garlic powder
¼ cup vermouth (or other dry white wine)
1 cup chicken stock
¼ cup fresh parsley, minced plus more for garnish
---
Instructions
In a large sauté pan or skillet, melt two tablespoons of the butter in one tablespoon of the olive oil over medium heat.
Add shallots and cook for three minutes.
Increase heat to medium high, add one more tablespoon of butter and one more tablespoon of oil and add mushrooms.
Cook for five minutes then add lemon zest and juice.
Cook for about three minutes or until no liquid remains. Remove to a bowl and hold.
Lay out chicken on your cutting board. Mix salt, pepper, rosemary and garlic powder and sprinkle on both sides of chicken.
Heat same pan to medium high and add two more tablespoons of butter and the remaining oil.
Once hot, place chicken into hot fat and cook on one side for four minutes.
Turn chicken, lower heat to medium and cook until chicken is cooked through, about 6-8 minutes longer.
Remove chicken to a platter and pour off cooking fat and discard (there should be about two tablespoons of fat to discard). Cover the chicken platter loosely with foil and keep warm.
Place pan back over medium high heat and add vermouth to deglaze.
Stir to release brown bits from bottom and cook until almost all of the vermouth has evaporated then add the chicken stock and heat.
Once hot, add the mushroom mixture along with the parsley and cook for about two minutes until some of the stock cooks off and the mixture starts to thicken.
Remove from heat and stir in the last two tablespoons of butter to form a creamy sauce.
Pour the sauce over the chicken and garnish with additional lemon zest and chopped parsley.
Note: adding butter off the heat to thicken a sauce takes practice getting the texture just right before the butter goes in. If your sauce is too loose, you can mix a teaspoon of corn starch with a few drops of water and use it to thicken the sauce over heat.
---
Disclosure: This post contains affiliate links.


You may also like:
Chicken Breasts with Mushroom and Onion Dijon Sauce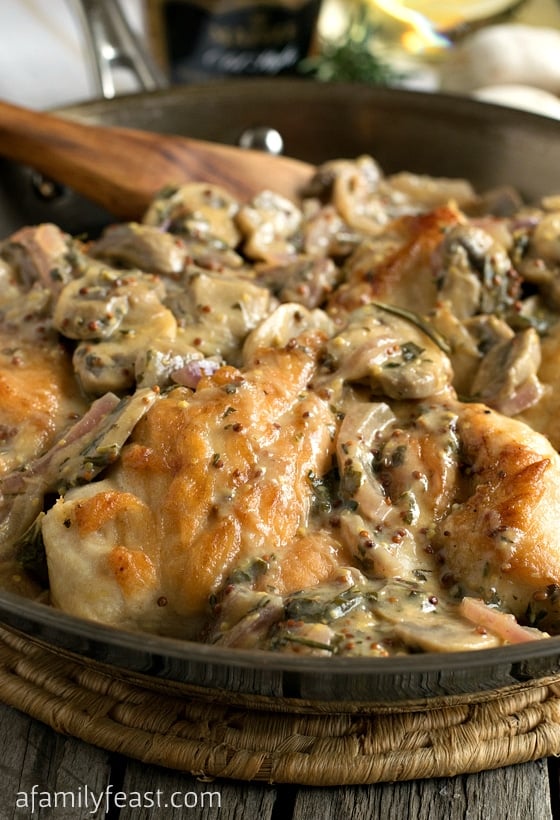 Milk Braised Pulled Pork with Mushrooms