Inspiration for today's Brussels Sprouts with Sweet Chili Sauce came about during an evening out with some friends. Jack and I were browsing the appetizers menu at a local restaurant, and as soon as we spotted some Brussels Sprouts with Sweet Chili Sauce on the menu – we knew what to order!
We were thrilled when a platter of oven-roasted Brussels sprouts came out to the table with forks for each of us to use to devour this fantastic appetizer.
The sprouts were slathered in a sweet chili sauce and tossed with diced, caramelized pieces of speck – a smoked ham similar to prosciutto but with a stronger and very delicious flavor.  One bite later – we knew we wanted to try recreating the recipe ourselves.
To make those Brussels Sprouts with Sweet Chili Sauce at home, we swapped in capicola (also known as capocollo) – a dry-cured ham that is readily found in the deli at your local supermarket.  Capicola can be bought in both a sweet or a hot variety – and either version will work well in this recipe based on how spicy you like your food!  (And if you can find speck at your local market – by all means, use that instead!)
We also used our Sweet Chili Sauce recipe from this earlier post. It has the perfect amount of sweet and spicy flavor – and it wonderfully complements the distinctive Brussels sprout flavor and the smoky capicola.
Print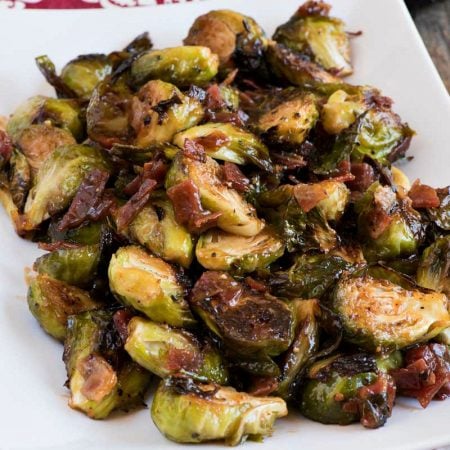 Brussels Sprouts with Sweet Chili Sauce
---
Ingredients
2 pounds brussels sprouts, trimmed and cut in half
½ pound diced sweet or hot capicola
¼ cup extra virgin olive oil
1 teaspoon kosher salt
1 teaspoon coarsely ground black pepper
---
Instructions
Preheat oven to 425 degrees F.
In a medium bowl, mix Brussels sprouts with capicola, olive oil, salt and pepper and lay out on a sheet pan.
Roast for 30 minutes flipping sprouts half way through.
While the sprouts are cooking, prepare the Sweet Chili Sauce.
When the sprouts come out of the oven, toss with the sauce and serve immediately.
---
Disclosure: This post contains affiliate links.
You may also like:
Shaved Brussels Sprouts with Bacon
Brussels Sprouts with Lemon Aioli
Brussels Sprouts with Mustard and Shallots