Brussels Sprouts…people either love them or hate them. We happen to love them!
But this past holiday season, after sharing this popular Brussels sprouts recipe over on our Facebook page, a reader with a great sense of humor posted a link to this photo in the comments:
I get it…I really do! I wasn't a fan of Brussels sprouts growing up, but roasting them in the oven – at a high enough temperature so they caramelize as they cook – is really key to getting great flavor out of this peculiar, little green vegetable.
Brussels sprouts have a uniquely delicious and nutty flavor – and they pair particularly well with bold flavors like the ones in today's recipe for Oven Roasted Brussels Sprouts with Mustard and Shallots.  After we roasted the sprouts in the oven, we tossed them in a light sauce of sautéed shallots, whole grain Dijon mustard, sherry, champagne vinegar and honey.
Brussels sprouts are available year-round, but their peak season is considered to be from September through mid-February – so head to your market now! And be sure to pick up all of the ingredients to make these oven roasted Brussels sprouts with mustard and shallots. (I think you'll love Brussels Sprouts as much as we do once you try this recipe!)
Print
Oven Roasted Brussels Sprouts with Mustard and Shallots
Prep Time:

15 mins

Cook Time:

25 mins

Total Time:

40 minutes

Yield:

4 servings
---
1½

pounds Brussels sprouts

2 tablespoons

extra virgin olive oil, divided

¼ cup

thinly slices shallots

1½ tablespoons

whole grain Dijon mustard

½ tablespoon

dry sherry

1 tablespoon

champagne (or white wine) vinegar

1 tablespoon

honey

1 tablespoon

water
---
Instructions
Preheat oven to 400 degrees.
Clean and trim Brussels sprouts – removing any browned outer leaves and cutting off the stem. Cut any large Brussels sprouts in half.
Place the Brussels sprouts on a sheet pan and drizzle with 1 tablespoon of olive oil and with your hands, toss to coat. Spread the Brussels sprouts in a single layer on the pan, then roast for 20 to 25 minutes or until tender and caramelized, but not over cooked.
While the Brussels sprouts are roasting, in a small sauce pan heat the remaining tablespoon of oil over medium heat. Add the shallots and sauté until they start to turn golden – about 2 to 3 minutes. Add the whole grain mustard, sherry, vinegar, honey and water and stir to combine and heat through, stirring until the water has evaporated. Remove from heat and set aside.
When Brussels sprouts are done roasting, remove from the oven and place in a large bowl. Pour the shallot and mustard mixture over the hot Brussels sprouts and toss to combine.
Serve immediately or at room temperature.
---
You may also like:
Oven Roasted Brussels Sprouts with Bacon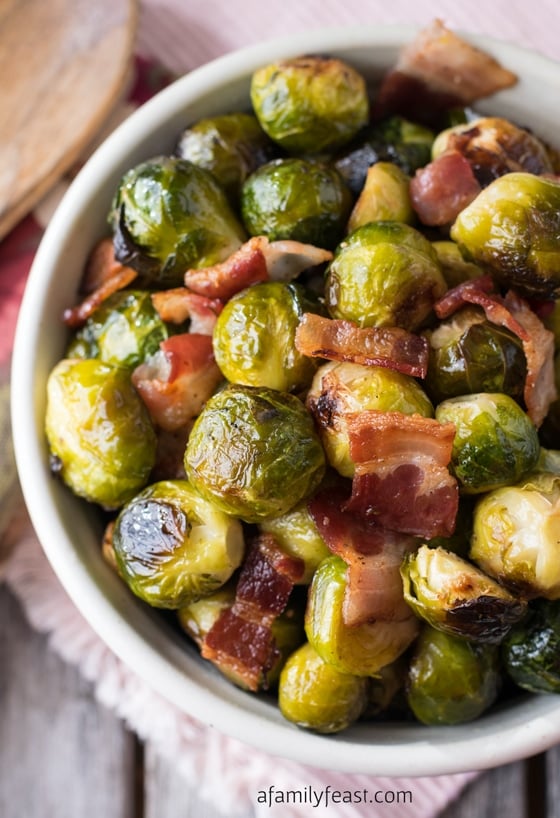 Chicken Breasts with Mushrooms and Onion Dijon Sauce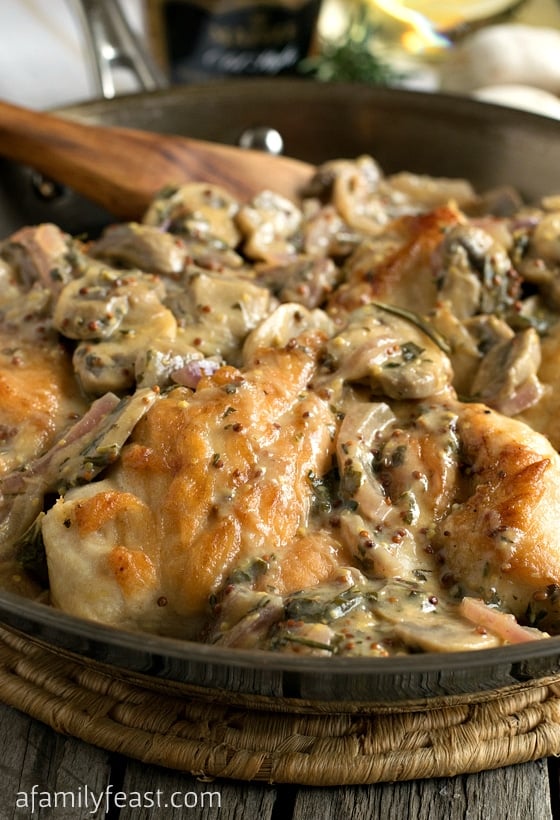 Herb Crusted Grilled Pork Tenderloin with Crispy Shallots