Italian Champagne Cookies are sweet, multi-colored, sliced shortbread cookies rolled in sprinkles before baking. Color them for the holidays or match the color scheme of any special occasion!
Over the summer, we had a reader write to ask us if we had a recipe for Italian Champagne Cookies. She had searched far and wide, but was unsuccessful in finding a recipe. We found one recipe for her in an Italian cooking Facebook group we follow, and after trying it ourselves, we found the dough was far too soft and not the right texture. So, Jack tweaked the recipe (quite a bit actually) and here is our version.
What are Italian Champagne Cookies?
These Italian Champagne cookies DO NOT have champagne in them – and I'm not totally sure where they get the name.
They are a colorful shortbread cookie, sold in bakeries throughout Boston's famous North End Italian neighborhood.  Most of the time, you'll find Italian Shortbread Cookies colored in pinks and greens and yellow with multi-colored, rainbow sprinkles (affiliate link) – or 'Jimmies' as we call them in Boston.
But we decided to make a Christmas version – coloring the dough with a bright red and deeper forest green colors, leaving the third part of the dough plain white, and using holiday sprinkles (affiliate link). These also look like the colors in the Italian flag!
How do you make them?
You'll mix up a simple, sweet shortbread cookie dough – then divide it into three portions. Color each portion in the colors you wish (a gel food coloring like this works best (affiliate link) because it won't add too much moisture to the dough). Then, roll each color out into long ropes.
Press the colored ropes together into one thicker log of dough, then spray lightly with cooking spray. Next, roll the log into a generous amount of sprinkles, pressing down just enough to get the sprinkles to stick to the dough. Cut into half-inch thick slices, and bake until the bottoms are just lightly golden brown.
Cool the cookies – then add them to your holiday dessert table! Or, after cooling, store the cookies at room temperature in an air-tight container for up to two days.
These Italian Champagne Cookies bake up crisp and sweet – with a perfect buttery shortbread consistency. Santa would love them with a cold glass of milk! 🙂
You may enjoy these other cookie recipes:
Print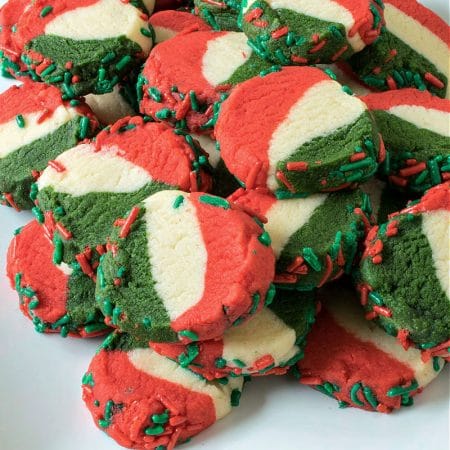 Italian Champagne Cookies
Author:

Prep Time:

45 minutes

Cook Time:

45 minutes

Total Time:

1 hour 30 minutes

Yield:

4 dozen

Category:

cookies

Method:

baking

Cuisine:

Italian American
---
---
Instructions
Preheat oven to 350 degrees F.
In the bowl of a stand mixer with the paddle attachment, beat softened butter for two minutes until creamy.
Add confectioner's sugar and with mixer on low, incorporate the two and beat two more minutes until light and fluffy.
Add both extracts and salt and mix to combine.
With mixer running on low, measure out and add one cup of flour at a time until all three are added.
Scrape the bowl and mix just to combine.
The dough should weigh about 30 ounces. Divide into three 10-ounce balls and place two of the balls into two small bowls.
Add enough red dye to one and green dye to other to make vivid red and green dough balls. If using the gel dye, about an eighth of a teaspoon of gel per dough ball. Leave one ball without dye. (I used disposable latex gloves to mix the dye in by hand to prevent my hands from getting dyed with green and red.)
Roll out each ball into a log 24 inches long.
Press the three logs to each other and form one round log, again, 24 inches long.
Spray the log with kitchen pan spray to help the sprinkles stick.
Pour the sprinkles out onto your counter and roll the now wet log into and over the sprinkles so all sides get covered. Does not have to be perfect, but do use all of the sprinkles.
This one log will yield 48 cookies, each ½ inch thick. To accomplish this, cut the log in half, then each half in half. This will give you four, six-inch pieces. Cut each six-inch piece in half so you now have eight, three-inch pieces. Now cut each three-inch piece in half which will give you 16 pieces. Finally cut each of those 16 pieces into 3 cookies.  This will yield 48 cookies, each ½ inch thick.
Line cookie sheets with parchment and place 12 cookies per tray.
Bake one pan at a time in the center of the oven for 10-12 minutes or until the bottoms are slightly golden. (I baked ours for exactly 11 minutes per pan, but ovens vary so check at the 10-minute mark)
Slide the parchment onto a rack to cool then slide the cookies off of the parchment and cool completely.
Serve immediately or store in an air-tight container up to two days.
---
Keywords: Italian Champagne Cookies