Grilled Tomato Ciabatta is a filling meatless meal or appetizer loaded with fresh garden flavors.
What started as a way to cook with some of our garden-fresh tomatoes and basil, has now turned into one of our favorite meals of the summer! I'm talking about our Grilled Tomato Ciabatta.
How do you make Grilled Tomato Ciabatta?
Picture this:
Freshly baked ciabatta bread that has been halved and toasted on the grill.
A creamy cannellini bean and garlic spread, flavored with fresh basil, flat leaf parsley, Parmesan cheese and other seasonings is slathered over the toasted bread.
Next, thickly-sliced beefsteak tomatoes are marinated in garlic, mint, oregano, basil, red wine vinegar, and extra virgin olive oil – then grilled lightly to warm through and pick up a little char.
Those grilled tomatoes are placed over the cannellini spread – then drizzled with a simple Parmesan-basil sauce.
Finally, the Grilled Tomato Ciabatta are cut into quarters and served.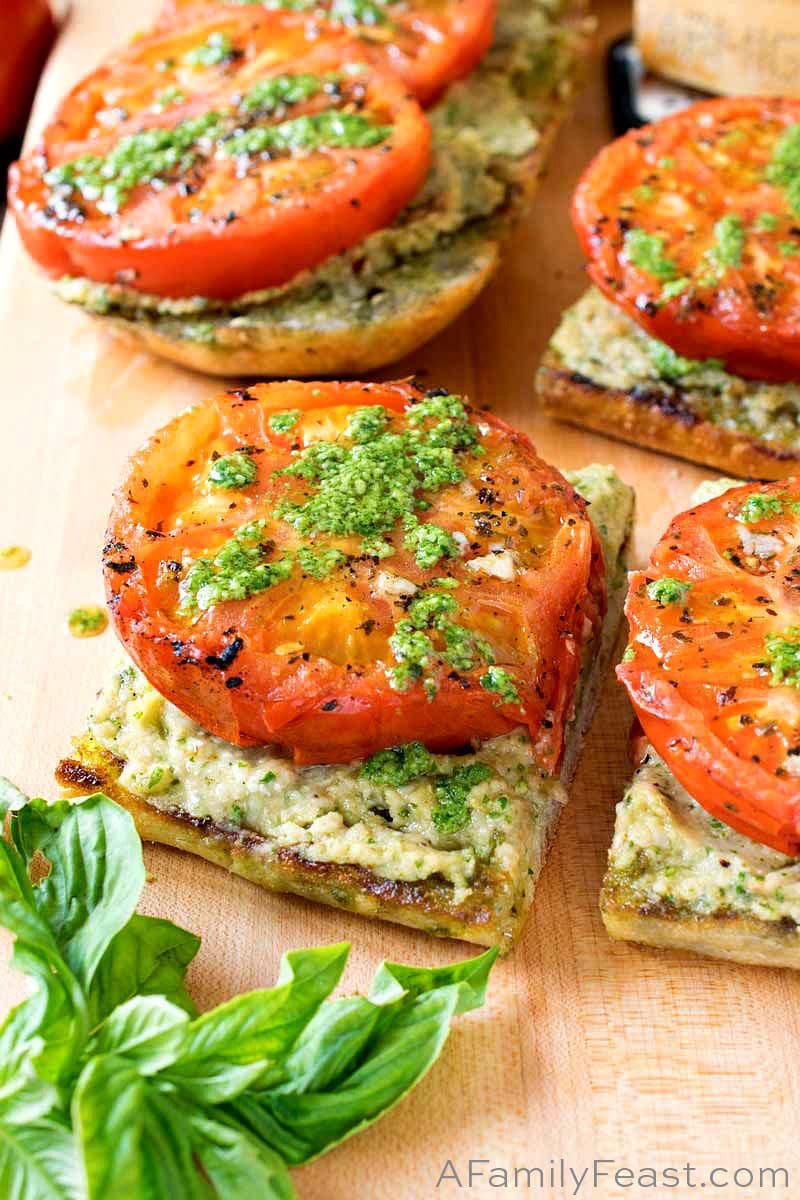 One bite in – and your taste buds are going to be very, very happy. You'll get the crunch of toasted bread, the creamy texture of that flavorful bean and garlic spread, plus sweet and juicy tomatoes with fresh herbed oil. It's a fantastic combination of flavors and textures!
The majority of the prep time is waiting for the tomatoes to marinate.  So you can make the spread and sauce while you wait – or do the prep ahead of time if you prefer.
How do you serve Grilled Tomato Ciabatta?
This Grilled Tomato Ciabatta can be served as an appetizer with a nice, crisp glass of white wine at any summer gathering.
Or, it can be served as a light lunch or dinner with a mixed greens salad on the side.
You may enjoy these other garden tomato recipes:
Print
Grilled Tomato Ciabatta
Author:

Prep Time:

1 hour 10 minutes

Cook Time:

20 minutes

Total Time:

1 hour 30 minutes

Yield:

8 servings

Category:

appetizer

Method:

grilled

Cuisine:

American
---
1 loaf Ciabatta bread
4 very large thick garden tomatoes
Marinade
1 tablespoon garlic, finely minced
1 teaspoon kosher salt
½ teaspoon freshly ground black pepper
1 teaspoon dry mint
1 teaspoon dry oregano
1 teaspoon dry basil
1 tablespoon red wine vinegar
¼ cup extra virgin olive oil
Spread
1 can cannellini beans rinsed and drained (my can was 1 pound 3 ounces)
2 teaspoons minced fresh garlic
2 tablespoons fresh Italian flat leaf parsley
2 tablespoons fresh basil leaves
½ teaspoon kosher salt
½ teaspoon freshly ground black pepper
1 tablespoon red wine vinegar
½ cup packed freshly grated Parmesan cheese
¼ cup extra virgin olive oil
Sauce
3 tablespoons freshly grated Parmesan cheese
¼ cup packed fresh basil leaves
¼ teaspoon kosher salt
¼ teaspoon freshly grated black pepper
¼ cup mayonnaise
¼ cup extra virgin olive oil
---
Instructions
Line up a sharp knife parallel with your cutting board and separate the top from the bottom by slicing the loaf evenly across through the center which will give you two halves with crust on one side of each. Trim off the top half so that it sits flat when inverted cut side up. Set the bread back into the package to stay fresh and set aside.
Core the tomato stem end out and trim a little slice from the top and bottom, then slice the tomato in half along the center to yield two thick slices, about one inch thick each. Repeat for the remaining three tomatoes, eight one-inch slices in total.
Lay the tomato slices out flat on a sheet tray.
Mix the marinade ingredients and brush on both sides of the tomatoes and let sit 30 minutes, flip and sit 30 more.
While the tomatoes are marinating, place all spread ingredients into a food processor and process until smooth. Should still have some texture to it and not pureed. Set aside.
Make the sauce by adding the cheese, basil, salt, pepper and mayonnaise to a blender. Puree to smooth while slowly drizzling in the olive oil until combined and creamy.
Heat the grill to medium high on one half and medium on the other half.
Open up the ciabatta slices and brush the open cut sides with the sauce.
Oil the grill grates.
Grill the bread on the medium high side of the grill, (just on the cut side) until browned, flip and move to a sheet tray and spread the bean spread onto the grilled side. Move the bread back to the cooler side of the grill to stay warm, cut side up, while you grill the tomatoes.
Oil the hot side again and grill the tomato slices 2-3 minutes per side. Remove while they are still firm and slightly charred and place over the bean spread side of the bread.
Remove to a cutting board, drizzle on some more of the sauce, cut each loaf half into four pieces and serve.
---
Keywords: Grilled Tomato Ciabatta