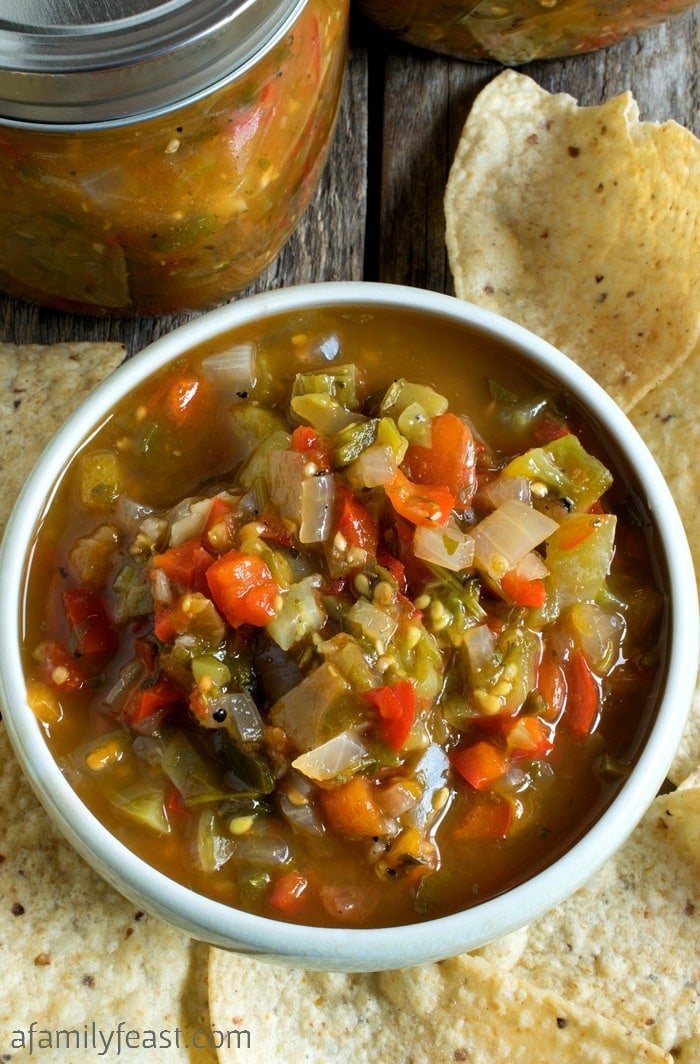 We're sharing one more end-of-the-growing-season green tomato recipe with you today – Peg's Green Tomato Salsa!
Peg is the neighbor of our good friends Chris and Simone. We were visiting them last weekend to watch a football game, and as we arrived at their house, Peg's husband Gary was just leaving after having dropped off a few jars of Peg's Green Tomato Salsa.
That salsa was so delicious, everyone couldn't stop talking about it – or eating it! So of course, we asked for the recipe and Peg was kind enough to share it – and allowed us to share it here on A Family Feast. (Thank you Peg!)
To make this fantastic green tomato salsa, un-ripened diced green tomatoes are mixed with onions, jalapeños, red bell pepper, and garlic, plus fresh cilantro, lime juice, cider vinegar, sugar, and a wonderful blend of spices including cumin, oregano, freshly cracked black pepper, and cayenne pepper.  Everything is combined in a pot and cooked together until the vegetables are tender and the flavors have melded together.
The flavors in Peg's Green Tomato Salsa are so unique and very delicious – and this recipe is a great way to use up those green tomatoes in your garden that need to be picked before the first frost of the season.
Peg makes two versions of her green tomato salsa – spicy and mild. The recipe shared below, is the spicier version but you can make this delicious green salsa on the milder side by leaving out the jalapeño seeds and using less cayenne pepper.  We made the spicier version and noticed that the heat level mellows out as the green tomato salsa cools.
Keep refrigerated in clean jars for a 7 to 10 days, or freeze for longer-term storage*.
* In anticipation of your questions about canning this salsa for long-term storage: Salsa recipes are a mix of acid and low-acid ingredients.  To safely can, the salsa must meet acidity-level requirements to prevent the growth of botulism bacteria.  We have not tested this recipe for proper acidity levels, therefore we only recommend that you store this green tomato salsa in the refrigerator and eat within a week to 10 days, or freeze the salsa for longer-term storage. For more information about canning high-acidity foods, click here.
Print
Peg's Green Tomato Salsa
Prep Time:

30 mins

Cook Time:

30 mins

Total Time:

1 hour

Yield:

2 1/2 quarts
---
Description
We used two good sized jalapeños (about 1/4 cup minced) and the salsa was fairly spicy. If you prefer a more mild salsa, only use one jalapeños and/or leave out the seeds.
---
2½

–

3

pounds green tomatoes, diced small

1¼ cups

yellow onion, diced small

1

–

2

jalapeños diced fine, with seeds, see note above

1½ cups

red bell pepper, diced small

2 tablespoons

fresh garlic, minced

½ cup

fresh cilantro, chopped

½ cup

fresh squeezed lime juice

¼ cup

cider vinegar

1½ teaspoon

kosher salt

1½ teaspoons

cumin

1½ teaspoons

dry oregano

1 teaspoon

freshly ground black pepper

1/8 teaspoon

cayenne pepper (or to taste)

1 teaspoon

granulated sugar
---
Instructions
Place all ingredients in a three or four-quart pot or pan, bring to a boil then simmer for 30 minutes or longer if you like the vegetables softer.
Cool completely and serve with tortilla chips.
Store in clean jars and keep refrigerated for 7 to 10 days. Or freeze in zipper seal bags for longer-term storage.
---
Disclosure: This post contains affiliate links.


You may also like:
Green Tomato Soup with Black Forest Ham
30+ Recipes for Your Garden Tomatoes (includes a few more green tomato recipes!)