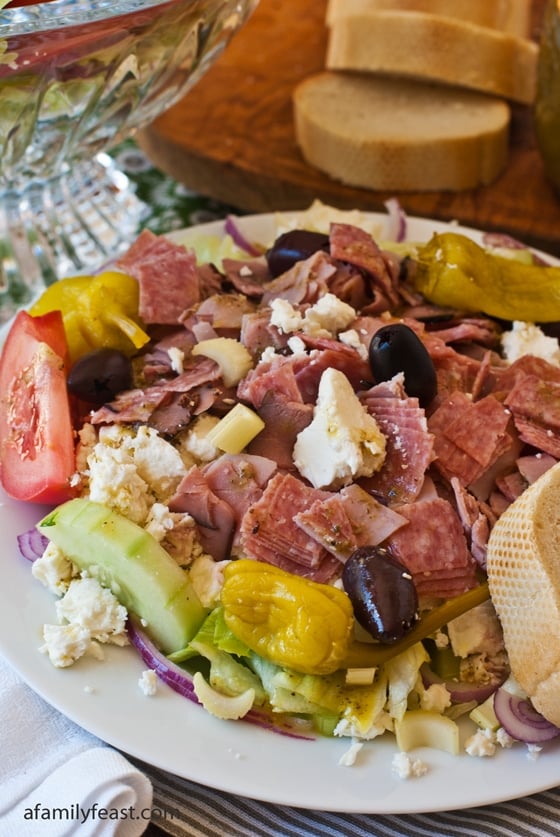 My husband Jack grew up in Brockton, Massachusetts and anyone who lived in or around the city of Brockton has – like Jack – probably eaten at Christo's Restaurant at least once in their life.
Christo's is a Greek restaurant that opened in 1964 on the East Side of Brockton, and it quickly became a landmark for the best Greek food around the South Shore area of Massachusetts.  In particular, Christos is famous for their Greek Salad – so much so that former Massachusetts Governor Michael Dukakis named Christo's owner, Chris Tsanganis, the "Greek Salad King" – and the name proudly stuck!
Jack grew up eating at Christo's and it turned into a Friday night tradition as he got older – ordering a Greek Salad with Meat, Italian bread, drinks and playing a card game of Whist with good friends.  So when Jack and I started dating years later – as you might expect – a  dinner date at Christo's was at the top of our must-do list, and I soon got to experience being greeted and seated in the now-retro decor of Christo's restaurant by Mr. Tsanganis (the 'Greek Salad King' himself!), and eating the delicious Greek salad with meat I had heard so much about!
In recreating this Greek Salad with Meat recipe, Jack has tried to be as authentic as possible to the original salad that he ordered countless times over the years.  The salad is made with crisp, fresh iceberg lettuce and other vegetables, and of course, Kalamata olives, pepperoncini, and good quality feta cheese.  It's topped with a generous portion of roast beef, Virginia ham, and genoa salami – but adding that is optional if you prefer your salad without meat.
But what really makes this salad special is the Greek Salad Dressing – a secret recipe that Jack has done his best to recreate here. I think he's come very close recreating Christo's Greek salad with meat at home!
Note: Mr. Tsanganis, who personally worked greeting and seating guests at Christo's Restaurant since 1964, passed away earlier this year.  Jack remembers him to be a wonderful man who regularly gave back to his community and the local Greek church in Brockton.  Jack hopes that he has done justice to Mr. Tsanganis' legacy with this make-at-home version of the famous Greek salad.
Print
Greek Salad with Meat
Prep Time:

30 mins

Total Time:

30 minutes

Yield:

6-8 servings
---
1

head iceberg lettuce, chopped into large chunks

1

large cucumber peeled, cut in half lengthwise and cut into slices

3

stalks celery chopped into pieces

½

medium sized red onion, sliced in half and sliced thin

1/4 cup

Greek Salad Dressing, plus extra for serving

2

–

3

tomatoes cored and cut into wedges (depending on size)

1/2 cup

pitted Kalamata olives, left whole

½ cup

pepperoncini, left whole

8 ounces

of good quality feta cheese (or more based on your preferences)

1/3

pound sliced deli roast beef, chopped into pieces

1/3

pound sliced deli Virginia ham, chopped into pieces

1/3

pound sliced deli Genoa salami, chopped into pieces
Italian or French bread slices, to serve with salad
---
Instructions
To prepare the salad,
In a large bowl toss lettuce, cucumber, celery and red onion.
Add ¼ cup of the Greek Salad Dressing and toss.
Lay tomato wedges across the top and sides of dressed lettuce.
Add olives and pepperoncini.
Sprinkle feta across top and place cut meat in center.
To serve, portion on to individual plates or bowls and pour on additional dressing as desired.
Serve with sliced Italian or French bread.
---
You may also like:
Greek Lemon Drop Soup with Orzo