The other day, while rummaging through our refrigerator, my husband Jack discovered that we had a whole drawer full of lemons!  It was totally my fault – I had done the grocery shopping the day before and thought we were running low on lemons, so I bought a big bag full! But Jack had already stocked up on lemons earlier in the week…
So what to do with all of those lemons?  Our Greek Chicken Roulade is a great option!
This Greek chicken roulade is a wonderful and light summer dish!  Boneless chicken breasts are flattened and rolled with a bright and flavorful Greek-inspired stuffing made from garlic, feta cheese, oregano and lemon zest.  After browning slightly in a pan on the stove, the roulades are finished off for a few minutes in the oven until cooked through.  Then a wonderful pan sauce of lemon juice, white wine, chicken stock and butter is poured over the sliced roulades.  Add a few lemon wedges – and you've got a really delicious meal!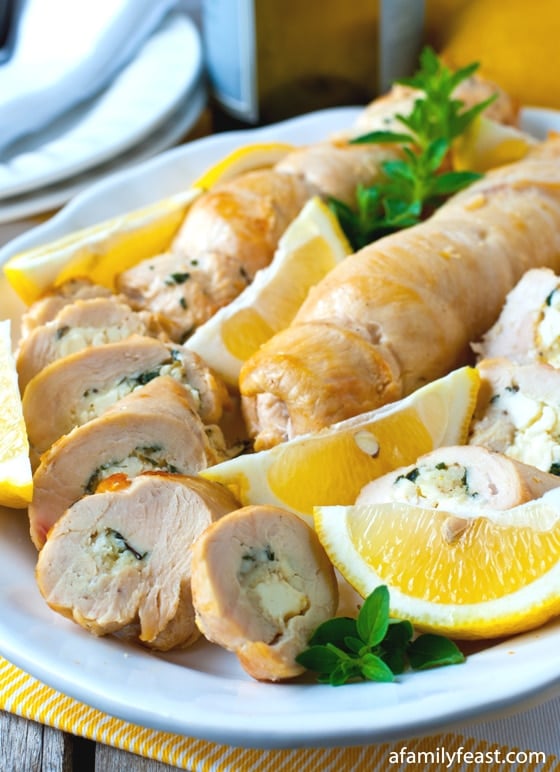 Adapted from this recipe found on Bon Appetit, our Greek chicken roulade is simple enough for a weekday family dinner but looks impressive enough to serve at a summer dinner party.  Paired with a salad and some crusty bread – dinner is ready!
Print
Greek Chicken Roulade
Prep Time:

30 mins

Cook Time:

20 mins

Total Time:

50 minutes

Yield:

4-8 servings
---
4

large boneless skinless chicken breasts (about

2

pounds total)

3 tablespoons

extra virgin olive oil, divided

2

cloves garlic passed through a garlic press

½ teaspoon

Kosher salt

¼ teaspoon

freshly ground black pepper

4 ounces

crumbled feta cheese

2 tablespoons

minced fresh oregano, plus additional for garnish
Lemon zest from one lemon

2 tablespoons

lemon juice

½ cup

white wine

½ cup

chicken stock

1 tablespoon

butter
One lemon cut into wedges for garnish
---
Instructions
Preheat oven to 450 degrees.
Pound out each chicken breast to 1/8th inch thickness.
In a small sauté pan over medium heat, sauté garlic in 1 tablespoon of the olive oil for 1-2 minutes. Do not brown. Set aside.
Sprinkle each chicken breast with salt and pepper. Spread feta evenly between the four breasts, leaving the two long edges clear. Sprinkle the oregano, lemon zest and cooked garlic and oil equally between the four breasts, leaving the edges clear.
Roll like a jelly roll and finish seam side down. With butchers twine, tie off each end and then make one or two ties in the center depending on the length of the roll.

In a large oven proof skillet, over medium high heat, place the remaining two tablespoons of olive oil and heat to hot. Add the four chicken rolls and brown turning to brown each side, about 2-3 minutes per side. After you turn the chicken to the last side, place the pan in the oven and roast for 5-10 minutes or until an internal thermometer inserted into the center of the largest roll reaches 140 degrees.
Remove the pan from the oven and leave the oven mitt on the handle to remind you that the handle is hot. Remove the chicken to a platter to rest.
Heat the pan over medium high heat and add the lemon juice scraping up bits from the bottom of the pan. Add the wine and cook to reduce wine to almost the point of total evaporation. Add the chicken stock and cook to reduce by half. Add the butter and stir just until melted. Add any liquid that has accumulated on the platter.
Slice cooked rolls on the bias and place back on your platter. Pour pan sauce over top and reserved minced fresh oregano. Garnish platter with lemon wedges.
---
You may also like: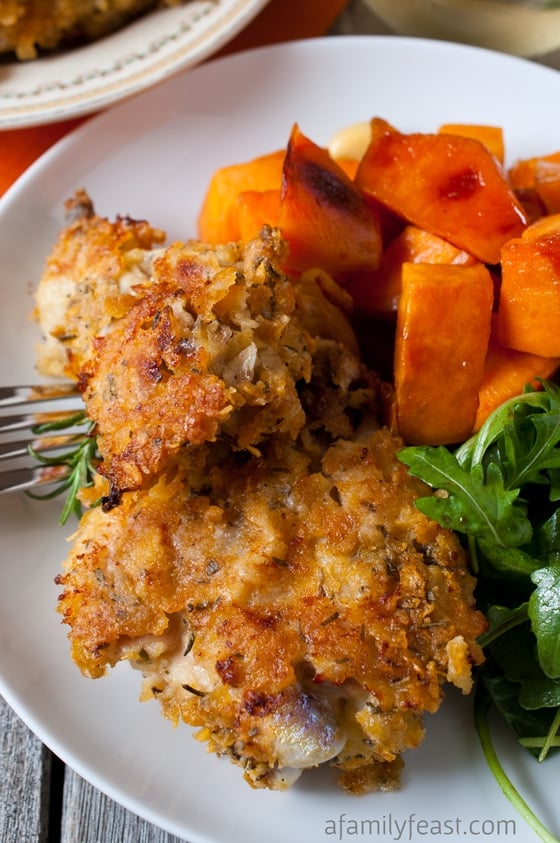 Lemon-Glazed Swordfish Over Rice