Our recipe for Grapenut Pudding with Fig Sauce is an updated version of a classic dessert that has been served at restaurants throughout New England for decades.  Many New Englanders are familiar with grapenut pudding – a rich, egg custard spiced with nutmeg and cinnamon, and a soft bottom layer of grapenut 'crust' that forms as the custard bakes and the cereal settles in the bottom of the baking dish.
I have to admit, I was never much of a fan of grapenut pudding. So when my husband first made the traditional recipe for us to feature here on A Family Feast – I rejected the recipe.  (Afterall…we want only the best recipes to be featured here!)  So Jack, always up for a challenge, set out to improve the recipe – and he's created a version that I think is fabulous!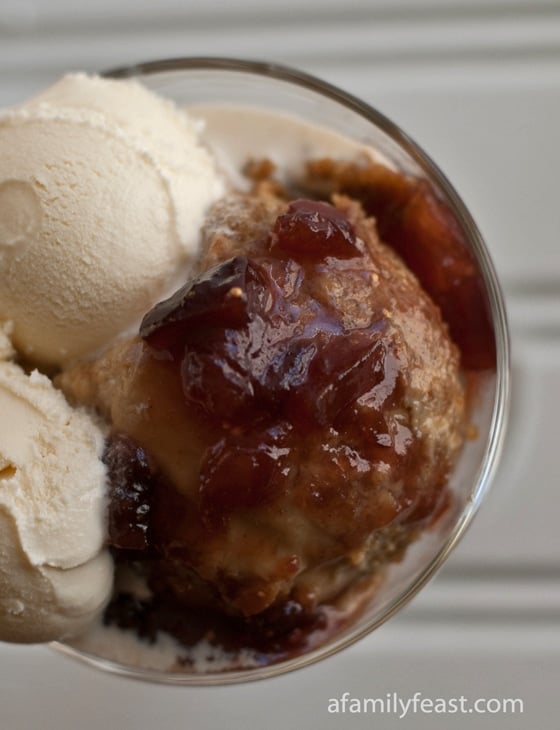 This updated version has malted milk powder added to the custard to give it a richer and slightly sweeter flavor.  Plus we've added a simple but elegant fig sauce to serve over the top that really compliments the flavors of the custard and it really elevates this dessert to a whole new level.  This pudding can be served as-is or with vanilla ice cream.
Print
Grapenut Pudding with Fig Sauce
Prep Time:

25 mins

Cook Time:

1 hour 30 mins

Total Time:

1 hour 55 minutes

Yield:

8 servings
---
For the pudding
4 cups

whole milk

1

cinnamon stick

1 tablespoon

vanilla
Pinch of nutmeg

1 cup

malted milk powder (such as Ovaltine)

1 cup

Grape Nuts cereal

5

eggs

1

egg yolk

½ cup

sugar

¼ cup

brown sugar

1

pinch of salt
Nutmeg and cinnamon to sprinkle on top of custard

1 tablespoon

butter
For the sauce
4

fresh figs, tops cut off and diced

¼ cup

port wine

½ cup

brown sugar

1 tablespoon

butter

½ teaspoon

lemon juice
---
Instructions
For the pudding
Preheat oven to 350 degrees.
Heat milk in saucepan with cinnamon stick, vanilla, nutmeg and malted milk powder and heat until scalded – this is 180 degrees measured by using a probe thermometer. (If you don't have a probe thermometer, this is hot but not to a boil.) Scalding the milk will help infuse the flavors of the cinnamon, vanilla, nutmeg and malt and also lessen the baking time.
Add the Grape Nuts cereal to the milk mixture and let sit for ten minutes.
In a large bowl, beat eggs and egg yolk. Add both sugars and salt and beat again to mix.
Remove the cinnamon stick from the milk and discard.
Add a small amount of hot milk to the eggs, beating constantly as you go. (This is called tempering or bringing the egg temperature slowly up so that they do not cook and become scrambled eggs.) As soon as the eggs are tempered (close to the same temperature as the milk), add the remaining milk and Grape Nuts.
Butter a medium casserole dish (ours was 7 ½" round by 3" deep but you can use any size you wish and alter the cooking time.) Pour all contents into the buttered dish and sprinkle lightly with cinnamon and nutmeg.
Place the filled casserole dish into a larger pan and fill hot water up and around the outside of the glass dish until the water is halfway up. (See our How-To Bake Using a Water Bath here – if using a glass baking dish, you will not need to wrap in foil first).
Place the pan in the oven and bake for ninety minutes or until a paring knife or tooth pick inserted in the center comes out clean. Again, the cooking time will vary greatly depending on the size of your baking dish – a 9×13-inch glass dish should take approximately 50 minutes to cook. Let cool for ten minutes before serving.
Scoop into serving dishes and top with fig sauce. May also be served with ice cream or whipped cream.
For the fig sauce
Combine all five ingredients into a sauce pan, bring to a boil, reduce heat and simmer for five minutes. Heat longer for a thicker consistency.
---
You may also like: