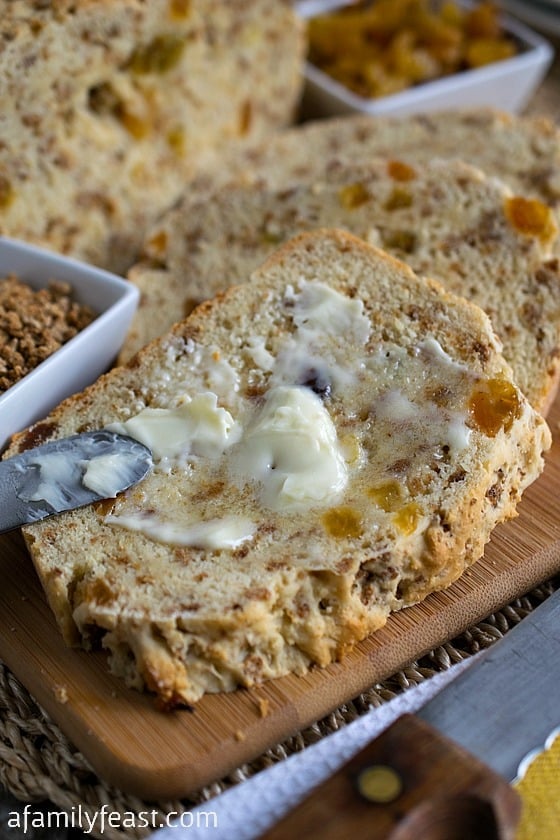 After my mother passed away two years ago, I was given her old recipe box. (I'm the only food blogger among my brothers and sisters, so it only made sense for me to inherit it – and lucky me!)
The box is filled with some old, time-tested family recipes that I vividly remember my mom making, recipes that simply caught her eye in a magazine and she saved, and other recipes that friends and family shared with her.  (I can tell who gave them to her by the handwriting on the recipe cards!) It's really a treasure!
The recipe box has been on the bookshelf of my office for a while now – and the other night, my husband Jack and I started looking through it again.  We love updating and recreating old family recipes (you already know that if you're a regular here at A Family Feast!) – and this Grape-Nuts Bread was one of the recipes that immediately caught Jack's eye!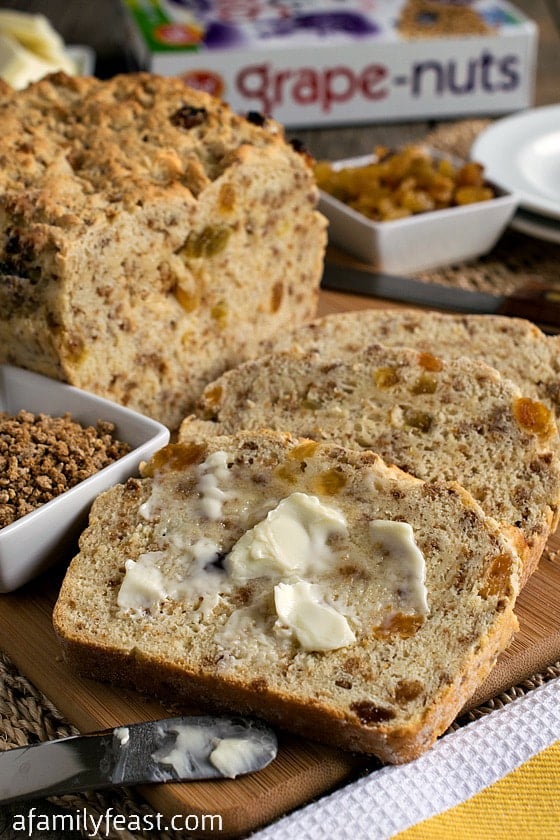 I have very vague memories of my mom making this bread (she loved baking all kinds of quick breads that didn't require yeast in the recipe), and I believe she copied the recipe off the side of a Grape-Nuts cereal box
many years ago.
Jack had never heard of Grape-Nuts bread – but was immediately inspired to try baking it the next morning!   And I'm so glad he did – it's a fantastic bread!
It's hearty, slightly (and perfectly) sweet, and the Grape-Nuts give this dense white bread some wonderful texture!  Although the original recipe didn't call for it, Jack also added golden raisins to the dough and it was a great addition!  (We also updated the recipe with more current cooking terms – buttermilk today used to be referred to as 'sour milk' in older recipes, etc.)
The dough mixes up very heavy and dense – but it bakes up perfectly so don't be worried that this bread won't rise in the pan!  Also, my mom's original recipe did not include a baking time (gotta love those old recipes!) – but we found that an hour was about right for our oven.  You may want to start checking the bread for doneness about 50 minutes into the baking time – using a toothpick inserted into the middle as the method to check for doneness.
We loved this Grape-Nuts bread so much – we can't wait to make it again!  (And thanks for the great recipe Babci!)
Print
Grape-Nuts Bread
Prep Time:

20 mins

Cook Time:

1 hour

Total Time:

1 hour 20 minutes

Yield:

1 loaf
---
1 cup

Grape-Nuts cereal

2 cups

buttermilk

½ cup

golden raisins

1 teaspoon

baking soda

½ cup

granulated sugar

3 ½ cups

flour

4 teaspoons

baking powder
Shortening to grease the loaf pan
Flour to coat the loaf pan
---
Instructions
In a large bowl, mix Grape-Nuts cereal, buttermilk and raisins and let sit for 15 minutes.
Preheat oven to 350 degrees.
After 15 minutes, add baking soda to grape nut mixture and stir.
In a medium bowl, sift sugar, flour and baking powder and stir into grape nut mixture. Use a wooden spoon for this, the dough is very dense and sticky.
Grease and flour a loaf pan and place dough into pan, pushing to edges.
Place in center of oven and set timer for 50 minutes. If it is browning too quickly, cover with foil and continue baking for 10 more minutes. Test loaf by inserting a tooth pick in center to see if it pulls out clean and tap the bread to see if has a hollow sound. If not quite there, bake for another five to ten additional minutes.
Let cool in pan for a few minutes then remove to a cooling rack.
---
Disclosure: This post contains affiliate links.
You may also like:
Grapenut Pudding with Fig Sauce