Egg Roll in a Bowl has all of the same delicious flavors of an egg roll at a Chinese restaurant, but without any of the hassle of wrapping or deep frying.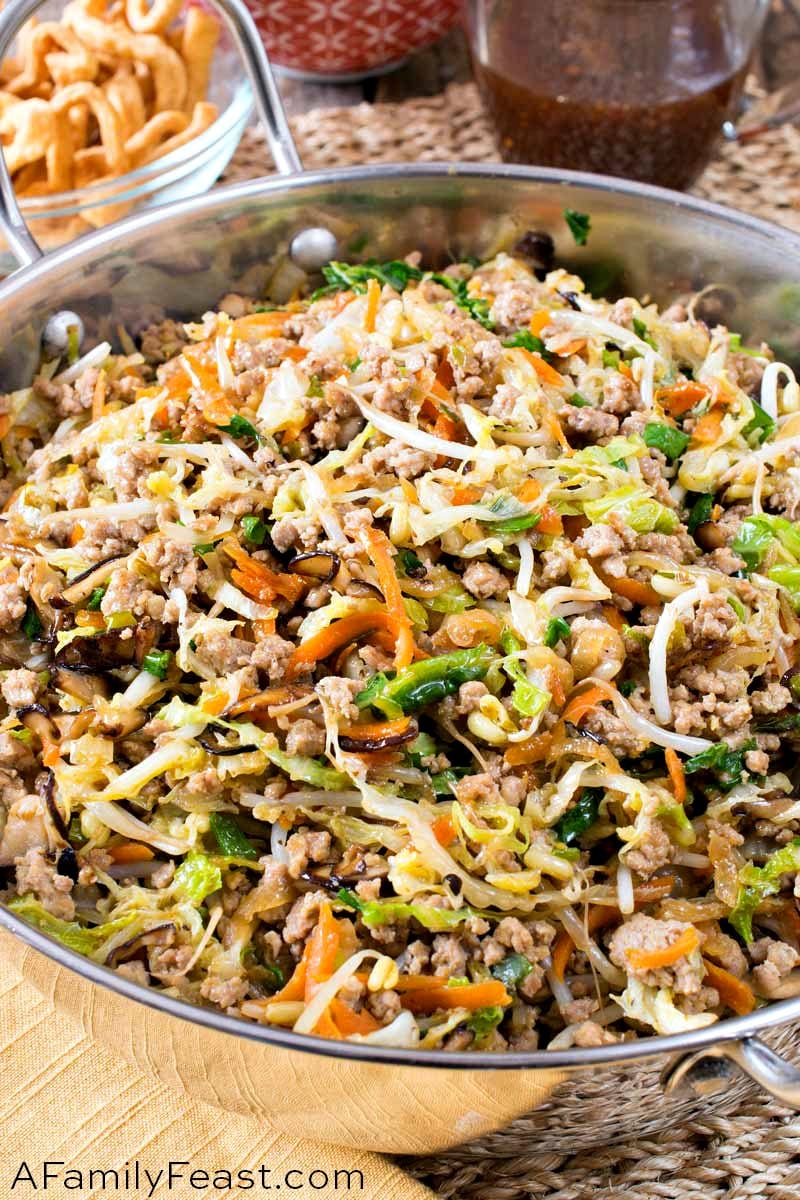 Egg Roll in a Bowl seems to be on the menu everywhere these days – so we decided to try our own hand at this easy, delicious recipe.
It has all of the same flavors as the egg rolls you'd order as an appetizer from your favorite Chinese restaurant, but presented in a bowl as a hearty, filling meal. You could also call this a 'deconstructed' egg roll.
Make Egg Roll in a Bowl
As is the case for any stir-fry recipe – including this egg roll in a bowl – you should do the gathering, chopping, and measuring of all of your ingredients, cooking utensils, and serving dishes before you start to cook. Once you've started – the cooking process goes quickly and you won't have time to stop to do more prep without letting the vegetables sit and overcook.
Start by cutting fresh, thin wonton wrappers into strips, then fry them in a wok or skillet until crispy. (Alternately, you can use store-bought wonton strips, or skip them entirely if you want to keep this recipe low carb.)
Next, make the sauce from a mix of soy sauce, rice vinegar, honey, sweet chili sauce, sesame oil, and sugar.  Simmer together until hot and bubbly.  Add in a slurry of corn starch and water to thicken the sauce – then set aside until ready to serve.
Finally – you're ready to fire up the wok. Since you'll be combining a generous amount of vegetables and pork all together at the end of the cooking process, choose a large, sturdy wok that can withstand high heat. Also, you'll be cooking one or a few ingredients at a time – removing them to a bowl to sit while you cook the rest – so you'll also need a large bowl on hand as you cook.
First, sauté mushrooms, then ground pork, fresh ginger and garlic.  Shredded carrots and radish cook next – then scallions and Napa cabbage with some soy sauce, sugar and salt for seasoning.
Combine everything back in the wok plus a large handful of bean sprouts – then heat through for serving.
To serve your Egg Roll in a Bowl, place each portion in individual serving bowls, drizzle on some sauce, and sprinkle with the crispy fried won ton wrappers.
Can I make this dish keto?
Sure! While our Egg Roll in a Bowl is inspired by the flavors and crunch of a traditional egg roll, this recipe can easily be adapted to fit a keto or lower carb diet. Skip the won tons on top as well as the corn starch thickener, and also swap out the sugar and honey with a low carb sweeter.
You may enjoy these other egg roll recipes:
Print
Egg Roll in a Bowl
Author:

Prep Time:

45 minutes

Cook Time:

20 minutes

Total Time:

1 hour 5 minutes

Yield:

6 servings

Category:

entree

Method:

stir-fry

Cuisine:

Asian
---
Optional, store-bought Wontop Strips (or buy fresh thin wonton wrappers, cut them into strips and fry your own)
Sauce
2 tablespoons soy sauce
2 tablespoons rice vinegar
¼ cup honey
2 tablespoons sweet chili sauce
1 teaspoon sesame oil
1 tablespoon granulated sugar
2 teaspoons corn starch
2 teaspoons water
Eggroll filling
4 teaspoons peanut oil, divided
4 ounces shiitake mushroom caps sliced thin
1 pound ground pork
1 tablespoon finely minced ginger
1 tablespoon finely minced garlic
2 teaspoons sesame oil
1 cup carrot, shredded through the large holes of a box grater
1 cup daikon or red radish, shredded through large holes of a box grater
6 scallions sliced (2 ounces in weight), whites and greens separate
1 pound Napa cabbage, sliced (use mostly the leaf part and try to avoid too much stem) *
¼ cup soy sauce
1 teaspoon granulated sugar
½ teaspoon salt
1 cup mung bean sprouts
---
Instructions
If you plan to garnish your Eggroll in a Bowl using home-fried wonton wrappers, heat some vegetable oil to 350 degrees F. Cut the wrappers into strips and fry in the hot oil until crispy. Remove with a spider or strainer, drain on paper towels and set aside. If you are using store-bought won ton strips, skip to the next step.
In a small sauce pan, place soy sauce, rice vinegar, honey, sweet chili sauce, sesame oil and sugar and heat to bubbly.
In a small bowl mix corn starch and water and add to the bubbly mixture and stir until thick. Cool and set aside for serving.
In a large heavy wok, heat two teaspoons of peanut oil over the highest heat possible. Once the oil is shimmering, add the mushroom slices and toss and cook for up to eight minutes, or until they have browned and shriveled. Remove to a bowl.
Heat the remaining two teaspoons of peanut oil and once shimmering, add the pork and break up into small pieces as it cooks.
Once the pork is no longer pink, add the ginger and garlic and continue cooking until any liquid in the pan is gone and the pork has browned and is just starting to stick to the pan. Pour this into the same bowl as the mushrooms.
Add the sesame oil and once hot, add the carrots and radish and cook for two minutes.
Add the scallion whites and cabbage and cook for a few minutes, just until the cabbage starts to wilt.
Add the soy sauce, sugar and salt and toss.
Add the bowl contents and the bean sprouts and heat just until the mixture is at serving temperature.
Serve in bowls topped with the optional fried strips of wontons and the sauce on the side. Garnish with scallion greens as well.
Notes
If Napa cabbage is not available, Savoy cabbage will do in a pinch.
Keywords: egg roll in a bowl