These Cheesesteak Egg Rolls are quite simply – amazing!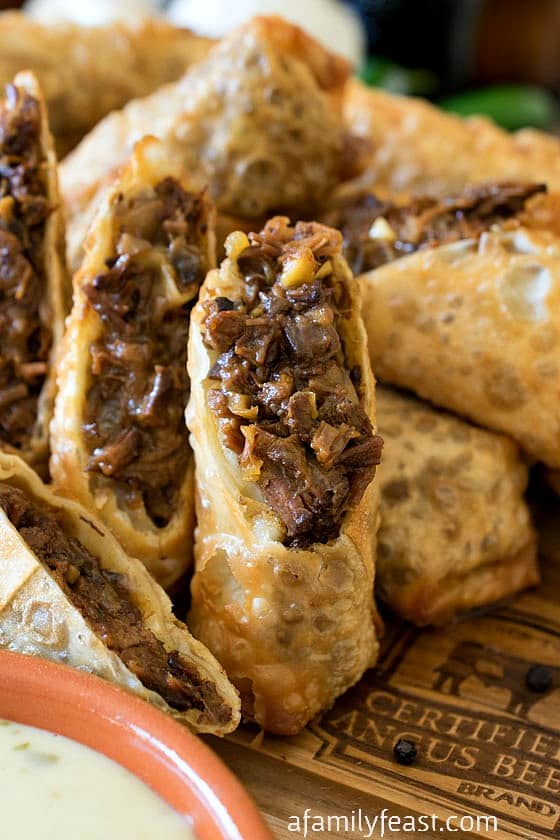 Last month I had the huge pleasure of joining 10 other bloggers for a weekend visit to the Certified Angus Beef brand headquarters in Wooster, Ohio. Certified Angus Beef® (CAB) is a non-profit organization that was formed 36 years ago to increase demand for high-quality Angus beef. In order for any beef product to be labeled as Certified Angus Beef, a strict set of 10 quality specifications must be met, and those standards are upheld by independent USDA beef inspectors!
I have to tell you – after tasting some amazing beef prepared by the CAB chefs, and after cooking some beef dishes myself (including this Cheesesteak Egg Rolls recipe we're sharing here today) – the flavor and quality of a Certified Angus Beef product is noticeably better than beef without the CAB designation.
We made these Cheesesteak Egg Rolls using a Certified Angus Beef brisket that was braised in a combination of root beer and au jus (a mix of beef stock and red wine), then shredded once cooked. We then combined the tender shredded beef and the reduced braising liquid with sautéed mushrooms, onions and garlic, plus some diced provolone cheese. Next we stuffed egg roll wrappers with the braised beef mixture and deep fried them until golden and crispy. Served with a zesty jalapeño queso dip, this is a fantastic appetizer for any gathering!
The folks at Certified Angus Beef were so nice and such great hosts and hostesses to all of us who visited their offices last month!
Be sure to visit some of the other bloggers who joined me on my trip to Certified Angus Beef brand headquarters!  They created some amazing beef recipes as well including:
 Southwestern Crusted Roast Beef – Barefeet in the Kitchen
Holiday Beef Tenderloin with Sweet Potatoes, Tomatoes & Corn – Family Foodie
Korean Inspired Simple Roast Beef – Foodie with Family
Holiday Roast with Rosemary Veggies – High Heels & Grills
Holiday Steak Bruschetta – Wishes and Dishes
Cranberry Glazed Tri-Tip Roast – Savory Experiments
Asian Marinated London Broil – Your Homebased Mom
Flat Iron Steak with Chimichurri Sauce – Dinners, Dishes & Desserts
The Perfect Prime Rib – Mrs. Happy Homemaker
Disclosure: Certified Angus Beef ® sponsored my trip to their headquarters last month and also provided me with a Le Creuset roasting pan and Cattlemans' Premium Collection Steak Package to enjoy at home. #ROASTINGSEASON
Print
Cheesesteak Egg Rolls
Prep Time:

1 hour

Cook Time:

5 hours 30 mins

Total Time:

6 hours 30 minutes

Yield:

20 eggrolls
---
Description
Thank you to Chef Tony Briggs from Certified Angus Beef for his idea of braising the brisket in root beer for this recipe. The root beer adds a wonderful sweet note to the beef and it's fantastic!!
---
For The Brisket:
1 tablespoon

canola oil

1 ½ cups

onion chopped

2 tablespoons

tomato paste

2 cups

dry red wine, such as merlot

3

14-ounce cans beef stock

2 tablespoons

Worcestershire sauce

1

bay leaf

1 tablespoon

canola oil

1 tablespoon

olive oil

2

pounds Certified Angus Beef brisket, trimmed of fat and cut into

3

inch cubes

½ teaspoon

salt

¼ teaspoon

freshly ground black pepper

3

12-ounce bottles root beer

8

whole black peppercorns

2

cinnamon sticks
For the Egg Roll Filling
1 tablespoon

canola oil, divided

8 ounces

button mushrooms diced

¼ teaspoon

salt

1 cup

onion diced

1½ tablespoons

garlic minced

½

pound diced provolone cheese

1

1-pound package large eggroll wrappers (

20

per package)

1

egg white with two tablespoons water to moisten wrapper edges
Vegetable oil for frying
For the Queso Dip
4 tablespoons

diced jarred jalapeno

1

pound white American cheese

¼ cup

beer or ale
---
Instructions
Preheat oven to 350 degrees.
In a medium to large sauce pan, heat the one tablespoon of oil over medium high heat and add onions. Sauté for 3 minutes, reduce to medium and add tomato paste. Stir while cooking for one more minute.
Add wine to deglaze the pan and reduce by half.
Add beef stock, Worcestershire sauce and bay leaf and reduce to four cups. Set this mixture aside.
In a large Dutch oven over medium high to high heat, add oil.
Thoroughly pat the beef dry with paper towels and season all sides with salt and pepper.
Add pieces one at a time to the hot oil keeping the pieces from touching. Brown each piece on all sides, about 2-3 minutes per side. Let each side sit untouched until you are ready to turn so they get a nice crust.
Add root beer and deglaze the pan.
Add peppercorns, cinnamon stick and reserved reduced liquid.
Cover and place in oven and set timer for four hours. After four hours, check liquid and add more root beer if needed and continue to cook until tender, about another hour.
While brisket is cooking, prepare the filling.
In a medium skillet with a tight fitting lid, place the two teaspoons of the oil and heat over medium high.
Add mushrooms and salt and cook covered for about five minutes. Mushrooms should give up some liquid.
Uncover and cook for about five more minutes until liquid is gone and mushrooms become golden brown. Remove to a large bowl and hold.
In the same pan heat the last teaspoon of oil and add onions and garlic. Cook uncovered for three minutes or just until they start to brown. Add these to the bowl with the mushrooms and refrigerate for later.
Once the beef is cooked, remove from heat and let rest in the pan uncovered for 10 minutes.
Remove each piece to your cutting board and slice against the grain. (reserve pan sauce and place in refrigerator until later) Then with your fingers, crumble the slices and add to the now chilled bowl of mushrooms and onions.
Chill this mixture for at least an hour.
To the same bowl add the diced provolone and ½ cup of the reserved pan sauce (skim off any fat first). Mix this final mixture thoroughly.
In a small bowl, beat egg white with water.
To assemble, brush all four edges with the egg white mixture and place about 1 ½ ounces of filling in center spreading it out in a line from left to right, with one of the four corners pointing towards you. The amount of filling will exactly fill 20 wrappers.
Roll the corner closest to you over the line of filling and tuck under filling. Then fold each edge to the center, tucking under the roll you started. Finally roll forward until it ends with the opposite corner under the eggroll.
The queso is easy to make and better if you make it before frying so the eggrolls can be eaten hot and crispy. If the queso cools off, just microwave to melt again.
In a small sauce pan, place diced chilies and add all of the American cheese, breaking it up with your hands. Add 1/8 cup of any beer and heat over medium heat until melted. Only use another 1/8 cup or less of beer to get the queso to your desired consistency.
In a cast iron skillet or wok, heat enough oil to cover the cooking eggrolls. Once the oil is 350 degrees (use a candy thermometer), cook the eggrolls in three or four batches until crispy. They float so try and keep them submerged so all sides get crispy.
Remove to paper towels and serve with hot queso dip.
---
You may also like:
Slow Cooker Barbecue Beef Brisket