Sometimes the simplest of recipes are the best – and these incredible Steak Bites are the perfect example of that! These Steak Bites are so delicious – I could easily eat an entire plateful of these little bites of beefy goodness myself! 😉
This recipe is super easy to prepare. Cubes of rib eye steak are seasoned overnight with salt, pepper and sprigs of fresh thyme. Then – about 15 minutes before dinnertime – simply sauté the Steak Bites in melted butter until done.
Here are a few additional tips and tricks to ensure that your Steak Bites are cooked perfectly:
First: Don't over crowd the pan when cooking your steak bites. If there are too many cubes of beef in your skillet, the beef will steam instead of browning and caramelizing. So – cook your bites in batches depending on the size of your skillet.
Second: Make sure that your skillet is smoking hot before you add the cubes of beef. Doing so will add an immediate sear to the outside of your cubes of beef, locking in the juices. We recommend a using cast iron skillet
because they are great at retaining heat – but any heavy-duty skillet will do. (Just don't use a coated, non-stick skillet – you won't get the same browning and searing effect that you want for this recipe.)
Third: Although not critical, we recommend using clarified butter to sauté your Steak Bites rather than butter right out of the package. Non-clarified butter contains milk solids which can burn at very high cooking temperatures – so clarified butter with the solids removed is really best suited for this recipe!
(It's actually quite easy to make clarified butter at home – see our tutorial here.)
Follow our recipe – and you're going to find it hard not to stop yourself from popping these delicious Steak Bites into your mouth! (Just try to save enough to serve them for dinner!)
Print
Steak Bites
Prep Time:

12 hours

Cook Time:

15 mins

Total Time:

12 hours 15 minutes

Yield:

4-6 servings
---
2

pounds rib eye steak cut into bite sized cubes, all fat removed

1 teaspoon

kosher salt

½ teaspoon

freshly ground black pepper

6

or more large sprigs of fresh thyme

3 tablespoons

unsalted butter (clarified butter is better but not critical)
---
Instructions
Lay meat on cutting board and sprinkle both sides with salt and pepper.
Begin layering beef and thyme sprigs in several layers into a zip lock quart bag so that the thyme is layered throughout.
The following day, discard thyme and pat beef dry with paper towels.
In a large cast iron skillet, melt butter over the highest heat you can and keep the flame on high throughout.
Once the pan is smoking hot, (turn your range hood fan on high) but before the butter burns, place one third of the beef not touching each other in the hot fat and sear 1½ to 2 minutes per side, maximum four minutes total. Remove to a platter and repeat for the next two batches.
Pour hot fat over cooked steak bites and serve. (**Caution, due to the extreme heat, the cast iron skillet will be hot enough to pass heat through your oven mitt to your hand, like it did with mine. Double up when grabbing the handle.)
---
Disclosure: This post contains affiliate links.
You may also like: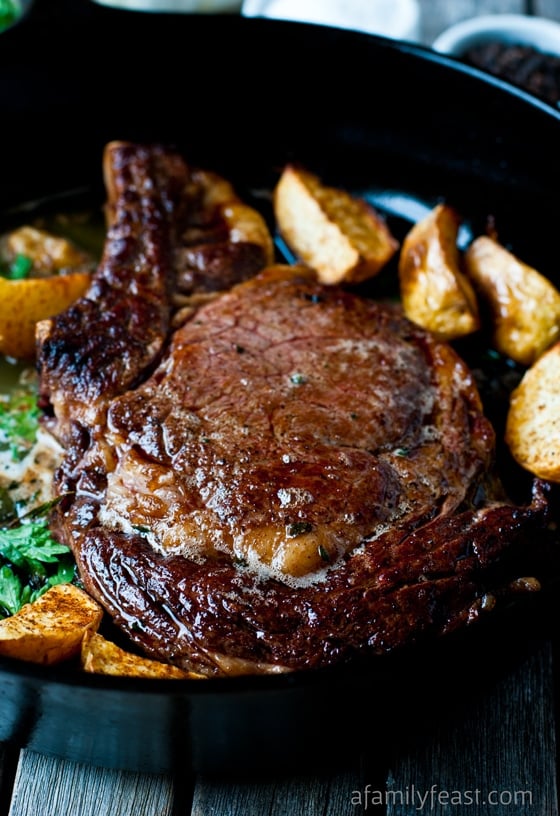 Steak Tips with Caramelized Onions