My husband Jack is back today to talk about this Easy Tortellini Soup recipe. Enjoy!
This Easy Tortellini Soup recipe is about as simple as any recipe gets! More or less – throw everything in a pot to cook and eight minutes later, you have a delicious soup! It's a great meal to serve when you need something for lunch or dinner but don't have a lot of time to cook.
So rather than trying to write an exciting blog post about how easy this tortellini soup is to make, I would like to talk to you all about my awesome sister-in-law Pam, who originally gave Martha the recipe for this soup many years ago.
We love Pam! She is married to Martha's brother Andy (a great guy – but that's a post for another day…) with a true heart of gold.
Pam is a fantastic individual. She is a nurse at Boston Children's Hospital in the pediatric oncology ward. In my opinion, anyone who can work day-in and day-out with sick or dying children – and still maintain a positive and upbeat attitude – deserves the status of super human.
Pam is also the most devout New England Patriots fan of all time – to the point of being a fanatic. Several rooms in her home are a shrine to anything and everything Patriots, including her Patriots Christmas tree which stays up for good luck until her team is done playing for the season. She will sometimes show up to a Pats practice (luckily, they live near Gillette Stadium) in hopes of picking up a Patriots' workout glove left behind, or to grab a quick selfie with a Pats player.
The last time we saw Pam, we were watching one of the playoff games last month. Pam could be seen in the corner of the room – a quivering bag of nerves with all of her fingers crossed, legs crossed and knocking on wood to give her beloved team good vibes! (It worked BTW – they won the game!)
In addition to all of that – Pam is a great mother, wife, sister – and a really great cook! In fact, we've featured a few of her recipes here on A Family Feast already including her best ever apple cake, whoopie pies, scones, and broccoli and bacon salad.
And now – we're sharing this Easy Tortellini Soup! But – because I can't resist making a new recipe my own – I added the bok choy and mushrooms to Pam's already delicious tortellini soup recipe.
Print
Easy Tortellini Soup
Prep Time:

2 mins

Cook Time:

8 mins

Total Time:

10 minutes

Yield:

4-6 servings
---
2 quarts

chicken stock

8 ounces

bok choy or baby bok choy

6 ounces

sliced shiitake mushrooms (I bought them sliced)

1

bunch scallions, chopped (both green and white parts, roots removed)

1 cup

frozen peas

12 ounces

fresh tortellini (any kind)
---
Instructions
Place stock in a large pot.
If using baby bok choy, cut into bite sized pieces and place all in with stock. If using regular bok choy, cut leaves and a little of the tops of the stalks into bite sized pieces. Discard bottoms or save for another recipe.
Place remaining ingredients into the pot and bring to a boil. Boil gently for three minutes, then turn off heat.
Let sit for five minutes, then serve. (Told you it was simple.)
---
You may also like:
Slow Cooker Tomato and Tortellini Soup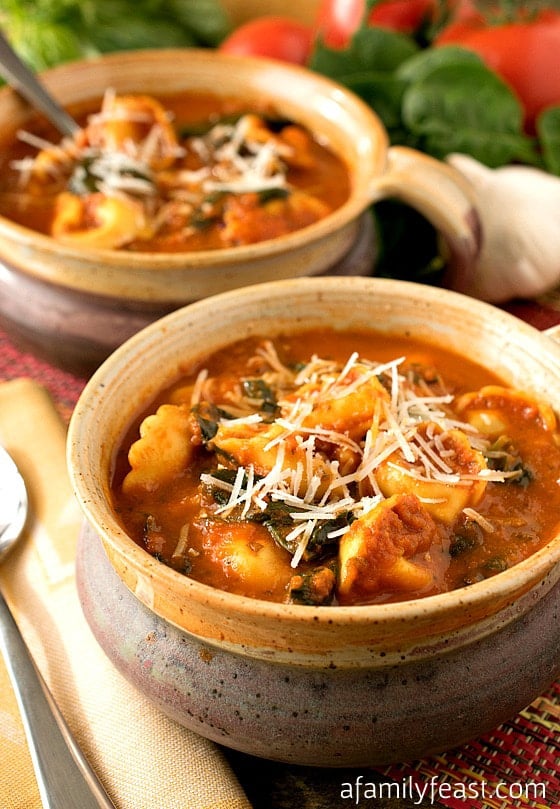 Tortellini Salad with Roasted Vegetables
Baked Tortellini with Chicken Gratinati